Duke Tobin meets the press at the combine Wednesday.
INDIANAPOLIS - The best available player lives.
Duke Tobin, the Bengals director of player personnel who has steered them through a series of grade-centric drafts yielding their series of best records ever, assures Bengaldom the philosophy holds.
Even with the ninth pick.  Even in the wake of a 6-9-1 record. Even with the last three draft classes still looking to get a foothold on the roster.
"We've gotten our team to the point we don't have to draft guys for instant impact. That's been a good position to be in," said Tobin during the NFL scouting combine. "You don't want to have to draft guys and say there he is, starting, get ready. You want guys where, if they earn it, great. But you don't want to be drafting to put your finger in the dam all the time. We got our team to the point we weren't doing that. We were drafting best player available so that's a good thing to be in. It doesn't necessarily develop the rookie of the year a lot, but it develops a good base."
So that's why No. 9 could yield anything but a quarterback or a kicker. And, yes, that includes running back, the position group that weighed in Wednesday morning led by Leonard Fournette's head-turning-very-impressive-really-ripped 240 pounds, five pounds more than he used to plow through the SEC at LSU. Tobin hears Fournette being bandied about as this year's Zeke Elliott, last year's Rookie of the Year who transformed the Cowboys into an elite team.
"If (the back) is worth it – Adrian Peterson – if the guy is a difference maker it doesn't really matter what position he's going to be a difference maker. Zeke was that way. He was a great difference-maker, he got behind a great offensive line, they featured him and he really took off," Tobin said.
"He was that. Everybody felt he was that. We had a few years there where everybody felt there wasn't clear first-round running backs, that in people's mind they took that meaning the position was devalued. I just think it was a little light at the high-end talent. This year you'll see more of the same, more of the high-end talent. Again, if you are good enough to warrant the pick, it doesn't matter the position."
They're not expected to sign Pro Bowl left tackle Andrew Whitworth before free agency opens in a week and while he's here this week on competition committee business on display before the entire league, there is hope that they'll be able to strike a deal. Tobin calls Whitworth (as well as free-agent nose tackle Domata Peko) the consummate draft pick come to life as a franchise rock.
But Tobin insists that if they lose Whitworth they won't try and reach for a left tackle in the draft. Most big boards don't have a tackle in the top ten.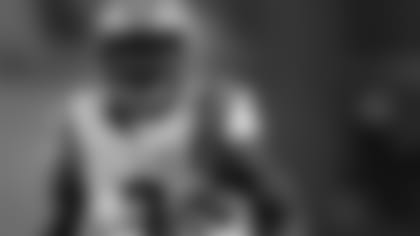 Tobin was very impressed with LSU running back Leonard Fournette's ripped 240 pounds at Wednesday's weigh-in.
"We're not going to take a guy that's not a No. 9 player at the No. 9 spot. We're not going to do that. If a guy merits it at that position, great," Tobin said. "But we're not going to be picking needs only. The guy has to merit the pick. And then if he fits a need, great. And if there's more than one guy that merits the pick, we'll use need to drive our decision. But we're not going to pass up on better players. And I think that's a pretty universal philosophy."
During his 18-minute appearance at the c combine podium followed up by a half-hour get-together with the local media, Tobin also said:
-In memory of mid-to-late round picks that gave them such stalwarts as Geno Atkins, Marvin Jones, and Rex Burkhead, don't look for the Bengals to package some of their 11 draft picks to move up.
"We would rather have the picks than package two for one. It's not that we're opposed to doing it if we feel that we have to have a certain guy," Tobin said. "It'll increase the competition with 11 guys coming in and we have a bunch of new guys that haven't played yet because they've gotten hurt … We don't mind bringing 11 good players in."
-Tobin believes after a slow start the defense played well. But he hears the criticism of old and slow and says they'll add a fast linebacker at some point to team with Nick Vigil, last year's third-round pick.
"Who that will be I don't know, or what round, or will it be somebody from another team that's in the market right now or will it be a young guy that's come along like Vigil, yeah, we're going to add to the position and we're not looking for slow," Tobin said.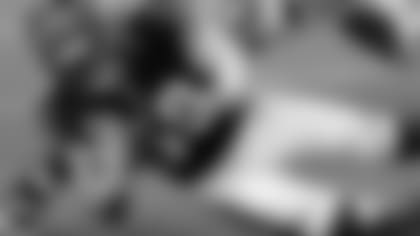 The Bengals are looking for a running mate to team with Nick Vigil at linebacker.
-With extra sixth- and seventh-round picks, Tobin says he wouldn't be surprised if the Bengals drafted their first kicker in 17 years.
"I think with our current kicking situation I think we've got one or two guys in the barn that have a chance, and I think we're always going to be open at taking a look at another one until somebody proves they're the guy," Tobin said. "We're not in that situation right now. Yeah, kicker is, during the draft, after the draft, maybe a couple of them. Maybe a couple in rookie minicamp. We're going to look at kickers. We're going to be trying to find the next Justin Tucker."
-Tobin believes the NFL shouldn't be in the business of banning prospects from the combine for off-field transgressions because one of the functions of the combine is to evaluate how players with character issues handle the experience.
"From a logistical challenge to get to 20 to 25 NFL cities and have their doctors put their hands on you and either say yes or no, that's a very important element that we're missing with those guys," Tobin said. "But I still believe that at the root, the root of this event is as a scouting event. I think we have to mindful that we keep that in mind as we change it. I think a lot of these changes are good; it's good for the notoriety of the league. … But the root of this event is for a scouting evaluation purpose and we're set up here to have thorough scouting evaluations."
-As expected Pro Bowl wide receiver A.J. Green (hamstring) has been cleared to participate in next month's off-season conditioning program.
-But while the Bengals take longing looks at Fournette (and, yes, Florida State's Dalvin Cook) at No. 9 and  Tobin says there'll be a running back who comes out of the draft to compete for a spot, Tobin is also in the camp with head coach Marvin Lewis that strongly endorses embattled incumbent running back Jeremy Hill.
"I think Jeremy is made of the right stuff. I think I view him of having a chance to get back to his first-year form. I don't view any drop off on production as solely on him," Tobin said. "I have confidence in Jeremy. I think Jeremy works at it. He'll show up ready to go and focused. I think he's made of the right stuff down deep. We are happy to have him. He's right in the prime of his career. He's a big guy and I'm looking forward to what he's going to do next year."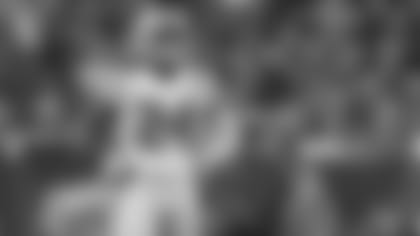 Is "Malik The Freak," the next Ed Reed and would he be the Bengals' answer to Reed and Troy Polamalu?
But it all comes back to best player. And it could be a safety even though they signed their two young starters to long deals a year ago. But there are two highly-regarded ones in the top ten, Ohio State's Malik Hooker and LSU's Jamal Adams. If the Bengals see them as difference-makers, who knows? But if they do and they're there …
"Your current team is not going to matter if you can bring in Troy Polamalu, in his prime, and have Troy Polamalu's career," Tobin said. "If you can get that, and you feel that's an upgrade from where you are, you're going to do it. At any position. If there is a guy you feel is a difference maker, you're going to do it at any position."
This gallery features photos of current Bengals players at past NFL Combines (AP Photos)