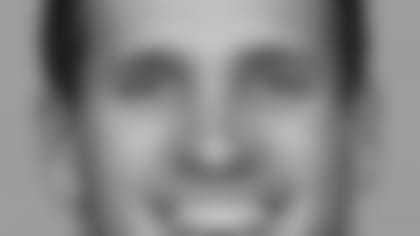 The nice thing about Ethan Kilmer, the newest Bengals folk hero who happens to play both offense and defense, is he makes guys with dusty jump shots, sore knees, and middle-age burdens have little-kid dreams again.
Jon Schulze, 48, coached Kilmer in track, taught him American Lit at Wyalusing High School, and still has the Dalai Lama book on his desk that Kilmer and his buddy inscribed to him.
"For a long time, I didn't follow any teams like I used to when I was growing up," says Schultze. "When Ethan went to Penn State and now with the Bengals, I became a fan again of following teams. Whenever we go to a soccer game or something, my wife makes me take our Bengals folding camp chair."
Which is front page news worthy of The Rocket Courier, Wyalusing's weekly paper that has taken to splashing him across its pages for updates, because the town next door in the low hills of the Susquehanna River in northeastern Pennsylvania wears orange and black.
"People here are just starting to swallow it that they have to wear orange and black," says Mike Kilmer, Kilmer's father who actually wore the dreaded orange and black football uniform of Towanda High School.
But Mike and Lou Ann Kilmer were wearing Bengals orange and black last Sunday in the Louisiana Superdome, where it is a good bet that there were more Bengals fans than the 600 or so that live in Wyalusing.
And it seemed that Lou Ann and Mike met them all on Bourbon Street Sunday night when for another unbelievable moment in what Mike Kilmer calls their "double life," when their No. 43 Bengals jerseys of a rookie special teamer became as recognizable as No. 85, No. 9, No. 32 and No. 84.
"They were thrilled," Mike Kilmer says. "They treated us so well. They saw the jerseys and they probably figured we were relatives, but it was enough to ask the story."
The nice thing about Ethan Kilmer is when anyone gets around to making the movie they won't have to Disney-fy it because he's done it better than Walt ever could.
Barely had Mike Kilmer nudged Lou Ann and said the words, "Ethan's playing defense," when it was happening unbelievably again.
There was Kilmer on the fourth defensive snap of his life stepping in front of Saints quarterback Drew Brees and not only intercepting it but racing with the ball for an NFL touchdown with, no doubt, the Bradford County record for the 52-yard dash.
At about the same time back in Wyalusing, Schulze got a call from a friend of a friend of a friend as he painted his daughter's bedroom.
"You have to understand, we're about five times overwhelmed now," says Mike Kilmer, whose son making the team at Penn State as a walk-on had already made him a local legend.
"Even before the Orange Bowl, we thought that was it," Mike Kilmer says. "Then he caught the touchdown pass. Then he got drafted. Then he made the team. Every time you think it's reached a peak, he's done something else."
Even the politicians thought the Orange Bowl TD was enough. The Bradford County commissioners decreed an "Ethan Kilmer Day," but when he was too embarrassed to sign off on it, they just went ahead last February and did it anyway.
"I'm not a celebration guy," says Kilmer, and he proved that in the Superdome when he dropped the ball in the end zone like it bit him and then tried to break away from his mobbing teammates as special teams coach Darrin Simmons screamed at him to get back on the field to cover the kickoff.
"It's a good thing it was a touchback," Simmons says.
There has yet to be any governmental action in the wake of the touchdown against the Saints. Maybe because his exploits have now become ingrained in the town. Schulze reports that every time he drives on Route 6 just outside Wyalusing he passes a child care facility with a glassed-in lobby of murals. The drawings of toddler icons change pretty frequently, but the one that stays is the "43" Bengals jersey next to a tiger.
Schulze wonders what people driving through are wondering, perhaps trying to figure out why the Bengals are so big in an area that is an hour or so from Binghamton and Elmira in Upstate New York and Williamsport and Scranton in Pennsylvania, where dairy and lumber are king and the closest Olive Garden is 60 miles away.
"It's great for the kids here because they see what you can do," says Schulze, who returned after getting his English degree at Ohio's Kenyon College to settle in the town where three of his grandparents did. "You're talking about a guy with a tremendous work ethic."
Schulze first saw Kilmer as a sophomore playing basketball in the gym and when he swore he saw him scraping his elbows n the rim, he knew he had a potential state champion high jumper. Those were the same springs that this past spring sent hardened NFL veterans walking out of the Paul Brown Stadium gym shaking their head after watching the 6-0, 200-pound rookie from Penn State jam with two hands while wearing sandals.
Schulze, a former Wyalusing High player himself, played against him last summer and observed to himself, "If I had a stepladder I couldn't reach him."
But he couldn't get Kilmer out until his junior year for track and, like all good coaches, flogs himself for not getting him the technique in time to win the state high jump title as a senior.
"Latest knock down (of the bar) I ever saw," Schulze says. "I was jumping in the air. I thought he cleared it, but by the time I came back down, so did the bar."
Obviously Schulze did something right because Kilmer took a medal in the states, as well as scoring throughout his two springs in sprints while becoming a 1,000-point scorer in basketball and a two-time MVP.
What set him apart besides those springs in his shoes, Schulze thought, was his paint-peeling intensity. He was a little concerned about getting Kilmer involved in the high jump because even if he wins, his last jump is a miss.
"I could see him eating the mat," Schulze says.
"He really was a guy that put it out for the team," Schulze says. "Sprinters don't like the 400. They end up lying all over the track after it's over, but it never seemed to bother him."
The nice thing about Kilmer is that he isn't all springs and hands and legs. He clicked with Schulze in class, particularly enjoying the Transcendentalist works of Emerson and Thoreau. It's a belief based in individuality and that truth is found from within, and while Schulze never really thought about it before, Kilmer has reached his dreams doing it his way.
To this day, Kilmer can't really say why he decided to walk-on at Penn State for football after transferring from Shippensburg University. He went to University Park because the school had his kinesiology major, but football ...
"I guess it was the challenge. Something left undone," Kilmer says.
He shocked the town when he went to Shippensburg and decided not to take the track scholarship and not jump or run. And while some, like his parents, thought basketball was his true passion, he was content to be the best leaper in intramurals.
"At the time I just didn't want to work that hard in an individual sport; I didn't have the desire for it," Kilmer says.
But he never stopped working out. Schulze would hear stories that Kilmer was doing something like 1,000 situps a day. When he came home, Lou Ann would grill him, Mike says.
"You must be working out for something," she would say. "What is it? You don't work out like that unless you're working out for something. The Olympics?"
It turned out to be Penn State football and while his parents offered their full support ...
"He had to be a longshot," Mike says. "We kind of just looked at each other and told him to give it his best shot."
Now Mike Kilmer is in what he likes to call a "time warp." This week, he was back in his office at the Kilmer Insurance Agency on the outskirts of town looking out a window full of woods while trying to make sure he can get his youngest son, studying acting in New York, home for Thanksgiving.
But on Sunday he was in the Superdome telling Chad Johnson after the game, "I guess he'll just be on defense now."
But Johnson told him, "No, he'll be like Deion. He'll go both ways."
But Johnson calls Kilmer "Papale," the star of the recent movie Invincible that chronicles the story of a 30-year-old walk-on who becomes a special teams maven for the 1976 Philadelphia Eagles.
"He does everything," Johnson says.
But Mike Kilmer has a good read on this one. The Bengals are so decimated in the secondary, Kilmer might have to play DB and not wide receiver for the foreseeable future.
The nice thing abut Ethan Kilmer is it doesn't matter. It still makes a father feel on top of the world. When he saw how Ethan's teammates reacted to the touchdown, and then later heard the quotes from head coach Marvin Lewis talking about his work ethic and his attitude, well ...
"As a parent," Mike Kilmer says, "it just makes you feel great to see people react to him."
The nice thing about Ethan Kilmer is he'll line up somewhere Sunday and this strange, wonderful movie continues while his town enjoys the parade.