The Bengals' 50th season got their stars then and now a national plug this weekend.
Even though he served a mere two-year hitch in  Bengaldom, Alex Marvez considers Bengals history a labor of love rather than a pesky errand getting in the way of chronicling the Patriots, Cowboys, or Steelers, or any other NFL media darling.
So Marvelous Marv and side-kick Zig Fracassi gave the Bengals rare and great world-wide run Sunday on Sirius XM Radio's NFL Channel when they spent their afternoon show examining the 50 years of the franchise and offered catharsis for a fan base starving for their past and present stars to get some national love.
"It's just too bad that a lot of these guys played when the Bengals weren't popularized yet," Marvez said Monday, reflecting on the show. "How many times did you see Ken Anderson play on TV? It's not Ken Riley's fault he played in an era with a lot of great cornerbacks.
"It was an intriguing look back at this team. There were a lot of players who were left off (the all-time team) who were good enough to make most any other team's list and there were positions where after 50 years they're surprisingly thin when it comes to elite players."
Among the melting pot of guests were the club's lone Pro Football Hall of Fame player in Anthony Munoz, and three of their leading Hall-of-Fame candidates in Riley, quarterback Ken Anderson, and right tackle Willie Anderson.  Former strength coach Kim Wood, the NFL's first full-time strength maven, and recently retired public relations director Jack Brennan also checked in to iron out details as Marvez and Fracassi revealed their all-time Bengals team.
And Marvez, who broke into the NFL covering the 1995 and 1996 Bengals for The Dayton Daily News, found out some things he didn't know then and now:
_Ken Anderson, their pick for the Bengals all-time quarterback, went to Augustana College to play basketball and baseball and gave football a last-minute try before becoming the starting quarterback in the third game of his freshman year.
"I don't think anybody can name anyone else who went to Augustana," Marvez said.
_Munoz related how little he played at USC because of a series of knee issues before the Bengals made him the third pick in the 1980 draft.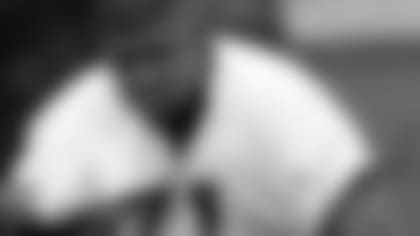 Willie Anderson: Corey Dillon favored his side.
"Never would have happened today with the money and the salary cap," Marvez said. "He would have been off teams' boards. Maybe a mid-round pick now. Maybe."
_Riley showed up in the sixth round of the 1969 draft as the Florida A&M quarterback and had a surprise waiting for him before he went on to grab 65 interceptions in 15 seasons, fifth most all-time.
"They told him he was a cornerback. Never played it before," Marvez said. "What an incredible adjustment. And he's so humble. The guy just isn't a self-promoter."
_Willie Anderson talked about how he was such a good fit with running back Corey Dillon, the Bengals all-time leading rusher, because Dillon was more comfortable running to the right.
"Willie was one of those guys that could have played anywhere, but that made sense to play him at right tackle," Marvez said.
Munoz and Anderson are, of course, their all-time Bengals tackles, but Marvez says Andrew Whitworth would have made it if only arguably the greatest offensive lineman of all-time wasn't ahead of him at left tackle. They also left some big names off the list when they went with Isaac Curtis and A.J. Green at wide receiver.
"Isaac is the type of player that transcends any generation. He was that good of a player. He probably doesn't get the recognition in history he deserves," Marvez said. "If Green is not the best receiver in football, he's second to Julio (Jones). That means leaving out Chad Johnson, Carl Pickens, Cris Collinsworth."
Same thing at running back. Dillon and James Brooks get the call, but Marvez looks at Rudi Johnson and others who could get some run elsewhere. And at tight end Bob Trumpy is their close call over Rodney Holman.
"He's a little more versatile than all the rest," Marvez said. "But ten years from now it could be Tyler Eifert. If he stays healthy he can be the best tight end they ever had."
If there is any pick Marvez wishes he had back it is at defensive end, where they left off Bengals all-time sack leader Eddie Edwards in favor of Justin Smith. Ross Browner is set at one end and Tim Krumrie and Geno Atkins are the obvious tackles. But, "Honestly, Eddie Edwards is one of those guys lost in Bengals history."
When it came to finding the third linebacker to go with Reggie Williams and Jim LeClair, it got tough. Two of the best, Bill Bergey and Takeo Spikes, didn't do it long enough in Cincinnati. Brian Simmons got the call, Marvez said, because during his nine seasons he played every spot solidly. Of the secondary of Riley and Lemar Parrish at cornerback and David Fulcher and Tommy Casanova at safety, Fulcher last played for them in 1991.
"It kind of shows you how offensive players have dominated," Marvez said. "It was a fun show. A lot of interesting guys and they were great to talk to."
Take a behind the scenes look at the NBC's shoot at Paul Brown Stadium