Anthony Munoz (left) and Reggie Williams at the Walter Payton NFL Man of the Year reunion.
The last time Anthony Munoz, Reggie Williams, and Ken Anderson were this cold together, they were on the Riverfront Stadium rink winning the second coldest game ever played and taking the Bengals to their first Super Bowl before any player on today's roster was born.
On Sunday, 36 years later, they needed to climb about 40 U.S. Bank Stadium steps through a shot-and-a-beer prairie wind hovering at zero degrees to reach the Super Bowl reunion of past winners of the Walter Payton NFL Man of the Year Award. By the time the MVP of that game and that league in that year reached the top, Anderson thought back to that day he quarterbacked a passer rating of 115.9 in minus-59 wind chill.
"Holy mackerel," he shivered. "How did we do it?"
That's the kind of weekend it was in Minneapolis. Brutal cold. Warm memories. Icy stairs. Heated-bench reminisces. See-your-breath mornings. Cozy nostalgic dinners. How cold was it, Pete Rozelle breath? It was the coldest day they ever played the 52 Super Bowls even though it was played indoors. Two degrees. The second coldest?
Naturally it was the one the Bengals played two weeks after the Freezer Bowl. While their offense froze on San Francisco's one-yard line in a numbing 26-21 loss in the Pontiac Silverdome, it hit 13 degrees outside in the first northern Super Bowl.
"When they took all the former winners on the field and got in a semi-circle around J.J. Watt (this year's Payton winner) for the national anthem, that's when it kicked in," said Munoz of his Super memories. "I was ready to go play … Looking at Pink singing the national  anthem reminded me of Diana Ross singing it in Pontiac and being right there. There were some bad memories but mainly good ones."
The stairs were the only bad moments for what Williams called "a fabulous," weekend in the Twin Cities. But then, Williams is used to climbing obstacles with the leg he's nearly lost so many times with a knee that has survived 24 operations and a bottomless heart that has weathered a stroke and two skin-of-the-teeth Super Bowl losses. But the aching cold did bring back one nice memory of his friend Munoz thawing the Freezer Bowl without sleeves.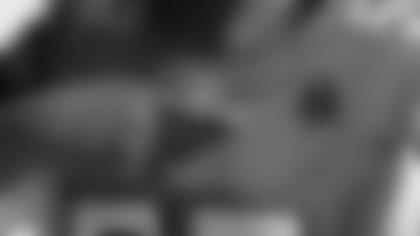 Reggie Williams models Man of the Year patch.
"I didn't want to be reminded of how cold it was," Williams said. "I've got two feet of titanium in me now so that's the first thing you feel. You don't feel your skin and the goose bumps. You feel the titanium immediately and it synthesizes the temperature. Yeah, it was tougher than when I played in it."
A total of 37 Men of the Year from down through the years gathered and five of them included players that were drafted by the Bengals. Men who lifted their communities. The tingling didn't come from frostbite, but goose bumps that Williams and everyone else eventually felt.
"It's much more now. You look at just the Bengals team and the number of players that give back to the community it's amazing," said Anderson, who realizes that '81 team was also special. "We had a bunch of real good guys who were not only good football players but good people."
The teammates were able to catch up. Munoz admiring the same Reggie intensity. Anderson marveling at Williams' winning battle with his knee. Williams, still the weight-room rat and lcarrying ess than his rookie weight, noting how well Munoz and Anderson have maintained their size.
Anderson and Munoz mused about how much the Super Bowl has changed.
"The pre-game show was half-an-hour," Anderson said. "Now its days on a couple of different networks. Up With People did the half-time show. Sunday it was Justin Timberlake."
The Men went to Saturday night's NFL Honors, the league's New York answer to the glitzy Hollywood awards shows, to watch Watt get Man of the Year. Anderson remembers when he was named NFL Man of the Year in 1975, when a Bears rookie running back named Walter Payton rushed for 679 yards, and he received The Dodge Charger NFL Man of the Year award from NFL commissioner Pete Rozelle before the AFC title game in Pittsburgh. A Dodge Charger.
 The Men watched Patriots quarterback Tom Brady named MVP, but he was nowhere near. Like Anderson in 1982, he was getting ready to lead the AFC champions into the next day's Super Bowl.
"I don't remember where I got it," said Anderson of the NFL MVP. "I know it wasn't at a dinner or anything like that."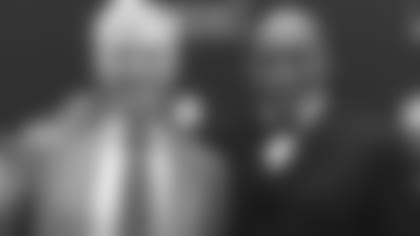 Reggie Williams and Ken Anderson were decked out to watch J.J. Watt receive his own Man of the Year award.
"Reminiscing about kids and grandkids. Things that matter," Munoz said.
Over here is Williams, NFL Man of the Year 1987, looking at old Chiefs linebacker Willie Lanier, NFL Man of the Year 1972, and recalling how Lanier was his hero for not only playing Pro Bowl hard and well but also for his efforts in the community. Then there is a former Bengals safety who won Man of the Year with the Vikings in 2010, approaching him.
"Madieu Williams shared so many great stories of how he followed what I did, serving on City Council and being a Man of the Year as something he could aspire to," Williams said. "He achieved it. It's similar to my story because my hero was Willie Lanier. Full circle."
Over there is Munoz and Anderson talking to Dallas Hall-of-Fame quarterback Roger Staubach before they walk on the field and Munoz remembers Staubach, still proud of being born and bred in Cincinnati 76 years ago, asking Anderson, "Why aren't you in the Hall? You were the best during our time. You led every category when you retired. There's no reason you're not in the Hall."
If that isn't the ultimate compliment, over here is Anderson talking to Mean Joe Greene, probably not as mean as he was when he spent much of the '70s laying on top of Anderson and every other quarterback while transforming the Steelers from patsies into a dynasty.
"We were talking about when they invited me into the locker room for a beer,' said Anderson of the day at Three Rivers Stadium Green, Lambert, and Ham made their rare  Hall-of-Fame respect post-game offer. "That's something you couldn't get away with now."
Over there is Williams getting breakfast before the Super Bowl and running into, well, how else can you say it? His arch-nemesis. Joseph Clifford Montana Jr. The former 49ers quarterback who beat the Bengals in both their Super Bowl trips.
"I told him how much respect I had for him as a competitor when he got up from the hit I made on him on the last play of the third quarter in Super Bowl XXIII," Williams said. "I heard he didn't like how I hit him. But he just smiled and we shook hands.
"I have a certain unique animosity toward them. I appreciate it now. There's some positive upside. It was burying the hatchet. We played hard in two of the most memorable of the 52 Super Bowls. History has spoken. It's up to the current rosters to change that."
When Williams got on the bus to go to the game, he caught a story on his phone that showed a picture he had never seen from one of his Super Bowls. There is Montana exulting, arms famously raised, while right next to him is the dejected Williams. He knew it wasn't after Montana threw the winning pass to John Taylor with 34 seconds left because in that last Super Bowl Williams wasn't on the field for the last eight snaps despite, he recalls, playing the game of his life.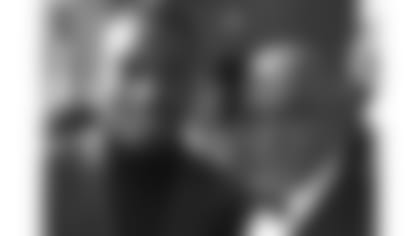 Reggie Williams also caught up with a current Bengals star, wide receiver A.J. Green.
He didn't understand it then and he doesn't understand it now, but he's glad he got here twice.
"I've heard guys say they'd rather not go to the Super Bowl if they knew they were going to lose," Munoz said. "I feel sorry for you. It was a great experience. We didn't win but a lot guys play forever and never get a sniff."
Here is Warrick Dunn bending down to study Williams' knee. There is Anderson talking to Drew Brees, the man that broke his NFL record for completion percentage in a season. Here is Munoz looking off into the distance during a dinner and Lanier catching him and asking, "Where are you?"
"I was just gazing. I'll tell you where I was," Munoz said. "I'm looking around here at the guys in this room from all the different eras. A lot of them are Hall-of-Famers. A lot of them have been All-Pro or played forever. But we're all former Walter Payton Man of the Year winners and I'm just amazed we're all in one room."
Williams felt it on the sidelines when he heard the national anthem and he had his own message.
"It was one thing to be back on the field again when something counted and the ceremony counted," Williams said. "Because the NFL (displayed) an aspect of the players that has been under assault. That's the thing I felt most proud of. Despite the rigors and challenges of playing professional football, the vast majority of NFL players give back to their communities in so many different ways. That's why I'm proud to be among the best of the best. A historical Who's Who of some of the greatest contributors of the game on the field.
"But when you look at how much caring they have given to dozens of communities. Not only the cities they play in, but the cities they come from, it really is an amazing aspect of the game. I commend the NFL for providing a platform to tell the world what some of their players are involved in."