Don't forget William Jackson's 4.37-second 40-yard dash.
The  Bengals open their three-day mandatory minicamp on the Paul Brown Stadium field Tuesday and with apologies to the Greatest Show  on Turf Rams of the early 21st century, Cincinnati just may be home of the NFL's Fleetest Fleet on Foot.
Don't blink or you'll miss their last work on the field until the start of training camp late next month.
The Bengals welcome back No. 1 pick John Ross this week for the first time since last month's rookie minicamp and even though the man who ran the fastest 40-yard dash ever at the NFL scouting combine is walking through these practices with a rehabbing shoulder he's a reminder just how much speed this team has added in the past two drafts.
They've begun to see it during last three weeks of voluntary practices and now with more meeting time this week during the mandatory they hope to get faster as they continue to absorb the systems. Speed and knowledge of the playbook are about the only thing you can gauge in these camps because of a uniform limited to a helmet and no pads and they go hand-in-hand.
Along with Ross, they have three other rookies who either were the fastest at their position at the combine or would have been if they were invited.
 Third-rounder Jordan Willis, a defensive end, had the fastest 40 of any defensive lineman at the combine with 4.53 seconds. Oklahoma linebacker Jordan Evans, a sixth-round pick, didn't get invited to the combine but he flew through his pro day 40 in 4.51 seconds. That would have led the combine backers. Only Michigan's Jabrill Peppers' 4.46 was faster, but he belonged with the defensive backs.  Sixth-rounder Brandon Wilson, also uninvited to the combine, ran 4.35 seconds at his workout at the University of Houston which would have led the combine safeties.
And sophomore wide receiver Cody Core, a sixth-rounder from the '16 draft and arguably their most improved player, was timed with the fastest route before the voluntaries at nearly 23 miles per hour. Throw in second-round running back Joe Mixon (4.46 seconds), fourth-round wide receiver Josh Malone (4.39 seconds), and fourth-round pass rusher Carl Lawson (under 4.7 seconds) and there has been speed to burn out there. Not to mention wide receiver A.J. Green is back healthy and dominating days, while running back Giovani Bernard is already catching balls standing still as his supersonic ACL rehab continues. He'll probably start practicing at some point in August.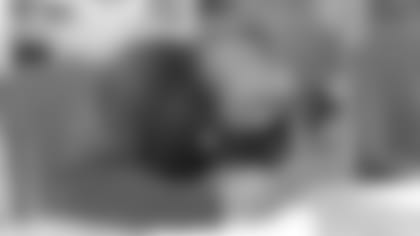 He's back: first-rounder John Ross returns for the first time this week since signing his deal.
That's when Ross figures to get on the field, too. Rules permitted him to be at Paul Brown Stadium only for the rookie minicamp until he graduated last weekend from the University of Washington. He'll probably do what he did last month, when he wore his No. 15 and was on the field during plays behind the line of scrimmage lining up in the spot for that particular snap.
Wilson has fought hamstring and knee issues since he arrived and has not yet practiced and it's unclear when he'll get back on the field. But the secondary has plenty of juice left this week. The book-ends from the 2016 draft, first-rounder William Jackson at cornerback and seventh-rounder Clayton Fejedelem at safety have been blurs. Remember, Jackson ran his way into the first round with a 4.37 40 and veteran corner Adam Jones assures, "He's fast." As Fejedelem becomes more comfortable with the playbook, his 40 best of 4.47 seconds has surfaced.
Of the rookies who have been here, Lawson has eyes bulging with a quick first step and jack-hammer hands that have made him tough to block for rookies and veterans alike. On offense, Mixon's light feet to go with his 228 pounds have not gone unnoticed by the defense. Also looking as advertised are Willis and Evans. Two long-shot undrafted guys in Samford wide receiver Karel Hamilton and Illinois middle linebacker Hardy Nickerson have also stood out. The 6-1,199-pound Hamilton for fly-paper hands and the 6-0, 232-pound Nickerson for a steel-trap mind.
Starting cornerback Dre Kirkpatrick, who suffered a broken hand off the field that wasn't displaced and didn't require surgery, has been back in limited fashion and should be that way this week. J.J. Dielman (foot), a fifth-round center, figures to be cleared for training camp but is progressing. They've had a variety of nagging hamstring and groin pulls this spring that don't appear serious and most everybody should be a go this week.
Cincinnati Bengals host NamasDey - Stretch in the Jungle