Preston Brown: "I think I was born knowing how to tackle."
The man who led the NFL in tackles last season believes his game will survive the scrutiny of the NFL's effort to curtail the use of the helmet.
But Bengals middle linebacker Preston Brown, who made 144 of them to tie Green Bay linebacker Blake Martinez for the title, admitted after Tuesday's voluntary practice that he doesn't know much about the league's point of emphasis this upcoming season. He's far from alone, but, ready or not, offense or defense, tackling or blocking, the NFL has declared war on leading with the helmet.
"I know you can't duck your head and stuff like that," Brown said. "Hopefully it won't be as bad as the first couple of games. I think the first couple of games there'll be a lot of flags, but hopefully it will weed itself out."
This is still after the players have seen a video about the dos and don'ts. But despite the murky waters head coach Marvin Lewis and linebackers coach Jim Haslett have emphasized they expect their players to have little problem since they teach heads-up tackling like they were taught back in the Stone Age.
"Yeah, they're all over 50," said 53-year-old defensive coordinator Teryl Austin of those proclaiming they've been taught to tackle without leading with the head. "There was a time there when everybody was just torpedoing everybody and that's not good. It's not good technique and it's not good for the guys on offense and defense. I think the more emphasis (on not leading with the helmet) is good.
"At the end of the day it's an adjustment of small things. I think you can teach it a certain way so you keep the head out of play … We'll abide by the rules because we want to be a great tackling team and we want our players to keep their money in their pockets."
You can count Brown as an old school tackler because the first guy to teach him is fiftysomething. Mike Brown, his dad, taught him not far from Paul Brown Stadium while he was coaching in the Cincinnati Public Schools. But Brown thinks he already knew how to tackle by the time Mike got him.
"I think I was born knowing how to tackle," Preston believes. "He was one of the guys that helped. He always said, 'See what you hit. Never duck your head because that's when injuries happen.
"It should be OK," said Brown, who won't let it cross his mind when he crosses the lines. "You can't worry about anything on the football field. That's when bad stuff happens … I don't do that much ducking. They teach when you're five, six to see what you're hitting. That's what I've been trying to do since I was that age. So hopefully that transforms into the rules."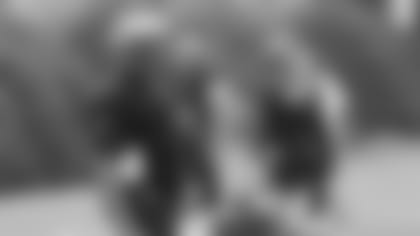 Teryl Austin on Preston Brown: "A pro's pro."
Austin doesn't see much of a problem for Brown. With anything. In his first four practices with his hometown team, Brown, 25, has done enough for Austin to recall what Doug Whaley texted him back in March after the Bengals signed him in free agency. Whaley, the former Bills general manager when Buffalo took Brown in the third round in 2014, sent, "He is a man's man and he is a great guy. You're going to love him."
"And I do," Austin said. "Preston is a real pro."
But Brown's not throwing his weight around about it. The man playing next to him at WILL, Vontaze Burfict, won an NFL tackling title when Brown was in his last year at Louisville. He's not even sure of some of the names playing behind him. So he's deferring to Burfict in the huddle.
"How smart he is. How instinctive he is. How hard he practices," said Brown of his notes on Burfict. "This is Vontaze's team … I'm just trying to learn personalities right now. I'm trying to see how guys react in certain situations … I don't know everything yet. I don't know everybody's name yet. I'm still learning from him."
But Austin looks at his four years in Buffalo and sees the 64 straight games with 289 tackles and observes, "We've got two guys who have the ability to lead. We won't have Preston take a backseat to anybody. He's a vet. He's been around. He understands how it works. In his mind he's probably getting the team dynamic down and finding out where he can help us the most."
Right end Michael Johnson, the dean of the Bengals defense, tells him to step right in as that leader.
"Never missed a game. All those tackles. Led the league. He's already proven himself," Johnson said.
Austin's observation about Brown's tackling ends up being how he sees all of his middle backer's game.
"Pretty solid,' he said. "Pretty solid."