A post-season buzz envelops sold-out Paul Brown Stadium Sunday (1 p.m.-Cincinnati's Channel 19) when the 4-0 Bengals bid to prove they belong among the NFL's elite against two-time NFC champion Seattle (2-2).
The Bengals.com Media Roundtable comes out to a split decision, just like many predict the game will go pitting two physical teams built on the same principles of exhaustive pass rushes, relentless running games, and mistake-free statecraft from their franchise quarterbacks.
Dave Lapham, the Bengals Radio Network analyst who watches Bengals left tackle Andrew Whitworth pass him Sunday on the club's all-time regular-season list in his 141st game, gives the edge to the Bengals largely because of the home-field advantage fueling them in a matchup of intangibles.
Paul Dehner Jr., who covers the Bengals for The Cincinnati Enquirer, believes they win because of how their defensive line matches up so well against Seattle's struggling offensive line.
John Boyle, who writes for Seahawks.com, has watched the Seattle defense go 18 possessions without allowing a touchdown with safety Kam Chancellor back in the saddle, so he thinks Seattle's history of stopping the big play carries the day.
ESPN's John Clayton moved from The Pittsburgh Press and covering the Steelers to Seattle to cover the Seahawks in 1986, so he knows how to cover some ground. This is his third trip to cover the Bengals this season and says it's the best Bengals team in decades. But he calls it a tossup because a Seattle team that makes few mistakes is going to provide a one-play game that occurs in the fourth quarter.
Let's got around The Table:
This game is about the intangibles. Matching their intensity and the Bengals should be able to do it because they're at home.
In my mind Seattle is not a mystery defensively. It's not next week like Rex Ryan, who'll have every blitz known to man, every front known to man. Seattle lines up and says here we are. Every snap you pretty much know where they're going to be.
The Bengals had a dress rehearsal for this defense in Oakland against Ken Norton Jr., who took the Seattle principles with him to the Raiders. Everybody running to the ball, multiple guys hitting people. Stripping the ball out of there. Jumping on top of people, trying intimidate  and be physical. The Bengals went to Oakland and handled it and got off to a really fast start.
There is always somebody you have to put a circle on and this week it's Seattle defensive lineman Michael Bennett. He's not big and fast, but he's a heck of a player. He affects a lot of plays. He comes off the edge. In the nickel he's on the guard. He's the only one that has a little freedom to move around.
They're solid everywhere on defense. It's a 4-4 defense. Chancellor is like an inside linebacker and because the other safety, Earl Thomas, has so much range, so Chancellor is there playing the run. He doesn't always do that, but you have to run it some. You can't make yourself one dimensional. It's a big game for the center and guards. Right end Cliff Avril can rush off the edge, but it's not like a dominant guy the tackles have been facing. With Michael Bennett moving inside it's big for the guards to handle him in nickel. That defense runs. They're not big, but they run to the ball.  You have to run to the ball with them, you have to peel guys off, you can't let your back or receiver get hit by four or five guys. They finish every play. You have to have a mindset to go finish every play.
When you have eight in the box like they do with that 4-4, that puts a lot of pressure on the outside guys to play man coverage. Have to beat them with those one-on-one matchups and Andy Dalton has to be smart with the ball.
Seattle has smaller guys that can run. The Bengals have to anchor them somehow. Don't give up on the running game. At some point, get up field and make them stop you. Don't go east and west because that's what they do.
Offensively they're saying to Russell Wilson, here's the ball, make a play. It's amazing.  Their best lineman is left tackle Russell Okung, but injuries have limited his Pro Bowl ability.
 It's up to the D-line again. They can control the game, no question. Seattle head coach Pete Carroll had Rey Maualuga at USC. He'll try to isolate linebackers. Rey's been isolated some.  A.J. Hawk has been isolated some. Watch that matchup with the running backs and linebackers in space.
Russell Wilson is a mini Ben Roethlisberger. He's thick in his trunk. He's hard to get on the ground. He's short with a low center of gravity. He extends plays like Ben. The fact they got him down 18 times show how much he runs around.
Special teams are huge. I saw their rookie returner a bunch at Kansas State, Tyler Lockett, and he's special. Special. Special. Field position is massive in a game like this.
THE EDGE: Bengals, 20-17. It will be a heck of a battle. Philosophically, they play the same. I think the Bengals get an edge because they're at home. They don't have to worry about not being ready to play. You're playing against a team that has set the gold standard for the league. Now you get a chance to test yourself. I think there's a lot of focus from the Bengals. I think they'll play well.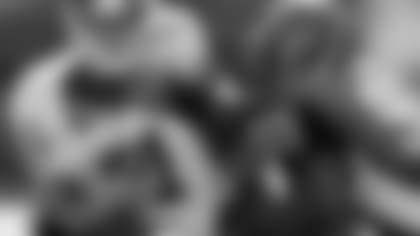 Geno Atkins is again among the NFL sack leaders with three.
It all starts up front. Russell Wilson has been sacked a league-high 18 times. The Bengals have some very good pass rushers with Geno Atkins inside and that could be trouble for the Seahawks. If they can give Wilson time, he's throwing as well from the pocket as he has in his career.
The offensive line has been really inconsistent. Tom Cable, their offensive line coach, talked about that this week. From game to game, half to half they've had a couple of drives, or a couple of quarters where they look pretty clean. They run the ball, they protect and then there are some issues.
The center is a former defensive lineman who is a first-time starter. Their left guard Justin Britt was their right tackle last year. Right tackle Garry Gilliam is a first-time starter who was a tight end at Penn State until his senior year. It's just a really green group. They like the upside of these guys, but they're taking their lumps early as this group comes together.  
On the other side of the ball it comes down to Seattle stopping the Bengals' big plays. If they slow down that big-play ability, I think they've got a chance to slow that offense. I think Seattle matches up pretty well. A huge focus of the Seahawks is always taking away the big plays. They play a lot of that Cover Three and Earl Thomas is one of the best in the business playing that deep center field taking away the big play and their cornerbacks are really good at staying on top of guys. That's going to be a really intriguing to me. The Bengals have been really good at the big plays. But in their history the Seahawks are really good at limiting the big plays. They gave up quite a few in the first couple of games to both the Rams and Packers but have tightened it up the last few weeks.
Because of how isolated we are up here, almost any trip outside of San Francisco and Arizona is a long trip. They're used to the 10 a.m. Pacific time start. It used to be a big issue if you go back to some of the Mike Holmgren teams, they really struggled in those early starts. They've gotten a lot better at that. I think the short week is a little bit of an issue. They've got some guys banged up, like Marshawn Lynch, and that's a big deal. To have short rest and fly out Friday is a little bit of an issue, but it's not a big deal.
THE EDGE: Seattle, 20-16. It's going to be really tight. I really like the way the Seattle defense has played the last two weeks. It's almost kind of a gut thing. I've been around Earl Thomas a long time and he sort of has these moments you can tell when he's talking that he knows things are good. He had that moment last week and it goes back to last year. Last year they had a rough patch in the middle of the year and I had this conversation with Earl and he told me, 'Just watch, it's going to change. We're going to shock some people,' and that was right before they rattled off six wins in a row holding opponents to six points a game over the last six games. I got a little sense of that from him last week.
Like all games between two teams built like this, one of the big factors is if  the defensive line of the Bengals can  take advantage of the mismatches they have and keep Seattle's offensive line struggling. To me that's the one area they have a significant advantage.
They can't let Seattle score a bunch of points because you're not going to keep up with that defense. They have to take advantage by just throttling down Seattle like they did Kanas City and chase the QB all day. That's another part of it. You have to corral Russell Wilson at some point. You can't let him extend plays.
The Bengals' best offense might be punter Kevin Huber and field position. You get a turnover, create short fields for yourself so you just need a play here or play there. Kicker Mike Nugent has to hit. If you want to look at an advantage, look at Seattle kicker Steven Hauschka. 10 of 10, three for three from over 50. He's been money for them. This could be a game where field goals make a difference. They need to convert every opportunity Whether it's three or seven.
THE EDGE: Bengals, 13-9. I just think the Bengals defensive line is going to wreck their game plan. I think they'll struggle to find points and I think a turnover or short field and a couple of nice drives by Dalton are the difference. When I picked this before the season, I picked them to go 4-0 and I predicted them to lose this game. But no one predicted that Andy Dalton would be playing this well and I think it makes me change my mind. I think they feel it is a measuring stick game. How could they not? The one knock on this team thus far, if there is one, is the four teams they've played probably aren't going to make the playoffs. If they want to be legit in that conversation these are the types of games you have to win. I think they know that and they relish the opportunity, especially here and not having to go to Seattle.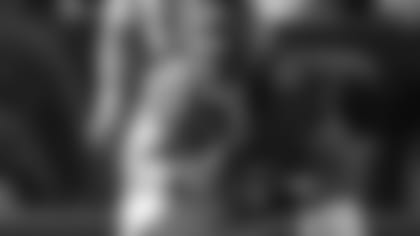 Left guard Clint Boling and his guys in the interior draw the dangerous Michael Bennett.
You almost look at it like a Cincy-Baltimore game. Seattle's defense is starting to click a little bit. They've got some problems on the offensive line. They don't have Marshawn Lynch. They just may have to use a rookie at running back, Thomas Rawls. Russell Wilson hasn't been able to get in sync yet with Jimmy Graham. Even though he's completed a high percentage of his passes, the offense, because of the line blocking, has had nothing but troubles. It's a game where Geno Atkins can probably do some serious damage. But Seattle is a good, smart team, that almost always plays close games.
Every Monday Seattle head coach Pete Carroll preaches to Russell Wilson to cut down on turnovers. If you really look at it, they've turned it over a lot lately. Four turnovers in the NFC championship game. He's had a couple of fumbles. Particularly in road games they try to focus on not making turnovers. Pete kind of uses almost a Sabermetrics approach.  It's like in baseball. A turnover is like giving away outs because it is giving away possessions.
Right now the Seahawks offensive line is a mess and it's not out of the question they start making some changes. They've all pretty much moved from different spots. They're either former defensive linemen or former wrestlers or whatever. Particularly from guard to guard. Their right tackle is a college tight end. He's still trying to make a conversion. The line was pretty much thrown together after they gave up seven sacks in the Denver pre-season opener. So they moved Justin Britt from right tackle to left guard. They gave Garry Gilliam the chance to be the right tackle and Drew Nowak became the center. They just kind of threw it together hoping it would work. There have been flashes, but it's been problematic.
Chancellor coming back settles them on defense 100 percent. They're whole again. Not only is he a big hitter, a big playmaker, he's a great communicator on the field. They didn't have that communication when he was gone. Earl Thomas communicates well, but he's in the middle of the field. Cam does a great job picking up things doing that and you saw the great play he made at the end of the Detroit game.
It's obviously one of the best Bengals teams put together in a few decades. This team is really good. Tight end Tyler Eifert has come on as expected. A.J. Green has been phenomenal. Andy Dalton's been better than he's ever been. You put that all together and the offense is playing at a very high level.  And defensively, the line is really good, particularly Geno Atkins.
I feel like a Bengals bear writer. This is my second trip to Cincinnati and third game I've seen.  The first game (San Diego in Cincy),  I thought this was an 11-, 12-win team, you can recognize that. The second one (in Baltimore), Dalton is definitely different and better than he ever has been. He's taken more leadership. (Director of player personnel) Duke Tobin and everybody have done a great job with that roster.
THE EDGE: Even. In a game like this it comes down to one play in the fourth quarter. Somewhere in the 24-20 range. I just like the fact in this one that Cincinnati has so many offensive weapons and they have a good defensive line.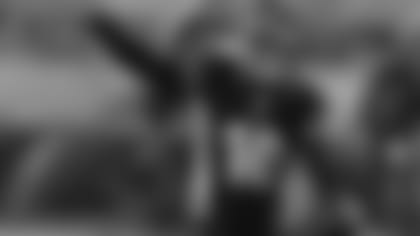 Bengals punter Kevin Huber should loom large Sunday.
Besides a post-season win, the one thing that has eluded the Marvin Lewis Bengals more is a win over an elite team in a high-profile matchup. It is a 1 p.m. game, but it is FOX Sports' No. 1 game and the game is PBS' first sellout of the season.
Dating back to the days of Pro Bowl right tackle Willie Anderson, the Bengals had a saying about games like this. There have been other expressions, but it is more or less known as a game "for big boy pants," and no team pulls on its big boy pants better than Seattle with an .875 winning percentage in prime time under head coach Pete Carroll.
They rarely beat themselves by making turnovers or giving up big plays, or getting behind and like a good AFC North team, doesn't mind flexing its muscles in the physical game.
Since the Green-Dalton Bengals came into the NFL in 2011, the Hawks are third in the NFL with a plus-50 turnover ratio after leading the NFL in 2013 and finishing fourth in 2014.
Last year, the Seattle defense, with Kam Chancellor patrolling strong safety, gave up the fewest passes of at least 20 yards and the seventh fewest passes of plus-40 with just six.
For two straight years they've led the NFL in allowing the fewest points and yards and that translates into a streak of 74 games they've been in the lead or within one score in the fourth quarter. Seattle's largest defeat since Nov. 6, 2011 was that 10-pointer in Green Bay a few weeks ago and you have to go all the way back to the  week before in Seattle for the last time they were blown out, a 34-12 verdict unleashed by the Green-Dalton Bengals as rookies on Oct. 30, 2011.
But the Bengals have plenty going for them, particularly the matchup with Seattle's tattered offensive line that is giving up a NFL-high sacks per pass in an edge that should be magnified by the sellout.
In the last 22 PBS games the Bengals have racked up 56 sacks and are coming off a game they punished the Chiefs rookie center on the way to five of them. Seattle center Drew Nowak, a converted defensive lineman, is also in his first year playing center at this level, and snapping the ball lefty is the least of his worries.
He's been wayward with some shot-gun snaps and a high one resulted in one of Wilson's two fumbles in Monday night's win over Detroit. Wilson leads the NFL with 24 fumbles over the last three years and 30 in his career and somehow he has lost only 10 of them. In this 18-3-1 run at home, the Bengals have continually come up with late turnovers. In the last three PBS game they've secured wins on a Dre Kirkpatrick pick six, a Vincent Rey interception, and a Michael Johnson forced fumble.
Plus, in that stretch the Bengals are 5-1 against Super Bowl winning quarterbacks. In order to make it 6-1 Sunday they have to play Wilson like Ben Roethlisberger, the one Super Bowl winner that has beaten them here.  Don't let him throw on the run and get out of pocket so he can wait for the coverage to break down.
And the big matchup won't be the contain guys on the outside, ends Johnson and Carlos Dunlap. It will be inside, where Atkins and Domata Peko have to prevent Wilson from stepping up. Nickel inside rusher Wallace Gilberry (calf) is questionable and Margus Hunt may be called on for the first time this year to supply some heat.
But the only way the Bengals are going to win this game is if their torrid offense comes through against the league's best defense. Center Russell Bodine and guards Clint Boling and Kevin Zeitler have the big work on Michael Bennett, and Andy Dalton has to figure out Chancellor and Thomas in the middle of the field. Seattle is looking for its first interception of the season and Dalton has only thrown one. If it is still like that at 4 p.m. Sunday, the Bengals are 5-0.
Seattle belongs in the AFC North, so we're talking about a one-play game. And the game features two of the best red-zone passers in the game. Dalton has thrown just four picks in the red zone during his career against 74 TDs, an 18.5-1 ratio that is third on the active list among QBs. Wilson (52-2) is right ahead of him in second place, with a 26-1 ratio, behind only Aaron Rodgers' 30.6-1. Watch it come down to a red zone pass. (Ask the Patriots' Malcom Butler).
Maybe another element working for the Bengals is they're playing the same safety-high coverage they saw from the Raiders in the opener. That's the coverage that tight end Tyler Eifert and wide receiver A.J. Green destroyed because the vertical seams were wide open. The problem is the safeties in the Seattle scheme are Pro Bowlers and the seams are going to be a lot tighter. But, at the very least, the Bengals have the weapons to attack it.
The biggest matchup of all is a pair of rookies, Seattle punt returner Tyler Lockett vs. Bengals gunner Josh Shaw. Lockett is averaging 11.3 yards per return (eighth in the league) with a 57-yard TD and they can't sleep on him on kickoffs, where he's got a 105-yarder. Bengals Pro Bowl punter Kevin Huber has become the master of the late big punt at PBS that sets up big defensive stands and he'll have to do it at least once in this game.  
 The other big matchup pits the kickers, Cincinnati's Mike Nugent and Seattle's Steven Hauschka. Nugent has missed two field goals at home, from 36 and 44, while Hauschka has drilled all 10 this season and that includes three from 50 and beyond.
Given the way these two teams play, the team that makes the fewest mistakes wins. If the Bengals' big-play offense can, instead, switch and win by going nickel and dime, and get mistake-free play on special teams, they'll win. The Bengals are second in the NFL in both 20-plus and 40-plus yard passes, but they'll have to take what Seattle gives them. Lapham says they will get one-on-once chances, so they can't miss the opportunities.
You just figure the defense is always going to do what it always does in this building the last 22 games and hold foes to an average of 19.5 points. It will have to because Seattle doesn't let you score much more than 20.