With Pro Bowler Tyler Eifert on the shelf, the Bengals like the workmanlike versatility of Tyler Kroft (above).
Now that Pro Bowl tight end Tyler Eifert's ankle is in a cast, all eyes are cast on the next Tyler up in Rutgers' Tyler Kroft, the tight end the Bengals targeted in the 2015 draft every bit as much as first-rounder Cedric Ogbuehi.
The best pair of eyes when it comes to Kroft probably belongs to Bengals backup quarterback Andy Dalton, who was pressed into service after the Doomsday Drive against Pittsburgh back on Dec. 13. Just before quarterback Andy Dalton broke his thumb, Steelers safety Mike Mitchell sent Eifert to LA LA Land a few months before the Rams moved there with a concussion that took him out of the next two weeks.
Kroft and McCarron hooked up nine times for 108 yards and a touchdown during those two road games, the win in San Francisco that Kroft put away with his first NFL touchdown catch and the overtime loss in Denver where they helped keep it alive with a third-and-eight completion during the tying drive in the fourth quarter.
"The one thing you have to like about TK is he's like Eif as far as being athletic," McCarron says. "He's fast and he's a good sized guy. Being that athletic and playing that positon, you can create a lot of mismatches with that."
Now, no one is saying the 6-6, 245-pound Kroft is going to match what the 6-6, 250-pound Eifert is going to give them. After all, Eifert led tight ends everywhere with 13 touchdowns in 13 games last season.
But during the spring practices the last two weeks, the Bengals also feel like Kroft is showing why they consider him a solid all-around NFL tight end that can do plenty of his own damage in the passing game until Eifert returns. The Sept. 11 opener against the Jets is supposedly in jeopardy and maybe more, but Kroft, not to mention fellow sophomore tight end C.J. Uzomah, is quietly impressing.
"He's made a lot of plays this year in the two days I've been out there," McCarron says. "He's a big target. He's the same type of player (as Eifert). He can make those same (mismatch) plays. He's going to be able to showcase that the more reps he gets. He'll end up showing that more and more."
Go back to the touchdown in Frisco and the Bengals grinding to a 14-0 lead in McCarron's first NFL start when WILL backer Vontaze Burfict picked off a pass at the Niners 20 as the clock ticked to a minute left. On the next play Kroft was wide open down the seam.
"Safety blitz and the middle was wide open," McCarron says. "It was a called play and he knew if it was a blitz he has to look for the ball quickly and be ready to catch it. It was good by him getting to a spot."
Then the next week in Denver with a playoff bye on the line, McCarron drove the Bengals to a tying field goal with 6:46 left in the game. On third-and-eight from the Bengals 46, McCarron avoided the blitz and unloaded it to Kroft going across the middle on the move. Kroft flashed that Eifertish athleticism when he broke a tackle and ended up with 14 yards to set up Mike Nugent's 52-yard field goal.
He's not going to get any better experience than that the rest of this spring.
"Tyler really looked out for me last year, and he's still doing it today, looking out for me," Kroft says of Eifert. "But it definitely, definitely helped a lot, taking a lot of snaps, especially toward the end of the year last year."
Eifert also was always in his ear about remembering how he got here.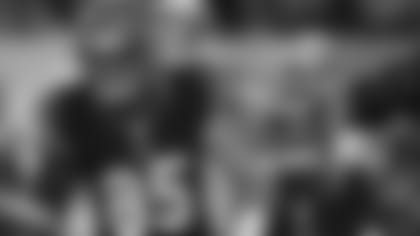 Eifert (85) has been generous with advice for Kroft.
"It also came down to where he kept saying, 'Don't overthink it. You're here for a reason. You know what you're doing,'" Kroft says. "Ty, as you guys know, is a little bit laid back. He doesn't try to let the moment get too big for him -- which he does a very good job of -- but yeah, you know why you're here and don't focus on what you need to do, and don't think of all the what ifs. You're here for a reason."
Kroft is here because the Bengals saw one of those tight ends you just don't see very often any more. First of all, a big guy that can run. Not only that, but a big guy that can catch. Not only that, a big guy that can catch and block.
"The way those guys are used now has changed," says Bengals director of player personnel Duke Tobin. "I think the spread offenses have eliminated some of those guys on the high school and college level and tight ends aren't used as much as they used to be. The running games as a whole aren't what they used to be. I think that trickles into what the colleges can do and what they supply us."
The Bengals, of course, like most NFL teams, need tight ends that can be both a passing game threat as a receiver and running game factor as a blocker. So they need size, hands, speed, strength and, as Tobin says, "that's a rare combination for that position."
That's because the spread passing game is hijacking guys with the dimensions of Eifert and Kroft as early as high school for other positions.
"Maybe more of them are playing defensive end or staying smaller so they can play wide receiver because that's what they're used to," Tobin says.  "Or maybe they're bulking up to play tackle. Possibly outside linebacker.  Basketball has always been a competitor. The length, dexterity and athleticism has always been an attraction."
So with the Bengals deciding after the 2014 season that Jermaine Gresham would graduate into free agency and Eifert would be promoted to the lead tight end, the Bengals were on the lookout to find an all-around tight end. They knew Eifert was a big-time playmaker, but Gresham was underrated for his blocking.
The Bengals knew they needed a tight end that could do a little bit of everything when Jermaine Gresham graduated into free agency in 2015.
So before the draft began they targeted Kroft as a guy they wanted with the first of their two third-round picks. When he was a sophomore, he racked up big numbers in a spread. When Rutgers switched to a more pro-style offense the next year, Kroft's numbers were cut virtually in half but he gained valuable experience blocking in the run game.
Not to mention the Loyal Knight Award for sacrificing personal goals.  In the end, though, he says that philosophy switch probably got him drafted in the third round. Indeed, if the Bengals couldn't have nabbed Kroft in the third or if he didn't look as good as he did in the spring, Gresham probably would have been back.
"Especially because we moved into the Big Ten and played some of the Ohio States and some of the better competition," Kroft says of the NFL impact on the offensive switch. "So just getting that exposure, especially having my hand in the dirt every spot that helped a lot."
But Kroft is more used to playing like Eifert. All over the place. That sophomore year they flexed him out and all over.
"I feel very comfortable out there," Kroft says. "Because I always had a real comfort level in high school, I played tight end and receiver. So I was used to kind of moving all over the field and doing that. So yeah, it's a little give and take. I'm really comfortable moving over, but if coaches need me, I'm willing to do whatever."
And that means blocking, a skill the Bengals were quite pleased with as he adapted to the pro game. But Kroft is surprised to hear that a web site like profootballfocus.com rated him tied for fifth in pass blocking efficiency among NFL tight ends who played at least 25 percent of the snaps.
It would probably surprise Kroft that Eifert graded only third on the Bengals in blocking, since PFF rated him 36th and Ryan Hewitt 24th.
"I thought I had a TON to improve on. So that's why I didn't know I got a high grade blocking," Kroft says.  "I don't think he gets the credit he deserves in the blocking game. He's got real strong hands as far as being able to control people. He knows where the run is going, so he always kind of has his body in the right position. So if it's bouncing outside, he won't try to take the main down the middle, but get his head on the outside and make sure no one beats him on the block."
Maybe something else from Eifert has also been absorbed. Kroft adopts that laid-back-let-the-game-come-to-me cool when asked about the pressure of replacing a Pro Bowler for however long.
"Nah, not really," Kroft says. "They'll have a ton of time right now to get in the game. I'm honestly just really excited to get the season started."
Cincinnati Bengals host OTAs at Paul Brown Stadium practice fields 6/1/2016