Andy Dalton came out of the 2011 draft throwing.
SAN FRANCISCO - Super Bowl 50.
 But isn't it like the 49 before and always about the quarterbacks Sunday (6:30 p.m.-Cincinnati's Channel 12) when Denver's Peyton Manning tries to stave off the future fittingly worn by Carolina's No. 1 named Cam Newton?
Newton was named the NFL's MVP Saturday night, a fact that 1988 NFL MVP Boomer Esiason and everyone else predicted earlier this week. But Esiason, who took the Bengals to Super Bowl XXXIII that season running the forerunner of Manning's "Omaha," pre-snap sleight of hand at the line of scrimmage, has his eye on the Super Bowl's oldest ever quarterback.
"I'm not really rooting for (Manning)," said Esiason, calling the game on Westwood One Radio. "But I can see the bigger picture and what it would mean not only to him and his family, but the 18 years he has spent in the NFL leaving a legacy of quarterbacks doing things differently. I think he took what we did in Cincinnati to a whole other level."
This may be Manning's last rodeo, but Sunday is just another derby that confirms even as the NFL evolves it always gets back to the most important position.
Fast forward ten more years up to 1998, when then Colts president Bill Polian made the decision to draft Manning with the first pick in the draft, solidifying his Hall-of-Fame front-office  credentials.
Now fast forward even more, up to the 2011 first round, a few hours after the Panthers changed the course of their franchise and took Newton with that first overall pick. Polian and Colts were holding the 22nd pick of the round. Injuries had made Manning's future hazy, but not enough for Polian to take TCU quarterback Andy Dalton or Nevada quarterback Colin Kaepernick.
Their choice was Boston College tackle Anthony Castonzo and that led to Polian's demise and Manning's departure to Denver.
"Castonzo has had a good career," Polian says. "But we should have taken a quarterback. There were two there. We probably should have taken the quarterback for the long-term health of the franchise."
It certainly wasn't for the long-term health of Polian because Manning ended up not being able to take a snap that season, the Colts went 2-14, and Polian got the axe from owner Jim Irsay. Dalton lasted overnight and the Bengals took him with the third pick in the second round and haven't missed the postseason since.
It also helped that three picks after Newton, the Bengals took wide receiver A.J. Green and he has yet to miss a Pro Bowl.
How big has the 2011 draft been?
The pick after Newton was Denver pass rusher Von Miller, the man that makes the Broncos' No. 1 defense go and got Manning back here for one last ride. With the pick after Green the Cardinals took cornerback Patrick Peterson, Newton's obstacle in the NFC championship game. At No. 6, Julio Jones, Green's NFC and Pro Bowl soulmate, went to the Falcons. At No. 9, the Cowboys grabbed left tackle Tyron Smith and he alternated with Bengals left tackle Andrew Whitworth in last week's Pro Bowl. At No. 11, defensive end J.J. Watt went to Houston and Saturday night Watt went to his third straight NFL Honors to pick up his third straight Defensive Player of the Year.  
"Can you imagine if we missed on either guy?" shudders Bengals offensive coordinator Ken Zampese of Green and Dalton. "It changed our course.  The ship was on the other side. The pendulum completely swung the other way in one draft."
The Bengals, like the Colts did with Manning, hung in there with their early evaluations of Dalton and ended up with a consensus. Bengals director of player personnel Duke Tobin's department identified Dalton as one of the draft's top quarterbacks, a ball that got rolling when area scout Bill Tobin visited Texas Christian during the season.
Like the Colts, the Bengals were looking for more than talent because they needed the next leader of the franchise. So intangibles and brains became as important as, say, arm strength.
"More than any other position, intangibles and those things are so important," Tobin says. "You've got to have some confidence to you playing that position. People have to be attracted to you and you need to be smart for obvious reasons. And (Dalton) was a guy we knew that it was important to him and he studied it."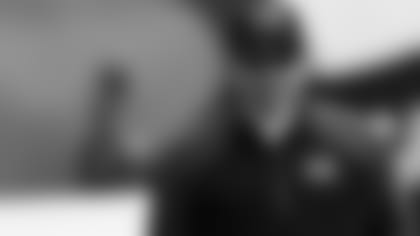 Bengals offensive coordinator Ken Zampese and his team benefitted big time in 2011 draft.
And, like the Colts, the Bengals were looking to reach a consensus with the coaches and scouts between Manning and Ryan Leaf. Polian remembers meeting with offensive coordinator Tom Moore and quarterbacks coach Bruce Arians on either Palm Sunday or Easter just days before the draft in what proved to be an NFL high holiday.
"The trolls were in the office," Polian remembers with a laugh. "There were a lot of boogeymen out there. There was a lot of noise out there that there was a ceiling on (Manning's) arm. That he couldn't throw past a certain level. I went in and looked at every pass he threw."
After that he saw Moore and Arians and told them, "At about 60 yards it starts to get a little Raggedy Andy."
Polian laughs because Moore said, "OK, we won't throw anything over 60 yards."
(A footnote: how important are QBs? Arians and Moore re-united with another No. 1 overall QB this season in Arizona and Carson Palmer took them to the NFC title game.)
"The physical parts were outstanding. Better than Leaf. People don't recognize that," Polian says. "But the intangibles were off the charts. Just the whole body of work."
In 2011, the Bengals were undergoing a similar exercise. Once Zampese, then the Bengals quarterbacks coach, and offensive coordinator Jay Gruden got into the scouting mix, they agreed with the scouts that Dalton was a talent. And the more they looked at it, the more they came to believe of all the guys not Cam Newton in that draft, Dalton was the guy that could help them the quickest because of his ability to run Gruden's scheme.
"In my mind he's the guy I had the most confidence in because I could see him doing the things we wanted on offense," Zampese says. "He was tough, he had played a lot of college football, and he had the kind of personality that fit me, so I could see it. He was a very smart guy that wants to be knowledgeable. He prides himself on his football IQ and will work at it."
After the draft there was enough buzz about Dalton's arm strength that Gruden took a reporter into his office and went through the tape of his TCU workout, which ended with Dalton whipping a 65-yarder on a rollout.
  "Have there been any questions about his arm strength lately?" asks Zampese with a laugh about the AFC passing champion.
The Bengals didn't have one defining moment in the process, nothing like an Easter Week revelation.
Tobin: "You always want to have a process where you build your information step-by-step and you add each piece to get the whole picture."
Zampese thought things crystalized when he and Gruden scouted Dalton and Florida State's Christian Ponder on the same day in private workouts.
"That way we were able to see them together, talk to each other, and see how they responded to coaching," Zampese says.
Zampese came into the NFL the same year Manning did, so he's been involved in the evolution of quarterbacks doing more with line-of-scrimmage calls a la Peyton.
"It's a copycat league. If you have success, people are going to steal it," Zampese says. "Look at Washington when they led the league in rushing with RGIII at quarterback. The next year Philadelphia led the league in rushing with Nick Foles."
Esiason, the Father of Godfather Sam Wyche's no huddle, has watched the change-it-at-the line QB evolve proudly.
"You see other quarterbacks like Tom Brady and Aaron Rodgers run the hurry-up and the no huddle and the at-the-line stuff," Esiason says. "I know that and I see Peyton a lot and he'll mention things like that because he knows the history of the league. He knows where things got started."
Dalton's ability at the line scrimmage isn't in Manning's class ("No one goes that far with it," Zampese says), but his pre-snap reads are thought be among the league's brightest.
"It allows the quarterback to make some easier checks," Zampese says. "Peyton is doing it using mostly dummy cadences. Just old brain power and knowing the body language of the defenders, which makes you unique. More often than not, (the defense) is not always in formations that give you a tell. He knows what the real locations are."
If it all began with Esiason and Manning at the line, look for Dalton to keep running the same zone read stuff through the line that he and Newton have been running since they arrived.  Newton runs it more and Zampese has high praise for how Panthers offensive coordinator Mike Shula has put it together.
"It evolves, but a guy like Cam has added to the position with his ability to both run and throw," Zampese says. "I love what Carolina is doing getting rushing yards with the quarterback scoring so much. That's significant. It's what Andy did in college, so it's a very natural transition for us to pick up those kinds of things. It allows us to have some spread runs where there are some different options."
Sunday is a tough day for Zampese. Even though Dalton got hurt and missed the last four games, he thinks they could have got here with Andy Dalton if the other 45 guys played like they did when he was in there.
So he'll have to be content watching New vs. Old.
"This is going to be really fun to watch," Zampese says. "I love to watch Cam in this setting after the great year he's had and see if he can take that one final step. And there's Peyton with the possible finality of this game and the pressure that brings."
Super Bowl 50 and what is different than the other 49?
"It's an old saying but it's absolutely true on Sunday," Polian says. "Good defense and a good running game can get you to the playoffs. The quarterback has to take you the rest of the way."