The Bengals will kick off the 2018 season on a new synthetic turf field at Paul Brown Stadium.
The process to replace the field will began on Monday with the removal of the current field. Installation of the new field is expected to be completed by June 1.
The Bengals have selected The Motz Group, headquartered in Cincinnati, along with turf manufacturing partner Shaw Sports Turf to install the top-of-the-line synthetic turf system.*  *"We looked across the industry and were happy to find the best company to install the Bengals' new field right here in our own backyard," said Bob Bedinghaus, Bengals Director of Business Development. "The Motz Group is a proven synthetic turf provider and we look forward to working with them on this project."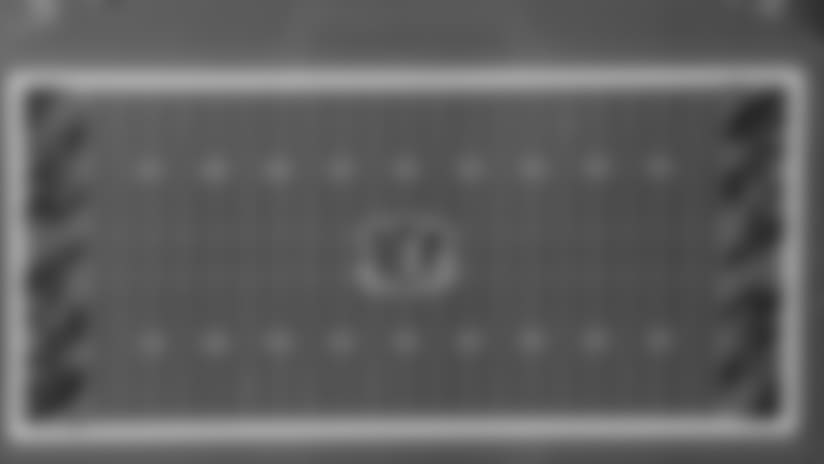 A look at the design of the new synthetic turf being placed in Paul Brown Stadium
According to The Motz Group:
*The Motz Group will be equipping Paul Brown Stadium with a top-of-the-line synthetic turf system that will be ready for the 2018 season, featuring a new end zone design. Manufactured by Shaw Sports Turf, this product includes Strenexe XD slit-film fibers that are supported by the strongest synthetic turf backing in the industry, UltraLoc. Ideal for its mix of durability and performance, this system's interlaced structure provides the type of sturdy and reliable playing surface expected by professional athletes. Shaw Sports Turf is proven in NFL and other high-profile fields, with over 3,000 successful installations in North America. "With Shaw Sports Turf's reputation as one of the leading manufacturers of synthetic turf playing surfaces that are geared for high-level performance, and The Motz Group's long lasting legacy of not just building fields, but building futures, you get the best of both worlds," said Chuck McClurg, Vice President of Shaw Sports Turf.
*You can read the complete release here.