Marvin Lewis has made it clear to his players the Wild Card loss to the Steelers is in the dust bin of history.
In honor of Sunday's long-awaited rematch with the Steelers in Pittsburgh (1 p.m.-Cincinnati's Channel 12), head coach Marvin Lewis has offered the Bengals' version of Bill Belichick's "It's on to Cincinnati."
Asked four questions about the game in his Monday news conference, Lewis cut off each one with "This is a new team, a new season, and a new year."
One question was if he felt the Bengals should hold on to the feelings that erupted in the crushing 18-16 Wild Card loss in which emotions flowed on both the field and the sidelines and where several calls were later criticized by the NFL itself.
Another question appeared to be headed to the notion if Lewis would talk to the team early in the week about keeping their composure.
But, "This is a new team, a new season, a new year," stopped that one.
Lewis' message appeared to get across to his locker room. Reporters on Monday quoted the player penalized on the last snap, cornerback Adam Jones, saying "I ain't talking about Pittsburgh."  That was a play marred by jagged edges of emotion as well as the NFL later saying the officials  blew the call when Steelers assistant coach Joey Porter stalked the Bengals huddle illegally, which is what Jones was objecting when he got a personal foul that gave the Steelers the win.
"You don't need to remember. In terms of like game plan wise, we're watching film to see what they did well in the last game and the previous games," said safety George Iloka. "It's a division game. You already know what it brings, whether it's the Ravens, Steelers or Browns. All those games are tough and physical. The only thing we can take away from the last game were things schematic wise that they might try to hit us with the things that we need to correct. But nothing in terms of vendettas or anything like that."
Iloka insists the emotion from last year won't spill into this one.
"For me, no," Iloka said. "You have to ask somebody else to see if they have any emotional carryover."
"This is a new team, a new season, and a new year," fits no one better than Bengals rookie wide receiver Tyler Boyd. Boyd, a second-round pick who has secured a starting slot receiver role, is a Pittsburgh native who played at the University of Pittsburgh. The Panthers share Heinz Field with the Steelers and that meant Boyd rubbed elbows with the guys he saw on TV.
Yes, it meant he commiserated with that Bengals' arch-villain Antonio Brown, Pittsburgh's 1,800-yard receiver. It turns out Brown treated him well, gave him more than the time of day, and advised him on the finer points of the NFL game. Boyd is on familiar enough terms to call him "A.B."
"He's real chill. He's all about work regardless of where he is now," Boyd said. "He was working before he was that guy people didn't think he was going to be."
Other than Lewis, a McDonald, Pa., product, Boyd is the one guy on the Bengals roster that pronounces Steelers the way the natives say it.
"I've got a lot of respect for the Stillers," Boyd said. "Even though I have so much respect for them, I'm still going to try and punch them in the mouth. Make sure I compete because I don't want a guy to punch me in the mouth. Whatever I have to do to win."
If that doesn't sound like a guy made for the Bengals-Steelers rivalry ….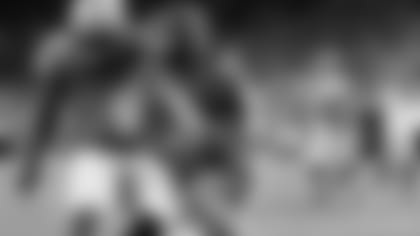 Tyler Boyd respects his hometown Stillers, but is going all out for the Bengals Sunday.
"This is one the great rivalries that comes along," Boyd said. "I want to do a great job of letting my name heard and felt."
Boyd did that last Sunday in New Jersey in his NFL debut that showed off his Steel City football savvy. The kid is soaked in the game, has been reared in it since he was 7 in one of the country's hotbeds, and had one of the area's most decorated prep careers at Clairton High School.
With the Bengals out of timeouts at the end of the first half, he made a diving 14-yard catch over the middle with 13 seconds left and promptly spotted the ball as the Bengals rushed on the field goal team for a successful kick.
"I thought Tyler Boyd was excellent," Lewis said. "He got right up, put the ball right down there, and basically set the ball for them. Our guys were able to come off the field and get the other guys on the field, get the thing snapped and down, and obviously caught them with 12 men on the field."
Boyd says the Panthers would occasionally run into the Steelers when they'd cross paths at a practice. That wasn't that often, but when it rained both teams had to use the indoor facility.
"During their last period we would go in and start stretching and it was a chance to say what's up?" Boyd said. "I (could) lean on them when I was looking for perspective if I should come out early. How easy or hard it would be on the next level.
"A.B. and Le'Veon (Bell) would run sprints after practice so they'd have the endurance when it gets hard in games during the last two minutes," Boyd said. "These guys put in extra work. You just can't go out and get by and not do a little extra to get ahead of your opponent. If you're not doing anything, just get in the meeting room and watch a guy's technique and watch how they play a certain route."
Boyd took the opportunity to pick Brown's brain and Brown talked to him about cornerbacks and the speed of the NFL game. But he wouldn't bug Brown about technique.
"I'm a visual learner, so I'd learn by watching him run routes," Boyd said. "Or my coach would put on some of his film."
Boyd has been playing at Heinz Field since he dominated the Western Pennsylvania Interscholastic Athletic League, so you can imagine what Sunday means.
"Just to come back once I go to the league and go back and be on that field again, it's just surreal to me," Boyd said. "I've played on that field so many times it's like I know the tracks. I grew up playing there, so hopefully I can come up with a  lot of big plays."
In fact, Boyd is hoping he scores his first NFL touchdown in front of family and friends. Yet, like Lewis, he's a Pittsburgh guy who happens to be a Bengal first.
"I actually can't wait. I'm going out there and do the best I can. Hopefully I can make a touchdown coming back to my hometown," he said. "Hopefully, the people there cheer for me and root for me no matter what. I just want go out there stay poised like I did in the first game. Just make a lot of plays and just leave out with a victory.
"Of all the games that have been played I've been around campus, the only one I ever heard about consistently is the Bengals games. Bengals-Steelers. Everybody around there knows when the Bengals are coming to town, so it's just being able to be a part of that rivalry means a lot to me and know that I'm going out there playing in a real tough matchup … Big game always. Hard-nosed football out there grinding. Beating each other up. But the dominant team is going to be on top and I hope that the team I'm on is going to be the dominant  team, which is the Bengals so we're going to go out there and do what we have to do to win."
Cincinnati Bengals take on the New York Jets in week 1 of the regular season 9/11/2016