Orlando Brown Jr. talked about his Dad Thursday.
INDIANAPOLIS - Frank Pollack, the Bengals' estimable new offensive line coach,  arrived here at the NFL scouting combine with the distinct impression that he'll have more of a say in the draft room than he did in his three previous NFL stops.
And here's what he's seeking:
"You need a smart guy who can learn and retain the playbook, but also the techniques, a smart guy who can figure it out and apply the formula to the problem to get a solution," said Pollack Thursday, before hurried off to view the linemen bench press. "And you've got to be tough. It's not so much physically tough, it's mentally tough.
"You've got to be smart and you've got to be tough, mentally tough. That's at the top of the deal. If you don't have that, it's going to be really hard. Of course you've got all those O-line specific traits about moving skills and strength and all that stuff. But if I'm going to say two things, those are the two things."
The personnel department has a major say but Paul Alexander, the Bengals' line coach for the previous 24 seasons, had huge sway in a draft room that was built coaching-centric. It's a different world since 1995. Director of player personnel Duke Tobin's department has much more of a leading role now, but even if Pollack doesn't have that power of past years, he'll also get a say he didn't have with other teams.   
It's an intriguing combine for the Bengals offensive line. For the first time in 38 years they've got a new line coach in Pollack and a new offensive coordinator in Bill Lazor. Lazor has made it a point this this offseason  to make sure the coordinator is on the same wavelength with the line coach, spending about eight hours with him here the last two days.
In past years that always didn't seem to be the case, particularly in the last two seasons when the offensive line has been at the center of the Bengals' decline. After allowing 41 sacks during a six-win season in 2016, the line furnished the worst rushing season in franchise history last year while winning just seven more.  
The scuttlebutt is that the line is going to have a different approach. The construction of the pocket for quarterback Andy Dalton is apparently going to be adjusted, as is the angle of edge pass protectors. But that's just the buzz. It's too early for all that and even if it wasn't, Pollack probably wouldn't want to discuss it.
"Some of it's going to be similar. Some might be vastly different. This small part. This big chunk might be real similar. There's a little bit of change. And this might be identical," Pollack said. "You might think it's going to be identical, but the language.... You use the same word, but it's not quite the same meaning. You've got to find that. It's a process. That's with coaches to coaches, with coaches to players and players to coach to get through that language barrier and be on the same page and speak the same language.
Mike McGlinchey: flashes of Whit.
"I haven't really gotten my hands on them to work with them," Pollack said when asked if they'll be doing things differently. "At the end of the day, you've got to do stuff that they can do and execute well. They're NFL players. They're in the league for a reason. They've got skills. They've got talent. Now it's my job and our job as a staff to put them in the best position to have great success."
The next question after scheme is personnel and that's why we're here. The biggest spotlights are on inconsistent fourth-year tackles Cedric Ogbuehi and Jake Fisher and free-agent center Russell Bodine. Pollack sounds like he's ready to give all three another chances.
Pollack, who scouted Bodine for the Cowboys in 2014, liked him then and likes him now.  He thinks experienced centers are valuable.
"There's a general rule of thumb, the closer you get to the ball, the smarter or faster with the mental process you have to be. Because more things change and more communication starts from inside out. The center is the quarterback of the offensive line," Pollack said. "I think he's got lot of great qualities. The whole free-agent stuff, hopefully things work out and I'll be coaching him. I don't control all that. I'm excited to work with him and he knows that. I see a lot of qualities he can build on and continue to grow and improve as a player, no doubt."
He's also scouting Ogbuehi and Fisher like he did in 2015.
"They're talented guys. They've got a lot of talent. They were drafted high for a reason. I'm excited to be able to work with them and see if I can help them grow as players and improve the Bengals in my area," Pollack said. "I see a lot of good, positive stuff. They've got lot of potential in upside still. They're young players. The jury is still out on all those young guys. There's been a lot of players come through this league and it's not where you start, though, it's where you finish …I like what I see on tape with the tools to develop and work with. Let's see where we go from there."
But we are here and that means No. 12 could be the next left tackle. Except there's no consensus on the order of Texas' Connor Williams, Oklahoma's Orlando Brown Jr., and Notre Dame's Mike McGlinchey. In fact, there's no consensus if any of them are worthy of the pick, or even if the 6-7, 315-pound McGlinchey is a left or right tackle since he played both in South Bend during 39 straight starts.
What we do know after Thursday's media availability is that McGlinchey is a latter-day version of former Bengals Pro Bowl left Andrew Whitworth. Bright. Personable. Experienced. Accomplished.
Try this on for an answer about his first cousin, Falcons quarterback Matt Ryan.
"It's kind of been the "Mike McGlinchey, Matt Ryan's first cousin" since I was in high school. But I'm very thankful for that. Matt has guided me every step of the way, whether he knew it or not," McGlinchey self-deprecated from the podium Thursday. "And just watching the way Matt goes about his business, the way that he works, the way that people respect him is something that I've always worked for. He's been my football hero ever since I was a little kid going to his BC games in fourth, fifth, sixth grade, and when he got drafted into the pros when I was in eighth grade or whatever."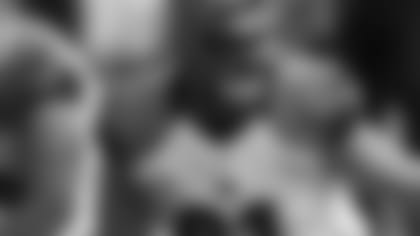 It sounds like Pollack is looking to use Russell Bodine as an anchor. if they re-sign him.
And then there's Brown, who counts Whitworth as one of his favorite NFL tackles. The massive Brown, a true son of the AFC North whose late father of the same name played for the old Browns and the original Ravens in the late '90s and at the turn of the century, is the guy that opened 6-7, 345-pound holes in Norman for Bengals running back Joe Mixon.
He's an eloquent standard bearer for his father's career and he can joke why didn't avoid following in his footsteps.
"I've always been fat," he said. "I didn't necessarily try to mold my game after him. I think what I learned from my dad was more mentality. He wasn't the most technical or fundamental football player. It was the way he approached the game. Work ethic."
And, McGlinchey is already quite familiar with Polllack's work with the Cowboys since he's been watching every move of old college lineman Zach Martin in Dallas since he replaced Martin at left tackle for the Fighting Irish.
"Zach is one of Harry's favorite players of all time, and he'll tell you that. When Zack went into the league,
we were very fortunate watching the Cowboys offensive line that happened to have Zach Martin, Travis Frederick and Tyron Smith," McGlinchey said. "So I was lucky to continue to watch them and the skill that they had. Obviously when Ronnie Stanley and Nick Martin went into the NFL we followed them. We always followed our players and what they were doing and learned how to pull what they did and we used it as an example of doing what we would learn and do at Notre Dame and how it translated to the NFL game."
As for Pollack's line in Dallas, McGlinchey could only say, "Their resume speaks for itself."
 Brown and McGlinchey are also on the opposite end up of the spectrum when it comes to the plight of modern talent evaluators charting college tackles. The spread offenses have made it difficult to project tackles at the next level. Exhibit A is Texas A&M's Ogbuehi. A marvelous athlete, he hasn't been able to stand up consistently in the NFL's power game, particularly the bull rush.
"There are a lot of offensive linemen that have never played with their hand on the ground going back to high school or whenever they started playing," says Greg Cosell, the personnel wizard for NFL Films. "So now you're dealing with players who have no concept of playing with their hand on the ground. They really don't have a great feel for combination blocks working cohesively as a unit. There's learning period. That takes time."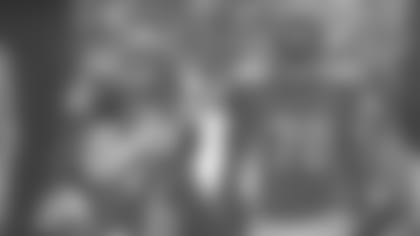 Pollack likes his players nasty. Cedric Ogbuehi may have to make his streak meaner,
Cosell says that's why he enjoys watching the games of schools like Iowa, Michigan State, Stanford, "teams that actually line up with the quarterback under center and run a pro style run game. Because that not only helps (scouting) offense, but the defense, too. Now the linebackers have to match up. It's not just a space game."
But Cosell thinks McGlinchey is NFL ready (in fact, some think he is the most NFL ready of the tackles) because of Notre Dame offensive line coach Harry Hiestand,
an NFL refugee that coaches with the league's fundamentals.  Cosell says the era of saying a guy that can't play left can play right tackle is a ship that has sailed. Both sides, he says, are facing dangerously explosive edge rushers.
McGlinchey, Cosell says, is a decade-long left tackle.
"I like him a lot. He's really fundamentally sound," Cosell said. "He's long. There'll be some concerns. He's a little narrow-based. He's not a big, wide guy. He's not a high-level athlete. There are times he doesn't secure the edge as well as you'd like. You have to decide. Does that get worse in the NFL? I don't know. I just know I like the player. Very composed. Good kick slide. Good balance. He doesn't lunge. He's a good prospect."
It's not as clear-cut with Brown. His slow feet aren't what they're looking for on the left side and he's played nothing but left tackle, which may mean it takes a few years. He didn't lift impressively in the bench press Thursday and, no, at Oklahoma he didn't get in a stance.
"It's not going to be an issue," he said of putting his hand on the ground. "I haven't had any problems."
That's Pollack's charge as well as the charge of the Bengals' scouts. Project a different game into a different game.
"It's always evolving. I always say I hold the right to change my opinion on what grade I'd give a guy today vs. 30 days from now," Pollack said. "I can go work him out, see him at the combine. The grade is evolving until I have to turn that final report in and we're rolling with it. You have to go through the process."
This gallery features photos of current Bengals players at past NFL Combines (AP Photos)