Ken Riley back in the day: 65 interceptions are fifth all-time.
Ken Riley passed on to his son Ken the passion for football and a heck of a Paul Brown imitation.
"Boy, he was something," says Riley the Elder to his old partners on the corner, Lemar Parrish and Louis Breeden.
Both are on display this week when the Bengals host their first two alumni dinners celebrating the club's 50th anniversary and coinciding with each home game.
The Rileys are part of a 60-80s re-mix over the weekend while this week's reunion before Thursday night's game against the Texans (8:25 p.m.- Cincinnati's Channel 5, NFL Network)  is the best hits of Marvin Lewis with T.J. Houshmandzadeh, Rich Braham, and Chad Johnson just some of the players scheduled.
Houshmandzadeh and Braham are already on the field for Wednesday's practice and holding court with Takeo Spikes as both lean on Bengals umbrellas. It is a good time for Houshmandzadeh to tell the story of how he always tried to tell Lewis to cut back practice and how the old school Lewis held his ground.
Until now, of course, with the Bengals adjusting to the new NFL, not to mention the collective bargaining agreement and now have as many walk-throughs as practices during the week.
"You could play now. We practice twice a week," someone tells Houshmandzadeh, who turns 40 in two weeks.
That's all a reunion is, right? And that's what these are. One long story and the Bengals are blessed to have one of the game's best storytellers in Dave Lapham, the NFL version of Waite Hoyt as the Bengals radio analyst for the past three decades. Lapham wasn't teammates with Babe Ruth, but he went to the playoffs under Paul Brown, won 10 games and didn't go to the playoffs under Tiger Johnson, got shut out on a Homer Rice Opening Day, and went to a Super Bowl for Forrest Gregg.
So there's no spellbinder alive better suited to lead the post-dinner discussion and pull the stories out of history.
"Just old times," says Ken Anderson, the team's all-time leader in passing and Isaac Curtis hamstring stories. "There's Paul Brown. Other guys. It's really nice the Bengals did this. It's funny. We embellish stories and all that other stuff. It's great to see the guys again."
If you're Ken Riley the Younger, you'll hear them all like you have before. Except his favorite one.
"My dad tells how he made the team," Ken Riley Jr., says. "He was a college quarterback, so he never hit. Wore the red jersey.  He was a favorite of (Florida A&M head coach Jake) Gaither, so he was really pampered. He had never played defense until he got to Cincinnati, so in one of the first pre-season games he was on the kick-off team. Like L-5 or something.
"He takes off running like a bat out of hell.  And he kind of collides with (the returner) and he fumbles. He just kind of ran into him. He's got his helmet pulled down over his eyes and he's got a black eye and coach Paul Brown comes over to him and says …"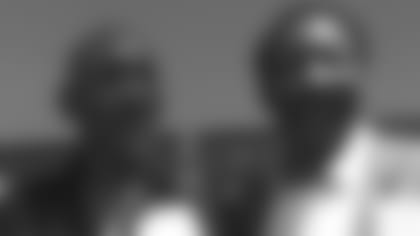 Louis Breeden, Lemar Parrish, Ken Riley telling stories.
At this point, Riley The Younger pauses with Pro Bowl timing, lowers his voice, turns it raspy, and says, "I like it. You're a hitter." …
(He sounds just like his father imitating Brown after they drafted Breeden in 1977. 'Did you see who we drafted, Kenny? I'm trying to replace you.")
"And he ran into him by accident," Riley The Younger says. "That's my favorite story."
Riley The Elder doesn't opt for that tale when Lapham calls on him. Instead, he recalls the first of his franchise-best 65 interceptions, a 66-yarder that didn't go all the way.
"They caught him," ventures Parish, who scored 12 touchdowns three different ways as a Bengal.
Oh yeah, a lot of busting chops. Parrish is the flashy guy who went to all the Pro Bowls and wore the fur coats. Riley is the guy with all the interceptions. And yet 40 years after their last season of seven seasons rooming together, there's still no resentment or envy from the other guy.
"There was competition, but that was it," Riley The Younger says. "They were teammates."
He finds himself in a long conversation with Parrish, no longer the little kid listening to all the stories. He is born Nov. 18. 1972, the day before the Bengals lost to Marty Domres' Colts at Riverfront Stadium by a point, the only one of Riley's three kids not born in his native Florida because he is two months premature.  It is an omen because he's always in season.
When The Elder is the head coach at Florida A&M, The Younger plays defensive back for him. He gets a shot in the Bengals' 1995 Ki-Jana Carter minicamp, but that's it.  He battles a hamstring injury his senior season and still gets invited to the NFL scouting combine, where he says he ran "a horrible 40." A supervisor for Southwest Airlines living in Houston, he savors the stories now instead of merely tolerating him.
That's why he and Parrish are huddled at a table.
"Because I played and went through what they did, now I appreciate how good they really were as players," The Younger says. "I still take out their highlight films and watch them."
And there is a lot to appreciate. There is Riley busting Breeden, telling him if he could catch he would have had 55 career interceptions instead of the 33 that is still the runner-up to Riley's 65. And Breeden is saying he dropped them so he wouldn't hurt the old man's feelings.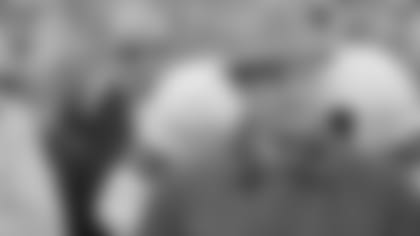 Paul Brown: Both Rileys do a pretty good imitation.
There is the great Pro Bowl receiver Curtis reminding Breeden how he gets him into the lineup in Breeden's second year. Which is nice because Breeden says he suffered a rookie season-ending injury, "Trying to cover Isaac Curtis."
When he comes back, the coaches put Breeden behind Riley even though the veterans are impressed with the seventh-rounder from North Carolina Central. After Curtis runs a route against Breeden in practice, he jogs past secondary coach Charley Winner and says, 'You've got your two best corners on the same side.' A day or two later, Riley and Breeden are starting.
There is Parrish recalling how he left his locker to use the rest room before a game against Cleveland and he comes back to find Brown has put on his fur coat and is sauntering around the locker room like Parrish.
"He had the hat, too, right?" asks Curtis, who knows the answer.
Barbara Riley, wife and mother, knows how much her son would enjoy all the stories, so she lets him go in her place to the dinner, which is why the son is wearing a "Barbara" name tag.  He's very active in the quest to put his father in the Pro Football Hall of Fame via the senior committee and he just can't get enough football.
And there is plenty once Lapham convenes the session.
There is Anderson talking about how Brown babied Curtis, telling him he didn't have to practice at the slightest twinge of his hamstring.
There is the old original linebacker from the '68 Bengals, Al Beauchamp, remembering Brown's introductory talk to the team: "I'm Yours Truly. There's no one above me. This is the team president John Sawyer. He's got my vote."
There is the timeless back-up quarterback, Turk Schonert, remembering how he rescued Anderson and the Bengals in the 1981 opener down 21-0 to Seattle and getting the Bengals headed to their first Super Bowl. How when Gregg told him to get in the game and he ran on the field in his ball cap and had to run back and get his helmet. And then how he fumbled away the first snap.
But the highlight for his father and Parrish and Breeden has come a few hours before when secondary coach Kevin Coyle calls them over after practice to talk to his players. He wants them to hear what 145 interceptions has to say to them as Ken Riley Jr., shoots the video.
"I didn't want to let that chance go by," Coyle says. "They were great. They were saying things that weren't all that different on how we coach it. Kenny said play the ball in the air and go get it. It's a great thing for the organization to recognize these players and it's great for our players and fans."
Kenny Riley is clearly touched and tells them what he thinks it takes to make it. Not the drills, but the heart.
"They listened. They seemed to be in awe of the numbers," says Riley, who thanks Coyle for putting up the trio's accomplishments in their meeting room. "It was nice … Kevin's doing a good job. He's trying to inspire them."
It seems to mean as much to the little kid who now has little kids 9 and 12 and wants to make sure they see their grandfather honored.
"The camaraderie and the friendship," Riley the Younger says. "Being around your old teammates never gets old."