Reggie Nelson, with one of his NFL-best eight picks this season, would like to return.
Reggie Nelson is back walking around, his sprained ankle that took him out of the Wild Card Game a distant memory. But there is enough feeling that he knows he doesn't want that injury to be his last play as a Bengal.
"Most definitely not," Nelson said recently. "They know that. Everybody knows that. I would love to be a Bengal.
"I did my part. I played football. It's time to handle business and we'll go from there."
Bengals management heads to Indianapolis Tuesday for the NFL scouting combine and that has typically marked its first heavy foray into the annual bid to keep as many of their own free agents as they can. They have a number of productive starters and regulars such as Nelson headed to market when the bidding starts March 7, so it's going to be the Bengals' busiest free-agency period since the Green-Dalton Era began in the 2011 lockout.
No deals are expected to be done in Indy with their own free agents, but there are going to be parameters discussed and frameworks exchanged and, at the very, least, relationships renewed. For instance, Bengals vice president Paul Brown and agent Peter Schaffer have an annual combine sushi dinner and with one of Schaffer's clients figuring to be very high on the Bengals' priority list, starting cornerback Adam Jones, they'll be passing more than the salt.
Jones, Nelson, fellow starting safety George Iloka, wide receivers Marvin Jones and Mohamed Sanu, and linebacker Vincent Rey figure to head the immediate wish list, but they'll try to keep as many of their other guys, too. They particularly covet Nelson's experience in the scheme and fit with new/old secondary coach Kevin Coyle.
Nelson and Jones are excited by the return of Coyle and that should aid the Bengals in their pursuit of them. Before Coyle left to become the Dolphins defensive coordinator in 2012, he helped Nelson and Adam Jones,  recycled first-round draft picks, revive their careers  that both ended up in this month's Pro Bowl for the first time. In 2011, Coyle coached that Bengals secondary with Paul Guenther, heading into his third season as the defensive coordinator.
"Most definitely I love playing for KC. He wants to win and he coaches technique" Nelson said, "He knows the defense. It's not like he's coming in blind and has to study all this stuff. He's familiar with Paulie and Paulie is familiar with him. I think it's a great move. They do a great job hiring coaches."
The feeling appears to be mutual. Head coach Marvin Lewis has indicated he'd like to re-sign starters like Nelson. There is his cool leadership along with durability and six seasons of experience in the scheme. Plus, he's coming off a career year in which he became the first Bengal to share an NFL interception title in 10 years with eight. He's quietly picked off 23 as a Bengal, sixth on the club's all-time list.
And Nelson is hoping the Wild Card Game, his 98th as a Bengal, won't be his last in Cincy. The last one was tough to watch after he went down.
"You always want to be out there. It hurt not being out there," Nelson said. "(The ankle) is good. It's ready to go."
Nelson was involved in one of the wilder moments of a wild game and it was none of his doing. In a bizarre scene in the first half, Steelers offensive line coach Mike Munchak was penalized 15 yards for grabbing Nelson's hair when Nelson tried to make a play on the Pittsburgh sideline.  Munchak was later fined $10,000, but was allowed to coach the next week in Denver. That's a right Nelson doubts he would have had.
"If it had been the other way around, if I put my hands on a coach, I think I would have been suspended with no pay for four of five games," Nelson said. "Everybody is accountable. I think it should have been more than what it was."
He's not the only one that has said that. Earlier this month at the Super Bowl, Bengals tackle Eric Winston, the NFL Players Association president, called the fines on Munchak and Steelers defensive assistant coach Joey Porter, "incredibly light."
"I think there should have been an apology," Nelson said. "Whatever he wanted to do. Call me personally. Or whatever."
Nelson says he was stunned and angry when it happened because it was so out of the ordinary.
"My whole thought process of it is if you're not going to catch the player, let him go into the bench. Move out of the way," Nelson said. "Most coaches that I run into on the sidelines, they brace you, catch you, pat you on the butt, say 'Good job, go back to the other side.' That wasn't the case."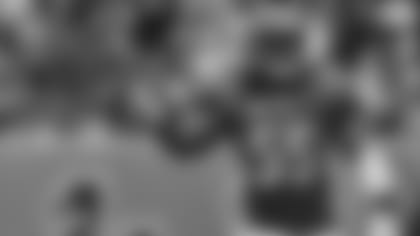 Network analyst Solomon Wilcots says Vontaze Burfict's last hit of the season on Antonio Brown was not malicious.
ANOTHER VIEW: One guy who is incensed about the Munchak play is analyst Solomon Wilcots of CBS and NFL Network.
"It just can't happen in our league," Wilcots says. "Coaches should be held to a higher standard. You don't want players doing that to other players and you certainly don't want coaches doing that."
When Wilcots and Reds Hall-of-Fame play-by-play announcer Marty Brennaman were guest speakers for the athletic boosters dinner at Cincinnati's Anderson High School last week, Wilcots had an interesting take overall on the Bengals-Steelers Wild Card Game.
And he elaborated to Bengals.com the next day as a guy who played on both sides of the rivalry, as a Bengal from 1987-90 and a Steeler in 1992.
For one thing, he loves the physical, tough mentality Bengals linebacker Vontaze Burfict brings to the game and credits him in helping turn the tide in a tough, physical AFC North where the Bengals have won two of the last three titles after Steelers like wide receiver Hines Ward and linebacker Terence Garvin viciously knocked Bengals out for the season with either an illegal hit or a hit that was made illegal.
Wilcots agrees. Burfict, suspended for the first three games of this season for repeated violations of player safety rules, has to adjust his game.
"I love the mentality with which he plays. But as a coach, you have to tell him to be smart," Wilcots says. "You can't hit people in the head. We know you can win games, but you can't lose them."
That said, Wilcots objects to the notion that Burfict's concussion-causing hit on Steelers wide receiver Antonio Brown over the middle on the game's last play that was flagged 15 yards for hitting a defenseless player was malicious. He says Steelers linebacker Ryan Shazier's hit that knocked Bengals running back Giovani Bernard out of the game with a concussion in the third quarter not only should have been flagged as an illegal hit to the head, but it was more malicious than Burfict's play.
"I want to put it into context for fans," Wilcots says, "why Vontaze Burfict plays like he plays against Pittsburgh. Because Pittsburgh has been playing that way against the Bengals forever.
"Vontaze Burfict was not trying to hurt Antonio Brown.  Go look at it," Wilcots says.  "He could have annihilated him. The kid was exposed. He gave him a glancing blow with his shoulder to the head. He didn't lead with his head or forearm . . . he didn't unload on Antonio Brown.
"(Shazier) led with the crown of the head to the head. That's the key," Wilcots says. "Which hit was more vicious?"