Mr. Monday: Boomer Esiason returns in prime time.
It's only fitting that Boomer Esiason takes his bow as a member of the Bengals First 50 on a Monday night.
"He was prime time," says Willie Anderson, the last gu
y who blocked his blind side at right tackle. 
When Anderson catches a Monday night game on his car radio and hears Esiason's voice, where it has been for the last 18 years of Monday nights, Anderson smiles. There it is. The same mentality, the same tenacious mindset, the same edge that 20 years to the night on Dec. 4, 1997 drove Anderson's offensive line and a rookie running back named Corey Dillon into history, and an aging former NFL MVP named Norman Julius Esiason into the sunset.
 "He was a mad man," Anderson says and not just of that night but the last five games of that season Esiason went into retirement and took that speed-of-sound offense with him.
"We kept asking him to slow it down. Slow down the offense. We'd go back into the huddle and ask him and he'd cuss us out and say, 'Look at them.'"
Anderson looked over and saw his old Auburn teammate, Oilers defensive tackle Gary Walker, slumped over and vomiting into the Riverfront Stadium turf. Anderson looked to the rest of his line and they said in unison, "You're right. Keep doing that bleep."
It was Anderson's second season and it was long before the Pro Bowls and Marvin Lewis and an AFC North title. This band of Bengals had never won and was virtually banned from prime-time. And even though it was a Thursday night, back then the whole world was watching. They turned to the big cranky old blond guy who had plantar fasciitis in both feet and secretly didn't know if he could make it through a week, never mind a game.
"He gave us confidence," says Anderson, admitting he and his young mates had prime-time nerves. "Just the way he talked to us. Think about it. He'd been there before. He'd been to a Super Bowl. Been an MVP."
The same hot-to-the-touch competitiveness still burns in prime time when Esiason is asked 20 years later if there is any quarterback playing now that can perform the mental gymnastics at the line of scrimmage that bucked Dillon to an NFL rookie record that had stood for 40 years when his 246 yards trampled Jim Brown's hallowed turf of 237.
"I like the way Tom Brady runs his team from a mental standpoint.  I could go toe-to-toe with him any day," Esiason says. "I actually watch every Patriot game from start to finish because of him."
He looks at Brady and head coach Bill Belichick and when he visits them before games his mind wistfully wanders back to the beginnings of the no huddle and his umbilical cord with Sam Wyche.
"Not that Sam and I are like Brady and Belichick because they far eclipsed us when they won their first Super Bowl," Esiason says. "But the intensity and intelligence level that is required to do what they're doing reminds me … of all the things we tried to do. Unfortunately for us I always felt like we had other things and outside influences that were affecting what we were doing. Whether it was my fault, Sam's fault, anybody's fault.
"We all got distracted. It was a different time than it is today. We weren't making the money they're making today and I think that has something to do with it," Esiason says. "The thing I always marvel about the Patriots is the simplicity of which they go about their business and how they never let outside influences affect what they're doing."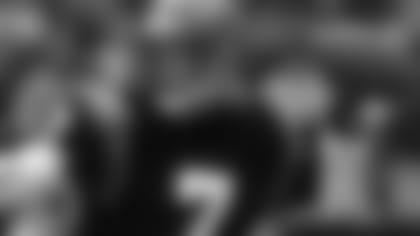 Boomer Esiason won NFL MVP in 1988.
Anderson has no doubt about it. Esiason and Brady. When offensive coordinator Ken Anderson ran on a new personnel group on the fly, Esiason, the last man to back up Anderson during his career as the Bengals all-time passing leader, knew instinctively the play called.
 "We went to the line with two plays. Check-with-mes," Anderson says. "We were doing then what everybody is doing now. Tackles looking back into the backfield before the snap. He was doing what quarterbacks do now all the time. If he won a Super Bowl, he would be looked at entirely differently."
But Esiason sees his own career in a different light.
"What I was proud of was not the wins, the numbers, all that stuff," Esiason says. "What I was proud of is that I was able to run maybe one of the most complicated offenses in the history of the NFL and do it at the line of scrimmage flawlessly."
Which gets us back to Dec. 4, 1997.
Esiason still delights in how tired everyone was as he directed Dillon to a Bengals-record 39 carries. "Boomer loved Corey," Anderson says. But Esiason told him he had to block or he wouldn't give him the ball.
"Corey was dying. He was like a thoroughbred that had a gone a mile and three-quarters. He was gassed," Esiason says. "I told him, 'C'mon, c'mon, you said you wanted the ball.' People don't realize it, but he was a great pass blocker."
The Bengals had played four days before in Philadelphia and even though they lost they had put up 40 points.  They had two-and-half days to put the game plan together for Tennessee and Paul Alexander, the Bengals offensive line coach then and now, still marvels how quickly Esiason assembled it in his mind and at the line.
And after it was over and Dillon had his record and Esiason eased to 20 of 28 passing and the Bengals had rung up 40 points (41-14) in two straight games for the first time since Esiason did it nearly 10 years before, he had his moment when Tennessee head coach Jeff Fisher asked him "What offense were you running out there? What was that?"
It wasn't so much the no huddle, but just a fast-paced offense that Esiason called at the line of scrimmage.
It didn't matter, Esiason says. His teammates knew, his coaches knew, and he knew.  
So isn't it fitting that he's honored this Monday night? When he gets his old team in a game that he gives the ultimate compliment.
 It was Norman Julius Esiason's sheer personality, a mirror of the outrageous, outsized offense that he ran, that helped shove the Bengals' small-market into the NFL's big-city conscience and helped Paul Brown's Baby Bengals of the '60s and '70s grow up in prime time during the '80s and become, well, relevant.
And Monday night is why he left the game and the Bengals 20 years ago. Remember? He went from Spinney Field to the shrine, the ABC-TV Monday Night Football booth where he would be the next Frank Gifford for 25 years or so and …
"Like I always say," says Esiason, fired after two years. "You never know when you're going to get a break or in what form it will show up. The best thing that ever happened to me is I got bounced out of that booth and it got me doing what I've been doing for the last 15 years, which is unbelievable."
Sam Wyche: Esiason says he was just the right "band leader," for his no huddle.
In his 18th season calling the games on Westwood One radio, he has become the voice of Monday night and has called more Super Bowls than anyone else. His rollicking morning show on WFAN that owns New York is rolling into its second decade like the no huddle offense steaming into Riverfront Stadium's North the red zone. He's in his 16th season in the CBS Sunday studio, longer now than the 14 years he quarterbacked three NFL teams and, at the end, a renaissance.
And, believe him; those last five games of his career in 1997 weren't Johnny Unitas and Joe Willie at a pathetic end. Not with a 4-1 record and a triple-digit passer rating.
"I have a lot of great memories as an NFL player," Esiason says. "But to end a career that was stuck in neutral in a lot of places, some down times in a lot of places, to end on those games and to watch those young players turn into the players they ultimately became was really one of the most satisfying aspects of my career."
Anderson will certainly never forget it. "He took such good care of the offensive line you never wanted anybody to hit him," he says. Anderson knew beating the Cowboys' Troy Aikman would mean so much to Esiason and when he did he found out just how much. Esiason called him over to his locker Monday morning and handed him an envelope he would give to the other linemen filled with $2,500 dollars.
It was also the Dallas game, a 31-24 Bengals' win best remembered for Deion Sanders running to the Bengals' bench to get warm between plays, when Anderson never saw this:
 After wide receiver James Hundon missed Esiason's hot read on a blitz, Esiason grabbed Hundon and barged into the Cowboys huddle, shoving Hundon at safety Bill Bates with something like, "Here's the hot receiver."
 "But you know what?" Anderson says "Hundon caught a pretty good ball a few plays later."
And Anderson still remembers a post-practice shower when Esiason told him he just flat out didn't care, if he thought he could complete a ball to win a game, he's throwing it. "Willie, pray to God you never play for a quarterback who only cares about his completion percentage."
That's how he practiced that final season. Especially when he was the backup and quarterbacking the scout team and trying to whittle the 15-minute period down to five. When defensive coordinator Dick LeBeau asked him to slow it down, Esiason snapped, "Coach, if they can't get it in practice they'll get steamrolled in a game. Tell your players to get ready because I'm going out there to compete because it's the only place I can."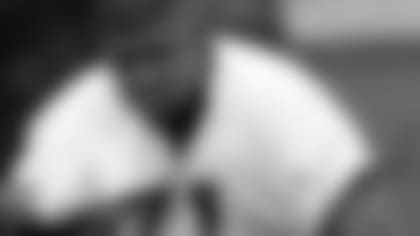 Willie Anderson blocked Esiason's blind-side in those last five games.
That's why when Esiason decided to go to the Monday night booth just a month after that Dallas game, Anderson says he was heartbroken . "Truly heartbroken," is how he says it when Esiason turned down Bengals president Mike Brown's two-year, $8 million offer. 
"I was so exhausted after those five games because I put so much into them and I didn't know if I could do 32 more," Esiason says. "No regrets. I don't blame anybody. My decision. Mike gave me a fair offer to come back. When I first went into the TV booth, like Tony Romo probably did this year, you kind of wonder if you did the right thing. But here I am 20 years later and I have to say that I did do the right thing."
Yes, he got whacked after two years in the booth because he reportedly didn't get along with Al Michaels but like Esiason says, "Monday Night isn't what it was back then. It changed without me."
And more things opened up for him because of the work he did coming up in the business. And he did come up in the business. He loved being around the media and caught the bug in the summer of 1982 while he was the starting quarterback at the University of Maryland. He interned at a Baltimore TV station cutting up tape in the sports department. The human interest reporter? Oprah Winfrey.
At the start of Esiason's rooke year in Cincinnati he met another rookie, The Bengals' beat reporter for The Cincinnati Enquirer. Peter King, who has become an industry himself with the advent of the web site "Monday Morning Quarterback"  passed the time at training camp in his Wilmington College dorm room giving Esiason quizzes on the playbook.
During his run in Cincinnati he worked at Channel 9 and calls former WCPO sports anchor Dennis Janson "my first father in TV," because he taught him so much. Mike Brown never hid his hope that Esiason would choose TV over another season or two because he felt it was best for him in the long-term. But Brown may have done more for his career when he traded Esiason to the Jets in 1993.
Esiason immediately became a staple at WFAN as a weekly 5 p.m. contributor for Mike and the Mad Dog   and began accumulating the contacts and experience that overcame the firing and bring him to Paul Brown Stadium as Mr. Monday Night. The Fan led to the gigs at Westwood One and CBS while Monday Night Football has bobbed and weaved from the blockbuster days of Cosell to the niche programming of the Information Age. 
"Paul Brown, Mike and Pete, they were all very nice to me," Esiason says.  "They treated me well. They paid me well. They supported me. And I'm sure there were times they were probably very frustrated by me."
Esiason will be rushed. But he'll hop out of the booth at halftime to wave to the crowd. In the end, he says he considers the place home after all he's been through.
He has to laugh. The No. 50 jersey all the Legends wear is the same number that belonged to his good friend Dave Rimington. Management may think he's again protesting a player's release like he was known to do.
"I appreciate they voted us. That the fans thought enough of us to vote," Esiason says. "That's a sign of respect. We all want to be remembered fondly. We all want to leave a memory. Some are good. Some are bad. But at the end of the day for me, what I've been through as a player, broadcaster, father, I'm always going to be linked to Cincinnati and I'm proud of that."
So fitting, isn't it that it's on a Monday night?
"He's still prime time," Willie Anderson says.
Cincinnati Bengals host practice at Paul Brown Stadium Practice Fields