 GEORGETOWN, Ky. - Chad Johnson may have missed Tuesday's practice with a slightly sprained ankle but that didn't stop him earlier in the day from reaching out to the man he says saved his career from the abyss.
Then, of course, he asked Lions quarterback Jon Kitna to hand his cell phone to the defensive backs. And he also got a word in with the guy who is supposed to be the next great receiving Johnson, the second overall pick in the draft named Calvin.
"I just had to announce myself before I get there," Chad Johnson said of Thursday's preseason opener and reunion with Kitna in Detroit. "Kit is cool. We still talk. Man, the talk he gave to me after that Indy game (five) years ago, it turned me right around."
Which is why you can't judge Kitna's impact on this franchise through the record book.
He arrived in 2001 with offensive coordinator Bob Bratkowski and legitimized a passing game that was the laughingstock of the NFL. In 2002, when the team was at 0-4 and sliding into Cirque Du Soleil sideshows, Kitna came off the bench to provide what little ballast, fire and pride was left. In 2003 when Marvin Lewis and Carson Palmer arrived, Kitna provided the bridge to the 21st century.
"I wish him nothing but the best. When I see him I'll give him a big hug," said Bratkowski, Kitna's main man in Seattle and Cincinnati. "He was instrumental in turning it around here. He helped change the attitude. I've got the utmost respect for him as a football player and as a man."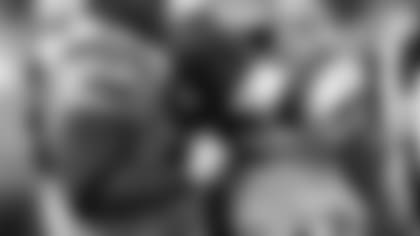 Johnson is consoled by a teammate after dropping a key pass late in a 2002 loss at Indianapolis.
So much has been said about Kitna's influence with Palmer. But it was his showdown with Johnson in the wake of the 28-21 loss to the Colts on Oct. 6, 2002 that had the biggest impact on Bengaldom.
As every Cincinnati school kid now knows, Johnson, then in his 17th game of a rather mediocre career in which he was averaging 2.3 catches and 28 yards per game, dropped a fourth-down pass that led to an interception in the last minute as the Bengals buzzed the Colts 20 for a tying touchdown.
Kitna then put it on the line. Johnson had enough talent to be one of the greats but if he didn't work at all the little things, he couldn't accomplish the big things.
The rest, of course, is history. Since that day in the ensuing 75 games, Johnson has averaged 86 yards on 5.7 catches per game and about 4.7 spots a week on NFL Network.
"You remember, after that, I just took off after that speech," Johnson said. 'That saved my career. I was at a point right there where my career could have gone right down the tubes. Seriously, it could have gone either way, and no one ever mentions how important that was for me.
"I think it was the fact that it was coming from somebody not on the outside. It was somebody who was in the middle of it, who knew what was going on and had been around."
Kitna is filling the same need for a Detroit team he took to a 3-13 finish last season, but he sees signs there is a Bengal-like awakening.
"A lot of it is the same thing; just getting over the negativity is the big thing and ignoring it," said Kitna, blessed with a Cincy-like four explosive receivers.
Most everyone considers Kitna's engineering a win over the 9-0 Chiefs in 2003 s as the breakthrough game for the Lewis era. But Kitna points to a game three weeks before when the Bengals beat Seattle, 27-24.
"That was a game that we won in the fourth quarter running the ball and the defense got an interception at the end (Brian Simmons) to win it. It wasn't like, 'What bad is going to go wrong now?' " Kitna said. "We went out and did it. We had a game like that last year when we beat Dallas (in the last game of the year, 39-31), in the fourth quarter and I think that is going to be for us like that Seattle game was."
Kitna got big national play during the offseason when he said he thinks the Lions can win 10 games. Ever the savvy media observer, Kitna said, "It was the second time I said it. I said it in March, but when I said it in June on the same radio station it got blown up and I know why. Because the NBA playoffs were over and there wasn't much else going on."
Kitna says there are far from any regrets. It wasn't so much a financial issue in Cincinnati when he didn't return in '06 but the fact that he felt it was his last opportunity to be a starter in the NFL. He turns 35 in September and there are other things.
"I felt as that ('05 season) went along that God was calling us to another place," said Kitna, a deeply committed Christian. "That we did what we had to do in Cincinnati. And even though we were 3-13, it was the most satisfying year I've ever had spiritually. There were tremendous things going on in our locker room. Lives were different. Marriages were affected. It was tremendous and I hope it's something that can spread to the community."
Kitna is coming off his first 4,000-yard passing season, and when this was mentioned to Lions offensive coordinator Mike Martz at the scouting combine last winter, he said he didn't think 5,000 was out of the question.
Martz could have been kidding, but he didn't sound like it.
"Mike Martz has been tremendous," Kitna said. "He believes in me and my game and it's great to have a guy like that with you."
Bratkowski didn't flinch at the 5,000 figure.
"The one thing about Mike Martz is he's not afraid to throw it and the one thing about Kit is he's not bashful either," he said. "They both probably believe they can and there's probably a good chance they can with the group of receivers they have."