Andy Dalton finished up his second stint at Dr. Tom House's camp on Friday.
With the return of his players now in sight on April 20, Bengals offensive coordinator Hue Jackson reiterated the liturgy he delivered to Andy Dalton and his teammates when they left another postseason empty back in January.
"He drives the engine, so he is doing the most. At the end of the day, the quarterback has to do the most and that's what he's doing," Jackson said Friday. "He's done everything I've asked him to do. He's put in the time. I truly believe he'll be rewarded for it and what I'm talking about is performance. I think he'll attain his goals and aspirations."
As Jackson spoke at Paul Brown Stadium, Dalton started his last day of a one-week stay at Dr. Tom House's quarterback clinic at the University of Southern California. It marked his second stint in five weeks at the home of the good doctor, guru to Tom Brady, Drew Brees, Carson Palmer, and a host of the game's best passers. And he plans to go back in July before training camp starts, giving him three weeks of intensive work under House as opposed to the one of last year.
"It not all that different, but it's a little more in-depth," Dalton said. "I've got a good understanding of what they're trying to do and they have a good understanding of me. It's like with anything. The more you know, the more you can do. I'm not at the beginning stages of this thing; I'm in the middle of it. So I can do more and more. It is more advanced."
If you're watching the on-line videos, the Bengals are having a heck of an offseason. Rehabbing wide receiver Marvin Jones is making tracks on the California beaches. Right tackle Andre Smith is laying them down in Birmingham, Ala. In Atlanta, right end Michael Johnson's final month of college classes has coincided with early-morning trips to the gym with agent John Thornton tweeting the documentation, "MJ working lower body explosion."
But Jackson's quarterback has to do more. So back in late February Dalton took his wife and eight-month old Noah out west while he worked for eight days as House and his staff analyzed every nook and cranny of his game. He returned alone this week. The major difference from last year being he's continuing the three-pronged regimen of diet, exercise, and throwing when he goes back home to Dallas and then when comes back to Cincinnati.
"I've really dedicated myself to what we're doing here," he said. "I think that's why I'm a step ahead where I was last year…I feel like this is the best I've thrown it. That's a big reason for it. I'm ready to get back and show everybody what I've been doing."
What he's been doing is an extended version of what he did last year. Making sure he's throwing more with his body than his arm. Getting his feet set so he can use his body to zip the ball instead of hang it.   He can feel it working because it feels easy.
"Everything is easier," Dalton said. "The way the ball comes out when I have everything lined up. The ball is spinning a lot more. Things like that. I feel like my arm is strong. I feel like I've got everything working for me so I'm able to put more on it.  You have to have your feet in the right position. Your hips and shoulders have to move at different times. You have to create torque. That's how you get your power.
"The big thing is keeping the same routine all year. Now's the time of year when you can really work on your game, but when the season starts you start looking at film and all that. You have to stay consistent all year."  
The House calls are a product of the latest collective bargaining agreement, which bars players from working with coaches until mid-April. Every player has an off-season haven nowadays (Clif Marshall's Ignition Performance has turned into Paul Brown Stadium-Mason these days) and Dalton has found his niche at USC.
Which is just fine with Jackson, the Los Angeles native and former 'SC playcaller.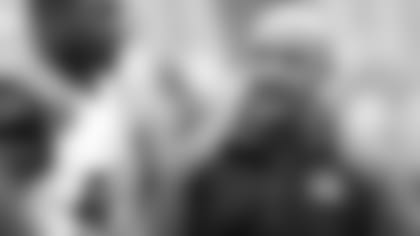 Hue Jackson likes the work Andy Dalton is putting in this offseason.
"I don't think there's anything wrong with that. I think sometimes things said from different people is a good thing," Jackson said. "It can drive home a point that maybe you've been driving home. But if you hear it from somebody, it's like kids, they don't hear you but they hear somebody else and that's OK."
Even though Jackson and quarterbacks coach Ken Zampese aren't with him, he still thinks Dalton can absorb the lessons of what will surely be the biggest priority for the offense this season.
"The one thing we have to do and the area he's in charge of and the area we have to do better is take care of the football," said Jackson, alluding to Dalton's 17 interceptions. "We can't turn the ball over, first and foremost. We talked about that as a staff again yesterday. I thought we emphasized it decently last year, but I'll be the first to tell you we have to try different ways to get that message home.
"The good quarterbacks in this league have found different ways of saying, 'uncle,' and I think he's learning the different ways how teams win. I think he's making the commitment to be the best he can be and that's what shows with this time spent increasing his skill level."
Amid all the talk about spinning the ball and footwork, when Dalton was asked what he wants to improve on the most from last year, he talked about his immediate plans.
 "Right when I get back, it's the leadership standpoint of letting everybody know that we're setting out to accomplish more than we have in the past," Dalton said. "That's the big thing right from the start when we get back. When we get back on the field, it's making sure I can push everybody to be the best player they can be and try to raise the level of play."
And Dalton hears Jackson when he calls the quarterback, "The engine…It has to stem from Andy."
"Everybody has to believe we're going to do whatever it takes to be the best team that we can be and it starts with everybody focused on themselves and doing whatever they can to be the best player they can be and working together as a team to achieve that goal," Dalton said. "That's what it comes down to. That's going to be the big message. Don't sell yourself short. Do whatever it's going to take. I think we just have to keep pushing each other and we have to do that together."
As Dalton heads back here for his fifth season, he knows he's going to continue to get scalded for not winning a playoff game in four tries. And, wouldn't you know it, he bumped into one of his biggest critics a few days ago at his Los Angeles hotel, ESPN radio host Colin Cowherd.
Cowherd has called Dalton everything from "a hack," to "that beige quarterback," but after meeting Dalton he went on his show later that day and oozed nice all over him. He said Dalton treated him so well that he has to find another quarterback to rip.
And there are plenty if he starts looking for quarterbacks that haven't ever made it to four straight playoffs.
But Dalton won't back away from it. The fifth year is big for a lot of reasons. Expectations. Contracts (especially his since it balloons to $10. 5 million in 2016). Windows opening and closing.
"We've been disappointed at the end of every season so far," Dalton said. "What I'm trying to do as a player and what the team is trying to accomplish we've fallen short of that goal. It's a big year from that standpoint. We have to find a way and I think guys have been working hard and it will be fun to be back with everybody working together."
Jackson likes the looks of it so far.
"I've told you before,' he said. "I'm an Andy Dalton fan.  No one is going to work harder than him. I think he knows it starts with him. I think he's doing everything he can do to prepare himself."