Voice of the Bengals Dan Hoard (right) helped present ESPN's Sean McDonough with the Marty Glickman Award a few months ago.
Monday Night Football. The biggest stage in the biggest sport in the biggest business.
But for Dan Hoard and Sean McDonough, when the Bengals play the Giants at Met Life Stadium Monday night (8:30-Cincinnati's Channel 5 and ESPN,) this might as well be the dawn of the 1980s and cable TV in 612 Day Hall or on the third floor of Booth Hall and where ever else aspiring sports announcers gathered at Syracuse University.
"It was miserable for non-broadcasting students watching the games with us," recalls Hoard, the Bengals' easy listening play-by-play voice in a breathless sea of inanity. "They'd say, do you have to pick a part every sentence? Can't you just watch the game?'"
They critiqued enough games and became so good at it themselves that the sophomore in 612 Day Hall, McDonough, and Hoard, the freshman at Booth, are still calling each other with observations and quips. Just wait until they hash over Monday's tape, where McDonough is in his first year as ESPN's solid gold play-by-play voice and Hoard is in his sixth season as one of the NFL's top play-callers on the Bengals Radio Network.
"I just texted him the other day and congratulated him," says Hoard after last week's turbulent Monday nighter with Buffalo and Seattle.  "He was as good as a sophomore in college as he is now. He was a finished product. He was better then than I am now. Very intimidating.  This is where I came to figure it out and this guy is that good?"
There was one Sunday night early on in the run of Hoard and his analyst Dave Lapham, the beloved former Bengals offensive lineman.  McDonough, as he is prone to do, had just finished listening to satellite radio and as many calls as he can when he called Hoard raving about the chemistry of the two.
"I love his relationship with Dave. A lot of play-by-play guys could not deal with anyone occasionally yelling over the play-by-play of the game," McDonough says. "Dan appreciates it and realizes that is one of the reasons they love Lap. Dan embraces it and works with it.  Believe me, a lot of guys in our business would say, 'Stop yelling over what I'm saying.'
"I said to Dan once, do you have a problem with Dave and it doesn't bother him because its natural showing his love of the Bengals and passion for the game and the Bengals' listener relates to that. At the end of this, all we're trying to do is enhance the enjoyment of the game and Dave and Dan do that to the highest level.
If it sounds like they're chairmen of their respective fan clubs, it's better than that. They're the best of friends. The Giants game marks full circle for Hoard. It means he's now shared Monday's coveted air waves with not only his college mentor, McDonough, but one of his own college students, Mike Tirico, mentored by Hoard and McDonough's predecessor behind the Monday mike.
"Luck of the draw," Hoard says of that freshman year. "I was a clueless, small-town kid who wanted to be a sports announcer and I showed up at the radio station's orientation day and got assigned to Sean.
"Somehow he overcame that," McDonough says.
Monday Night, but it could be Thursday afternoon. They simply don't take themselves or each other all that seriously. That can happen in a fickle, transitory business where the kids rip your every word.  They began together with McDonough teaching Hoard how to take a razor blade and splice together tape, an act now done with the breezy flick of a computer mouse.
"He was teaching me stuff that's no longer part of the industry," Hoard says.
But last summer at age 54, McDonough received Syracuse's Marty Glickman Award for Leadership in Sports Media and Hoard was one of the three presenters he chose to speak.
There's been a lot of soul-searching in between in the toughest of businesses. Hoard paid his dues on minor-leagues buses and late-night TV shifts. McDonough, TV voice of his hometown Red Sox at age 26 and play-by-play man of the World Series at age 30, is back after nearly 20 years out of the glare of the big lights.  
"Dan was like we know Dan," McDonough says of Hoard's remarks that night. "Funny. Touching. Smart. Typical. It's exactly what they were looking for."
Dinner was on the agenda after the Bengals arrived at their New Jersey hotel Sunday and Hoard no doubt had to wonder what McDonough had up his sleeve. Hoard's wife, Peg Rusconi, the former Cincinnati and Boston TV reporter, calls McDonough, "the funniest person in any room he's in."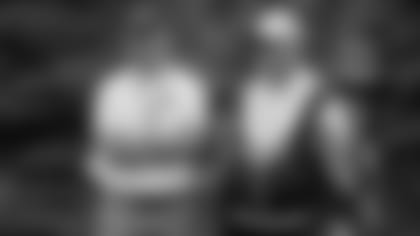 Hoard watches practice with Bengals president Mike Brown.
When you're in this business, you have Christmas Eves like this one in the Greater Cincinnati/Northern Kentucky Airport about 15 years ago. Hoard was headed to his future in-laws in Boston and bumped into McDonough catching the same flight off a red-eye from out west where he had just called a bowl game.
After they caught up, McDonough invited Hoard and Rusconi for an annual Christmas nightcap with one of his friends the next day after family obligations were complete. McDonough casually mentioned the friend was Matt Damon the actor.
 "Yeah, I think we can do that," Hoard said.
"We get there, just me, Peg, Sean and Matt Damon," says Hoard, still disbelieving. "Then after a while, guess who walks in? He was shooting a movie out of the country and they didn't know he was coming. Ben Affleck. So Sean gave me my biggest name dropping moment ever.  He knows everybody and he's introduced me too such a diverse group of friends."
McDonough organizes 15 of them on an annual golf trip to Arizona for a few days, where Hoard can find himself talking to anyone from ESPN college broadcaster Jay Bilas to traveling salesmen.
"Where ever he is, he's the life of the party and people love his company," Hoard says.
But that doesn't mean McDonough hasn't wrinkled some suits along the way. Check Red Sox, Boston early '90s. He did it just last month during the Jets-Cardinals broadcast when he offered the theory that one of the reasons the NFL's TV ratings are down is because of the penalty flags blanketing the field.
"When I first started doing play-by-play 100 years ago, announcers were reluctant to give their opinions. That was the job of the analyst," McDonough says. "I always felt if I had an opinion that was fair and honest I should express it. If I'm sitting at home watching the game and I'm talking about it, then the announcer should be talking about it."
That's because if there was ever a guy born to do Monday Night Football, it's McDonough, the son of the late Will McDonough, the NFL's information man on TV long before cell phones and Twitter who never backed away from delivering an opinion. Back when one character mattered, not 140, and the Boston Garden called the day after his death to offer the building for his memorial service.
As he watched his father become a national legend with his frequent scoops on all sports for The Boston Globe, Sean McDonough saw how it was done and wanted to do it badly. The guy in his Hingham, Mass., living room watching Monday Night Football while doling out Friendly's Ice Cream and Cheez-Its and letting his kids stay up until halftime was dialed in everywhere from the commissioner's office to draft rooms.
"He was an analytical thinker who engaged us in conversation," McDonough says. "Why did they run the ball there? Why did the ref throw the flag there?' Sports was fun. I wanted to do it for a living. He was the most influential person in my career and life."
There would be moments in the McDonough kitchen that Sean couldn't believe. One of Willie's countless sources would be on the phone delivering him some staggering bit of news. It might be that a coach was getting canned at the end of the year or a player had just been traded and had yet to be told. And his son would wonder, 'Why isn't he going to write that?'
"For every scoop he got, there were so many, many more that he didn't write and they were probably bigger," McDonough says. "But that's how he cultivated relationships. Off-the- record meant off-the-record. If someone told you something in confidence, you didn't break the confidence. We're in meetings all the time with coaches, players, officials, and you have to realize what you can use and what you can't. It's trust."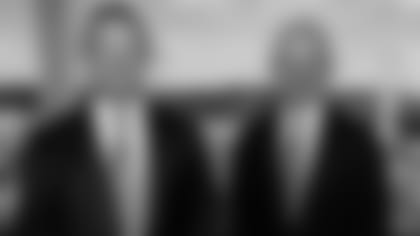 McDonough, with Monday Night partner Jon Gruden, watched how to cover the NFL from his father Will.
Forget about standing up and delivering an opinion about a run on third-and-three. At age 44, Will McDonough stood up to an NFL player and decked Patriots cornerback Raymond Clayborn after a 1979 game when Clayborn scratched him in the eye. Legend has it that Clayborn crumpled into a garbage can after the shot.
 Sean, a high school senior, wasn't there. He was outside the locker room with his brothers throwing around a football and Frisbee like they always did while waiting for their father after they watched the game in the stands.
He heard about it, of course, but the moment was crystalized in his mind forever a few weeks later when they combined college trips with football games and ran into Howard Cosell in a lobby, where the Mouth of Monday Night extolled the elder McDonough like one of the heavyweight champs he covered.   
"There was never a day he mailed it in," Sean McDonough says. "I hope that's my kind of work ethic because that's where I got it."
Talk about full circle Cosell, of course, is long gone from the Monday booth, but McDonough wants to keep his tell-it-like-it-is verve alive. And he'll keep listening to the Booth Hall freshman and letting him know via text or call when he's good.
"Dan is technically great," McDonough says. "Setting the scene. The score. Down and distance. Great storyteller.
"I think there was a Hail Mary a few weeks ago," McDonough says of the 48-yard heave to Bengals wide receiver A.J. Green. "That was a highlight. Most of them seem to involve A.J. Green."
The kid who used to wander up what they call "Mount Olympus," to Day Hall to see his mentor is still checking the clouds.   "If you put it to a vote of other play-by-play announcers on who they think is the best, Sean would win it," Hoard says. "I trusted his opinion and still do more than anybody else's."
As for dinner, Hoard has a mischievous lilt in his voice when it comes to potential celebrities.
"If so," he says. "I'll invite you to join us."