Marvin Jones benefitted from Seattle's coverage of fellow wide receiver A.J. Green.
If quarterback Andy Dalton wrote the second greatest fourth-quarter comeback in Bengals history with nerves icier than the Freezer Bowl and teammates were calling tight end Tyler Eifert "Gronk,' after the game, and the Bengals proud defensive line took down another Super Bowl-winning quarterback in the cozy confines of Paul Brown Stadium, then left tackle Andrew Whitworth offered the benediction of Sunday's 27-24 overtime victory over a two-time NFC champion Seattle defense he says is the best they've ever played.
  "You don't know what it means for your season, but I can tell you this," Whitworth said. "That's the most talented group of rushers and (overall) defense that we've ever faced. They've got guys everywhere that are good. We've said all along that this was going to be an extremely talented team, but we believe we are too. Being able to overcome what we did against that kind of talent is a heck of a message."
That's saying something after playing in the AFC North for 10 seasons.
And while some pundits called the 20 unanswered points against a play-off tested team a break-through victory worthy of the post-season and prime-time, critics sniffed that the seeding are nearly three months away. But while some guys could give a rip, nose tackle Domata Peko called it "a statement," win with the victory featuring as many varied reactions as stars that made it possible.
"That's a big statement. Seattle's been to the last two Super Bowls and they play just like us," Peko said. "Their defense flies around, they have offensive weapons. To be down 17 points, other teams I've been on probably would have folded. This is a different team. Our eyes were still on the prize. We endured hardships and we bent, but we never broke."
 Running back Giovani Bernard, who ran through crunch time with 63 yards on 11 carries in the fourth quarter and overtime, sensed it was just business as usual in the historic final 26 minutes or so.
"To come back from a deficit like that, it was huge," Bernard said. "We've had games like that. I think the Baltimore game was really the defining point of our season. Since then we've  just realized the kind of players we have.
"It's a statement around the league, but we know all about the guys we have," Bernard said. "It's not a shocker to us. We know we can hang with the big boys. We just have to go out there and play our game."
Safety George Iloka went the other way.
"In the big picture it means nothing," Iloka said. "It just means we have a chance to go 6-0 next week. In terms of the type of win, it was good growth."
Leave it to Dalton to put it somewhere in the middle. Despite getting sacked four times and after throwing a bad end-zone interception at the end of the first half, he stared down the NFL's best pass defense with a searing 13 of 15 for 135 yards in the fourth quarter and overtime. According to STATS, it tied him with Carson Palmer's fourth-quarter comeback in Baltimore in 2004 that also erased 17 points, a point off Jeff Blake's record 18-point magic act in the 1997 opener.
Put that on top of Dalton's two 80-yard drives to erase two different deficits in Baltimore two weeks ago in the final five minutes and the red-head is developing the deadly cool of the Red Baron.
Now hear this. Take those last two drives against Baltimore and Sunday's fourth quarter and overtime when every snap was a must and Dalton is a combined 18 of 21 for 295 yards and three TDs. That's not against the Junior League, kids. The Ravens and Seahawks have two of the most respected NFL defenses of this decade, when each has claimed a Super Bowl.
He not only leads the NFL in the fourth quarter with a near perfect 154 passer rating, a good 20 points up on old friend Carson Palmer, but he's thrown for the most yards in the NFL.
  "It's huge. We played a really good team. Seattle's going to win a bunch of games," Dalton said. "Yeah, they're 2-3 now but let's see what their record is at the end of the year. They're going to win a lot of games. This was a big game, because we were facing a good team and because it was the next one on our schedule. That's the mentality we've had."
With 331 yards on 30 of 44 passing for a 95.9 passer rating, Dalton revealed how deep and talented the Bengals passing game is against a group that has held quarterbacks  to a 73.5 rating since 2012. The 331 yards are the most against Seattle in two years and a month. And against a defense that allowed the fewest passes of at least 20 yards last year and just three in the last two games, Dalton manufactured five, the last a marvelous 25-yard diving catch by tight end Tyler Eifert on a break-your-back play that put the ball on the Seattle 20 with a minute left.
Eifert ran a corner route against Pro Bowl safety Kam Chancellor, a look he said he got all day and it's just another example of teams not having enough defenders to cover all of Dalton's targets. Not even Pro Bowl safeties can cover a tight end that plays like a wide receiver. Not even the Legion of Boom.
"He opens up everything. I call him Gronk," said Bengals Pro Bowl wide receiver A.J. Green, invoking the the nickname of the best tight end in the world, New England's Rob Gronkowski. "He's a top three tight end. He catches everything. We see it every day in practice."
Defensive lineman Wallace Gilberry added, "You heard about Gronk, but that kid, man, he's one of the best tight ends in the business. Effortless, it's so effortless how he catches these balls and how he gets these yards."
Green had Seattle head coach Pete Carrol pulling out all the gray hairs he got from The Gronk in last year's Super Bowl. In the first nine snaps Green caught four balls for 116 yards, but the last one, a 72-yard TD, got called back on Whitworth's hold.
Seattle still got cornerback Cary Williams off of Green and directed Pro Bowl cornerback Richard Sherman to follow him all over the field. Usually Sherman stays on one side. Green went from 7:29 left in the second quarter to 10:23 left in the OT without a catch.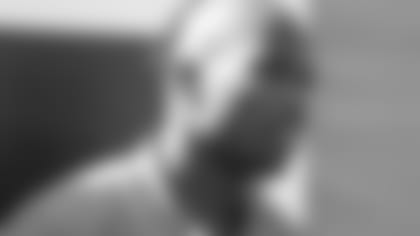 Bengals all-time leading receiver Chad Johnson wanted to see the A.J. Green-Richard Sherman battle up close.
But it came at a cost. Bengals offensive coordinator Hue Jackson kept formationing his other weapons to the soft spots. Eifert used the safeties shadowing Green to post up Cary Williams for a 10-yard TD in the fourth quarter as Chancellor and the other Pro Bowl safety, Earl Thomas got there late.
"That's because there was a safety over me" Green said.
And others took advantage. Wide receiver Mohamed Sanu had four catches for 48 yards in the fourth quarter and wide receiver Marvin Jones added two catches for 14 as well as a huge 27-yard pass interference call on Williams.
"They were shading the safety my side a little bit," Green said. "Sherman followed me where ever I went. They doubled me in the slot. I'm glad I can switch up their defense and other guys can get off . . . We have other guys like Tyler and Marv that can make big plays for us."
You can tell the Bengals are hot. The national media is just discovering them and everyone is infatuated with Dalton. Sunday's topic was how Dalton runs certain meetings during the week, for which Jackson has been praising him all year.
But his sudden five-yard touchdown sneak on second-and-five to cut the lead to 24-21 with 3:38 left again highlighted his pre-snap acumen. With the middle wide open, Dalton checked to a sneak even as defensive tackle Michael Bennett slid toward the middle. But center Russell Bodine shoved Bennett out of the way Dalton dove in.
"Andy never puts us in a bad situation on purpose," said right tackle Andre Smith. "Hue gives him the green light to put us in the right situation."
And Dalton like what he saw.
"Everything was wide open on the inside, and it gave me an opportunity to just take it myself," Dalton said. "It was a great play design and it worked. It was one of those things where you get those looks, you practice them throughout the week, and we got it and we executed it exactly how we wanted to."
As Dalton walked to his post-game press conference, Chad Johnson, the Bengals all-time leading receiver in for a visit, called after him.
"I love you Andy,' he said. "Call me."
He may have been speaking for most pockets of Bengaldom and a good portion of the NFL that is starting to believe.
Cincinnati Bengals host Seattle Seahawks at Paul Brown Stadium in week 5 of the regular season.