Kevin Minter is used to winning games since he's been in the NFL.
Just like most everybody else on his new team, middle linebacker Kevin Minter has been on clubs that have had double-digit wins every year he's played in the NFL.
Except last season, when Arizona's 7-8-1 turned out to be not that much different than Cincinnati's 6-9-1. So he's getting the same kind of vibe as he settles into the Paul Brown Stadium locker room this spring.
"I know they're talking about how last year they haven't lost like that in a long time," said Minter this week as he prepares for his fifth NFL season. "They're ready to get it this year. It's a good feeling to be a part of something like that. Everybody is ready to win."
Minter, a second-round pick of the Cardinals in 2013, racked up 116 steady tackles in his first three seasons and played in three post-season games while the Cards won 34 games.  Minter isn't known in Arizona for being vocal or a dominant playmaker. But he was a highly-regarded locker-room figure in Phoenix, where he played consistent, winning backer. Like Bengals linebacker Vincent Rey says, Minter fits right into a linebacker corps seeking reliable physicality.
"He seems like a team player who runs on his own gas," Rey said. "He's a grinder. He takes care of his business. A quiet guy. He fits in well."
Minter, 26, that rare Bengals' unrestricted free agent (they avoided losing a draft pick with contract structure), is one of the off-season answers for a defense that needed to get younger and faster and promptly cut 30-year-old Rey Maualuga when they signed Minter to a one-year deal in late March. There are potential future middle backers in the mix (Vontaze Burfict, Nick Vigil, rookie Hardy Nickerson if he makes it, Jordan Evans if he hits like he runs). Like head coach Marvin Lewis always says, a linebacker is a linebacker. But they'd also love to see Minter stick around if he proves to be an upgrade.
Minter lockers next to the backers' vocal and huddle leader in Burfict and from what he can see everybody's got some kind of chip on their shoulders like his old high school rival.
"These guys are good guys. They're real focused. This team could do some special things this year," Minter said. "If we keep this edge.  A lot of the guys have chips on their shoulders. They want to win this year. I'm excited about it."
When Minter was growing up in Atlanta, he was rated the nation's No. 4 prep linebacker. Out in Corona, Calif., there was this guy called something like "Tez," who was number one.  He's got an idea about why.  
"Definitely, definitely," Minter said when asked of Burfict's chip. "He's definitely smart. He knows the playbook like the back of his hand. I'm trying to stay around him. He's helped me a lot, getting those little nuggets in there. When I realized how long he's actually been in the same defense I can see how."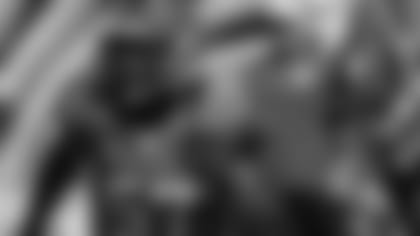 Vincent Rey says Minter fits right in as the Bengals backers diversify.
Burfict, by the way, says it's the best he's felt in the spring for a couple of years and why not? It's been more than two years now since his injury and ensuing micro fracture knee surgery wiped out most of his 2014 and the first half of his 2015. And a three-game suspension to open last season slowed him out of the gate.
"You can tell he's coming in looking real good on the field, doing the drills, just moving around, looking good," Rey said. We're all competing.  Some of the coaches say the competition doesn't start until training camp. But we're still competing trying to be the best at a certain drill. Tez goes first and we all watch him to try and do it as good as him."
Bengals running back Jeremy Hill came out of LSU the same year as Minter and he also sees the fit for a group that now has some interesting diversity. There is Burfict's Pro Bowl pedigree and Rey's seasoned versatility at two different spots and special teams co-captaincy now mixing with Minter's 175 career tackles, Vigil's 2016 third-round athleticism, and the rookie Evans' blistering 4.51 40-yard dash.
"(Minter's) a physical linebacker," Hill said. "He's got a nose for the ball. He's smart. He tackles well. A great blitzer. He'll definitely upgrade our linebacker corps this year … Great team guy … a leader… he's a quiet guy but he's going to bring it every single day and that's what we need in our linebacker corps."
Hill should know. There were days in practice they lined him up as a fullback for those "Tiger," drills of pure head-up blocking of the 6-0, 246-pound Minter.
"Very physical," said Hill of those excursions.
It's that kind of grit Minter thinks he see here early on.
"If we can keep this edge throughout the season,' he said, "we can make a run."
Season Ticket Members enjoy an afternoon meet and greet with Bengals Rookies at Paul Brown Stadium