Marvin Lewis and his new linebacker, Kevin Minter, staged their version of "The Breakfast Club," and the Bengals ended up with another leader around the coffee pot.
Minter, the captain of Arizona's second-ranked defense, agreed to sign on Saturday after meeting Lewis for breakfast in Scottsdale, Ariz., Friday before his new head coach met with the NFL Competition Committee.
"We talked a little ball, but he was trying to figure me out and I was trying to figure him out," Minter said Saturday night. "It was a very down-to-earth conversation. It was cool to sit down with a guy who has been a head coach for so long and just have conversation like that. I understand why so many people have so many good things to say about Marvin Lewis. It gave me a better understanding why everyone loves that man."
The Bengals thought so much of Minter that they made a rare dip into the waters of unrestricted free agency for what is believed to be a one-year deal. Minter, who won't turn 27 until the last month of the season, is one of those moves they felt they needed to make for a defense criticized last year for being "old and slow."
The 6-0, 246-pound Minter, who broke 4.7 seconds in the 40-yard dash at the 2013 NFL scouting combine, is a second-round pick of Arizona coming off a 1,001-snap season as their starting middle linebacker.  A bright, heady player who called signals for the Cards, Minter can probably end up playing both inside spots in the Bengals 4-3 defense at middle linebacker or WILL operating with Rey Maualuga and Vontaze Burfict.
Minter, rated third in pass coverage by profootballfocus.com last season among NFL inside backers, also has 175 career tackles, according to profootballreference.com.
Minter's speed and youth are big factors for the Bengals' pursuit. But his solid, steady play and personality also passed muster with the coaches on his visit to Paul Brown Stadium earlier this week. Like linebackers coach Jim Haslett.
Like Lewis, Minter knew about Haslett.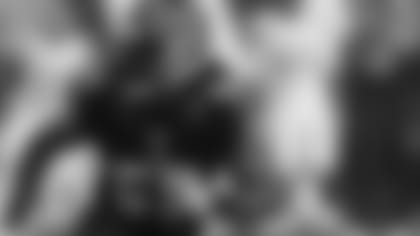 Vontaze Burfict gets another running mate from the class of '09.
"I remember him when he was (head coach) of the Saints. I hated him. I'm from Atlanta," Minter joked. "We hit it off great. I'm really looking forward to playing for him and taking this thing as far as we can."
 "He's a very instinctive player with a great background," Haslett said. "He's a smart guy. Good guy. Good nose for the ball. He'll help you in a lot of ways."
It's a re-union of sorts with Burfict in the backer corps. While growing up in Atlanta, Minter had an eye on the kid out in Corona, Calif.
"He was No. 1 and I was like No. 4," Minter said of the national rankings for high school linebackers. "Class of '09."
Another durable product of LSU (he joins teammate Jeremy Hill), Minter has played in 58 straight games dating back to his rookie season and 37 of them have been starts.  He's also worked in three post-season games with two starts.
"I think I'm a guy that can come in and play every down for them. That defense doesn't need much. I feel like you can plug me in and I can be another element," Minter said. "It's very stout. Geno Atkins up front. Vontaze. Pacman (Adam) Jones. I'm not looking to get in the way, either. Great front four. Great in the back end. I just want to be a part of it."
He'll be more than that. The Bengals like the fact they were not only able to young up their linebacker corps, but that they were able to do it while also adding a seasoned leader.
"The way the organization embraced me on my visit, it just felt right," Minter said. "I know Jeremy and Brandon LaFell from college. It's going to be fun. Through my process Cincinnati was on the jump. I'm just glad they were able to pull the trigger and make a spot for me."
The Bengals were attempting to craft a deal for the UFA without losing the 2018 compensatory draft picks they believe they'll receive for Cleveland's $60 million deal with right guard Kevin Zeitler and the Rams' three-year deal with left tackle Andrew Whitworth that can be as much as $36 million.
Minter's deal figures to be comp pick friendly in about the $4.5 million range. The Bengals earlier this week signed another UFA to a one-year deal in right guard Andre Smith, so the Bengals could be at the point they may have to make another move to make room for Minter.
Last year's third-round pick, Utah's Nick Vigil, 23, is expected to draw a starting spot among the backers when on-field drills begin in May as the Bengals attempt to find fresh legs for the position. Karlos Dansby, 35, exchanged places with Minter and joined the Cardinals for a third time last week after his one season in Cincinnati.
The Minter signing eases things a bit in the draft, where the Bengals can now focus on taking one backer instead of two.