Michael Johnson hadn't even read Sam Hubbard's name yet and he was already teaching him how to be a pro.
Johnson, an old third-round pick himself from back in the oughts, made the brief drive from the Dallas suburb of Highland Park to announce the Bengals' two third-round picks last week as one of the club's former NFL Man of the Year nominees.
Vintage Mike. He just didn't pile into the car with his wife and offer a banal hello before calling Hubbard, a defensive end from The Ohio State at No. 77, and Texas linebacker Malik Jefferson at No. 78.
Not Mike. He takes everything as seriously as getting ready for the Steelers at Heinz. He watched tape. He conjured up YouTube to see how other players handled announcing the picks and saw that he had a few moments to say something that could stick to the soul and not whistle through the ears.
That's when he decided to urge anyone listening to use a platform if they had one. It was as natural to Johnson as Moeller High School's Hubbard playing for the Bengals. Johnson and his foundation have engineered a variety of creative ways of giving back to the community, from offering free computer courses to the needy in the Black Belt of Alabama to bringing together the youth and police in Cincinnati.
"I just didn't want to go up there and joke around," Johnson said, back in Cincinnati Monday for the Bengals' off-season workouts. "If you have a platform, use it for anything positive. Don't waste it. People are looking at you. If they're looking at you, they're listening to you. Do something to improve their quality of life. I wanted to be more serious."
Bengals don't change their stripes. Johnson is serious enough about his team that he flew back to Cincinnati Saturday to attend a welcome dinner for Hubbard, Jefferson and second-rounder Jessie Bates III at The Precinct at the invite of director of player relations Eric Ball. Veteran running backs Giovani Bernard and Jarveon Williams also attended.
Hubbard talked to everyone easily and had an easy in with Bernard through the Bosas of Ohio State, players at Bernard's Florida high school. But he took special note of Johnson, a guy he's been watching play here since he was in middle school.
"It was awesome to be able to just sit and talk to a guy like that," Hubbard said. "A great player, but I didn't know anything about him as a person. It's obvious after just talking to him that he's very intelligent and a great leader who cares about the team."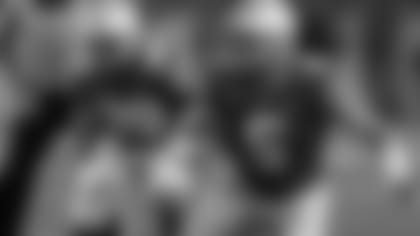 Sam Hubbard got the call in the third nine years after Johnson.
Johnson, 31, is heading into his 10th season and saw his role change last year when he moved inside on passing downs as yet another third-round end, rookie Jordan Willis, pushed for playing time on the edge. Now here was Johnson announcing the name of another kid that could push him and had some wondering if he announced his replacement on Friday night. But the Bengals also feel Johnson revived his career last year going inside and they think he'll be even better with fewer snaps. Think Wallace Gilberry, circa 2012 and 2013.

But on Monday Johnson wasn't so much thinking about Hubbard or Gilberry, but Robert Geathers. Geathers wasn't a Bengals' third-rounder. He was a fourth-rounder, but he was another defensive end, drafted in 2004 at age 20, (two years younger than Hubbard) who found another no-nonsense, plain-speaking veteran end ready to help him.

Justin Smith.

"When I got here Robert Geathers took me under his wing and he always said they draft a defensive end, a D-lineman, every year. It's no different," Johnson said. "You see people come, you see people go. That's how it is. I'm here to compete and make this team better."
No different. Hubbard is yet to be added to the Bengals' D-line text tree that kept the Johnson branch even when he was in Tampa for a season. But Johnson has Hubbard's number.
"I'll tell every D-lineman that comes in, teach him everything I know, how to be a pro, just like it was for me," Johnson said. "I try to learn about my (new) teammates. Sam was cool. They're all going to fit. It's got to be a lot of fun for Sam being from here. I can't imagine what it would be like if we had a pro team from where I'm from.  I guess I'd get bombarded with a lot of ticket requests, but it would be a lot of fun."
Which is nice. Because as Johnson knows, there's plenty of time to be serious.
This gallery features the Bengals 2018 NFL Draft picks.