For the seventh time in the last eight years Sunday (4:25 p.m.-Cincinnati's Channel 12, the Bengals end a season against the Ravens. They may be closing out a lot more than that in Baltimore temperatures projected to feel like 13 degrees with the Ravens needing a win to chill for the postseason and published reports suggesting head coach Marvin Lewis' 15-year run in Cincinnati has thawed.
The Bengals.com Media Roundtable takes refuge in the Freezer Bowl to make one last call, so let's go around The Table quickly:
Jim Owczarski, Bengals columnist, The Cincinnati Enquirer
I wouldn't be surprised if the Bengals win. To be honest I've never been a believer in what Baltimore has been doing. I do think the Ravens playing for something at home is different than Detroit needing to win coming to Cincinnati . I just think Ravens running back Alex Collins and that ability to run the ball in Baltimore and, of course kicker Justin Tucker, will be enough in the end.
I think the Bengals will be able to move the ball between the 20s. I'm picking five Randy Bullock field goals. It will just be too hard to score touchdowns, as it has all year.  Last year the Bengals scored just one touchdown in Baltimore and I see that same sort of tight, close game but in the end Baltimore gets it done. I think the Bengals' effort and execution will look like it did against Detroit. I don't think it will look like Chicago or Minnesota. They just won't be able to score. RAVENS, 19-15
Jay Morrison, Bengals beat, The Dayton Daily News
The Baltimore defense takes the ball away so much and that's going to be hard on this offense. They've been better lately, but with the Ravens having so much to play for I just see more mistakes and those mistakes leading to points like the first game. I don't think the Baltimore offense is that great, but I think they can score enough points to beat the Bengals.
People say there's not much to play for, but I think they want to send Marvin out a winner, so to speak. That means something and I think it would mean something to get to seven wins. It's one better than last year. And they do play Baltimore well. They've won six of the last eight. RAVENS, 20-10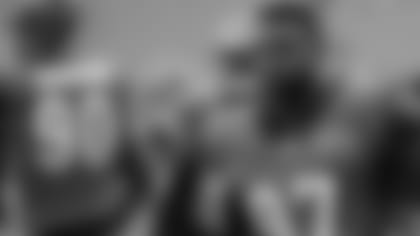 Geno Atkins needs a sack for his  third double-digit season
Alex Marvez, SiriusXM NFL radio host and Sporting News NFL columnist
The Bengals had their farewell tour win last week. The Ravens have more to play for and they're a very dangerous team heading into the postseason. People keep talking about a lack of offense. But they've scored, what? At least 20 points in eight straight games. RAVENS, 20-10
Jeff Zrebiec, Ravens beat writer, The Baltimore Sun
People around here are nervous about this one because the Bengals have had so much success against them lately. But it seems to be a good matchup for the Ravens.  The Ravens have been playing well up front and the Bengals come in with pretty much a new offensive line, although one of the Ravens' lineman (nose tackle Brandon Williams) said he actually thought they were playing better.
What's going to be interesting is that matchup with Bengals wide receiver A.J. Green. It's pretty well documented how he's destroyed the Ravens and they've got four cornerbacks on injured reserve. Their first-round pick, corner Marlon Humphrey, has been shadowing top guys lately. It's tough to match up with Green, but Humphrey does have good size (6-0, 197 pounds)and speed.  Everyone here is looking for a close game with the Bengals expected to play hard. Having a shot at the playoffs after being 4-5 has been the focus this week so the Marvin Lewis situation hasn't gotten much  play. But obviously he's well respected here. RAVENS, 23-20
The last time the Bengals played in Baltimore without Marvin Lewis as their head coach old friend Jeff Blake beat them in the way back machine of 2002. Whether Lewis joins Blake in Bengals history after Sunday's game is going to be the story before, during, and after a game the Ravens must win and the Bengals would like to win even though as late as Saturday morning it appeared they knew as much as their teammates and coaches about Lewis.
Fitting the game is in Baltimore, given Lewis' heritage in the NFL and all that. But Sunday's game is just another reminder how much Lewis turned this thing around. Before he arrived they were a walking turnover.  Now under him they have a plus turnover differential or even turnover differential in 63 percent of their games and it gave them a shot to win.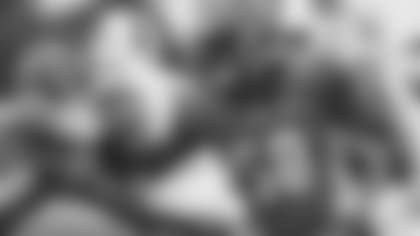 Carl Lawson needs 1.5 sacks for 10 and the  Bengals rookie record.
And this season shows the impact of that stat. The Ravens are 26th in offense but ninth in scoring and you can thank their defense that has generated a league-high 33 turnovers and plus 17 differential. The Bengals have had one of their worst seasons under Lewis in that department at minus nine and if you want to know why the Bengals aren't the Ravens at 9-6 with a reduced offense and in the play-off hunt, that's why.
Whatever happens on Monday, the Bengals' top off-season commitment has to be fixing their two flagship players, wide receiver A.J. Green and quarterback Andy Dalton. Last week they got away with a deep ball that Green caught with his face mask instead of his hands and Dalton throwing two ducks to nowhere off his back foot, not to mention running out of bounds in the red zone for a sack. These guys are two of the best players in the league and when they get back to where they were, this team will be OK. Not taking care of the ball on Sunday goes without saying. It was Dalton's four picks in the opener that spurred the Ravens' turnover run.
They need Green and Dalton to play like they did a few years ago in Baltimore. They've been terrific down there. Just look at their last two trips there. They won the 2014 opener with a 77-yard bomb late for one of Dalton's 16 fourth-quarter comebacks and then did it again the next year when Green scored two TDs in the fourth quarter for the win. Green, out with a torn partially hamstring, didn't play there last season in the 19-14 loss.
It should be an interesting day since the Ravens are cleaned out of cornerbacks, but they do have first-round pick Marlon Humphrey. It won't matter unless the Bengals can run the ball because 35-year-old Terrell Suggs  can still  get to the passer and he's playing transplanted guard Clint Boling at left tackle. It's a great test for the two promising guards, Alex Redmond and Christian Westerman. Their calling card is moving people and nobody moves you like that Ravens' front seven. Nose tackle Brandon Williams is as good as it gets.
The key here may simply be communication, a dicey proposition since this is their first road game with the overhauled line in a notoriously loud building where the Ravens have won 71 percent of their games. The sobering thought is the Ravens shut out their first-string line at home in the opener.
 It'd be nice to have a healthy Bengals rookie running back Joe Mixon (he had eight carries for nine yards in the opener) teamed with Giovani Bernard, but he's nicked up with an ankle injury.
The Ravens are also quite different since the opener thanks to running back Alex Collins and he can thank the Bengals. The Ravens picked him up and put him on  their practice squad after Danny Woodhead got hurt in the opener. Suddenly the 5-10, 2109-pound Collins is 105 yards shy of 1,000 yards and is the threat quarterback Joe Flacco hasn't had in a few years.
Bengals defensive coordinator Paul Guenther has been torturing Flacco since he got the job in 2014 and making him pay for that one-sided offense. Flacco is 1-4 against  Guenther with more picks than TDs.
But all eyes will again be on the linebackers since they figure to be without Vontaze Burfict (shoulder), who goes in doubtful. They'd love to play how they played without him in the second half last week, when they didn't get lost in the middle of the field like they did in the  previous two games. But we're still talking about three rookies, two of them undrafted. And Woodhead is one of the best in the league coming out of the backfield.
So time of possession is absolutely huge in this one to protect the defense and it hasn't been a friend of the Bengals' this season. Last week was only the second time all year they had more snaps.
Here's the thing. It's a division that lives on being physical. The Bengals have been pushed around too much this year. Will Sunday be a not-so-subtle reminder or a glimpse of the future?