At 2-3 with 11 games left, Bengals head coach Marvin Lewis has told his team their season has come down to 11 one-game seasons. Sunday's game (4:25 p.m.-Cincinnati's Channel 12) at Heinz Field against the 4-2 Steelers is far from an elimination game. But with four of the next five on the road, the Bengals.com Media Roundtable knows how important it is.
Let's go around The Table.
Katherine Terrell, ESPN.com
It's going to be a low-scoring game. The Bengals defense has been playing great these last two
games. The Steelers have been up-and-down. Weirdly, the Bengals play better at Pittsburgh some times. I think if they don't let the game get too big for them then they can pull this one out.
If the Bengals can get some pressure on Steelers quarterback Ben Roethlisberger and get some bad throws, it can be an outcome like when the Steelers lost to Jacksonville. The Bengals have been getting pressure on the quarterback since Green Bay and you just have to figure out how to rattle him. It's going to be very hard to score against the Steelers' pass defense. But if the Bengals defense holds up I think the offense will be able to get a score or two. But the defense has to do its job. BENGALS, 17-14.
Gerry Dulac, The Pittsburgh Post-Gazette
The Steelers have not followed good performances with good performances.  After losing to Chicago, they went to Baltimore where they haven't won in five years and beat them handily. Then come home and lose to Jacksonville and then they go to Kansas City and put together this dominating performance against the only unbeaten team in the league. At this point in the season it's incumbent upon them to start backing up these games with a solid showing.
Forget the yards, Steelers running back Le'Veon Bell looked like Le'Veon Bell. Whether he had 89 yards or 179 yards. You could just see it with his jump cuts, the way he moved the pile. And their success against the Bengals speaks for itself. I expect them to come out at home and back up last week's game.  STEELERS 27-17
Marvin Lewis heads to his hometown of Pittsburgh 6-8 at Heinz Field, more succesful than most against a team that has lost 22 home games in the last decade.
Dan Hoard, Bengals Radio Network play-by-play
Ben has won three quarters of his games against Cincinnati and even though the Bengals have had more success in Pittsburgh than Paul Brown Stadium, it's still trying to beat the Steelers in Pittsburgh, which is hard to do.
Having said that, here's how the Bengals win. Win the turnover battle for the first time this year. It's amazing to me they haven't won't it in a single game this year and they're only one under .500. Look at the two Steelers' losses. Two big fumbles in the loss to the Bears. Five interceptions in the loss to the Jags. They are negative for the season in turnover ratio and as great as the Bengals defense has been, second in points allowed, second in yards allowed, they've only got four takeaways. So this is the week. Take the ball away. I don't even care if they turn it over once or twice. But get a few takeaways against the Steelers and they win this week and hopefully they will win.  STEELERS, 20-17
Alex Marvel, Sirius NFL Radio host and Sporting News columnist
The Steelers have beaten the Bengals seven out of the last eight times, so obviously they're doing something right. Last week was big for Pittsburgh in getting their confidence back in what they're doing because clearly this was a team that had a lot of issues behind the scenes as well as on the field. They've been clunky all year for a variety of reasons.
I don't think a Bengals' loss eliminates them from being a legitimate contender in this division. They'll get another shot at Pittsburgh. There are some good things the Bengals are doing. I like the fact that Bill Lazore is getting the ball out of Andy Dalton's hands quicker. They're feeding A.J. Green. Those are real positives. Love the move with Michael Johnson inside on the defensive line. That's really paid dividends for them. I love the different energy the rookies have brought. Losing Adam Jones is significant because they're going to need to stretch cornerbacks playing Antonio Brown. I get the feeling, too, that amid all this Martinis Bryant stuff that they're going to try and feed him the football a little more and try to make sure he's happy. That's where the Bengals need to watch out as well. I just feel like Cincinnati is a little too inconsistent across the offensive line right now, particularly in the running game.  STEELERS, 19-17.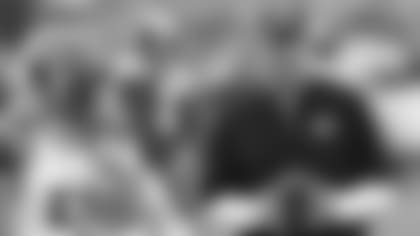 If anyone knows the Steelers running game it is Bengals linebackers coach Jim Haslett, a Pittsburgh native and former Steelers assistant.
You look at the Bengals and the Steelers in the 15 years of the Marvin Lewis Era and they've both have pretty much had big-time quarterbacks, Pro Bowl playmakers at wide receiver, dangerous running backs, and stingy defenses, although the Steelers attack you a bit differently with an aggressive zone-blitzing front seven while the Bengals rely on their talented cover people in the back end and a four-man rush up front.
But if there's a reason the Steelers have a 22-8 edge and have won seven of the last eight it may be because while the Bengals say they want to run the ball, the Steelers do run the ball.
This is where Steelers offensive line coach Mike Munchak comes in. Munchak, a Hall-of-Famer with the '80s and early '90s Oilers that duked it out annually with the Bengals, is a familiar figure.  He reared his head again in the 2015 Wild Card Game, when he should have been suspended for the rest of the postseason and maybe more for what he did to Bengals safety Reggie Nelson. But apparently nothing happened to him for pulling Nelson's hair after a play on the sideline because reports said his fine was rescinded.
Inexplicable, but all that said the guy is a hell of a coach. A great coach. Munchak saved the Steelers when he arrived in 2014 and he continues to win with whoever and whatever. Quarterback Ben Roethlisberger was on the verge of being pounded into retirement, but Munchak resurrected the run game (drafting running back Le'Veon Bell the year before he arrived helped) and they've been flying high ever since.
But all Munchak was doing was going back to the Steelers' roots. And no one knows that better than one of the guys that has to stop that running game Sunday, Bengals linebackers coach Jim Haslett. Haslett grew up in Pittsburgh watching Franco Harris and Rocky Bleier smash the Steelers to glory. The plays he's scheming against Sunday aren't much different than what Haslett saw every day as the Steelers defensive coordinator in the mid-90s.
"It's built into the city. It comes with the territory," Haslett says of the Steeler run game. "The thing about them is they're very well-coached. Excellent running back. Good linemen. Munchak does a great job."
The Steelers had more problems than Washington D.C, last week when they went into unbeaten Kansas City and solved them by handing off to Bell 32 times for 179 yards. So guess what they'll do Sunday? Remember "Georgia," the power counter play Bell ran for a lot of his 185 yards against the Bengals in 2014? Bell ran it six times right out of the gate Sunday for 66 yards behind motoring right guard David DeCastro, who, of course, wears 66, and they did to the Chiefs at Arrowhead what they did to the Bengals at The Paul three years ago.
"Same play we ran with Jerome (Bettis)," Haslett says of the Steelers Hall of Fame running back. "They've got that really athletic guard and center. You have to be physical,   you have to read fast, the linebackers have to scrape everybody has to be involved."
The Bengals are built better to defend Bell these days with a shot of youth and speed now that linebacker Vontaze Burfict is paired with rising sophomore Nick Vigil in the nickel package. The Bengals are 14th against the rush, but second overall on defense and they're a major reason why. Burfict and Vigil are ranked Nos. 14 and 15, respectively, by profootballfocus.com for outside linebackers against the run, joining Miami's Lawrence Timmons and Kiki Alonso and Tampa Bay's Lavonte David and Kendell Beckwith as the only tandems in the top 15.
Plus, Kevin Minter and Vincent Rey come off the bench to take whatever Munchak deploys.
"They'll have three tight end sets, two tight end sets, two backs and a tight end set, so yeah we'll play some base and mix it up with both base and nickel," says Bengals defensive coordinator Paul Guenther. "They're mainly a three receiver set."
So while Minter won't play much because of those three receivers, he can school his new mates on what Bell did to his Cardinals two years ago, Even though they 'held' Bell to 88 yards, he ran it 25 times and hurt them enough on a couple of runs during a 25-13 Steelers win that is part of their 9-0 record when Bell carries at least 25 times.
"You have to play gap sound. We got out of our gaps a couple of times and he burned us," Minter says. "He's too good of a back to try and free-lance. If you don't play sound, he's going to get you."
Minter, as well as the rest of the Ohio River Valley, knows the counter is coming: "That's basically a want-to play. It's all want-to. That's mano a mano."
 But Burfict has seen Bell plenty. It will be recalled that Bell had that big game in '14 with Burfict out of the lineup. He hasn't had a mega game since then with Burfict back and when they 'held,' him to 93 yards on 23 carries last year at PBS, the Bengals didn't allow a touchdown until less than eight minutes left.
Bell's signature patience gives the
counter play another dimension. Vigil, who played 18 snaps in that last game against Bell, had a big game against Buffalo's LeSean McCoy two weeks ago. But this is a different guy.
"Everyone knows how patient he is," says Vigil, and when asked if the Bengals have to be just as patient, he reflects the dilemma. "Not necessarily … He makes you peek back there when he takes so long to get to the line of scrimmage …  There are times you have to go get him … He does a great job dancing back there before finding his hole … He's one of the best in  the league. He runs good routes, he can make you miss in space, he can go downhill."
Haslett thinks he's got something brewing in the middle of the field with the addition of Vigil and Minter and says Sunday "is a good test," in what will no doubt be a counter move.
"He's a heck of a running back with those jump cuts," Haslett says. "You have to grab cloth, but sometimes you have to run through the running back. They can give you a power running game, a misdirection game.  They'll give you everything."
For the Steelers, it begins with the run. It was last week as trouble brewed. It will be this week, too, as they try to take control of the AFC North at 5-2.
Cincinnati Bengals travel to Pittsburgh to take on the Steelers in week 7 of the regular season.