It's time to go before they leave on a three-game road swing through must and bust. A total of 13 of their 15 AFC opponents have more victories than the 2-4 Bengals and one of the two that don't arrive Sunday (1 p.m.-Cincinnati's Channel 12) when the 2-5 Colts flee to Paul Brown Stadium.
The Luck-less Colts are injured and reeling after last week's 27-0 home repudiation at the hands of the Jaguars with the Bengals.com Media Roundtable categorizing the Bengals closer to that clutch of 10 teams with three or four wins in a unanimous call over Indy. With the 4-3 Jags and Titans and 3-3 Broncos waiting at home for the Bengals in the next three weeks and the Colts staring at Houston and Pittsburgh the next two weeks, it's almost like PBS is the scene of an elimination game on the afternoon of Game 5 of the World Series.
Let's go around The Table:
Mike Chappell, Colts beat reporter, Fox 59/CBS 4
It's a must game for the Colts. They go to Houston and then have Pittsburgh at home, so you're looking at 2-8. They need this win, but the defense is going to be missing its three best players. Rookie safety Malik Hooker, outside linebacker John Simon, and cornerback Rashaan Melvin. They're just not deep enough to overcome that and the offense is a mess with quarterback Jacoby Brissett still finding his way. It's not a good matchup. I can see the Bengals defense really giving these guys problems.
The Colts gave up ten sacks last week, tied for second most in a 65-year team history. And seven in the second half. I don't see how it gets better. I know the Bengals aren't going great guns, but I can see quarterback Andy Dalton and A.J. Green having big days. Cornerback Vontae Davis is a good player, but he's not playing well. Their best players are the kicker and the punter. It will be close until the middle of the third quarter and then it will get away from them.  BENGALS, 24-13
Clark Judge, Talk of Fame Network
The Colts are a mess. They've had three losses by 27 or more points. This isn't so much about Cincinnati as it is about its opponent. The Colts are in disarray. They can't play defense. They can't play offense. They can't throw the ball. They can't run the ball. Other than that Mrs. Lincoln, how did you like the play? It's a really bad situation. Anyone who watched that game last week, Jacksonville goes into Indianapolis, which should be a hostile environment. The Jaguars don't have their star player Leonard Fournette. And they crush them. In fact, Indianapolis can't even score. That tells you everything you need to know about the Colts. I love Cincinnati in this one. The line is 10.5 points. You couldn't make that line high enough for me.
There are a lot of teams in disarray. You look at Miami Thursday night. I saw where Dolphins coach Adam Gase called his offense abominable. There's a lot of that going around.  The Bengals aren't in that bad of shape. I'll be honest, I thought they would win last week in Pittsburgh. At halftime they were where they wanted to be. Pittsburgh gave them every opportunity to get back in that game because they couldn't close drives. They were kicking field goals. The perfect exclamation point to an awful performance was Dalton throwing the ball out-of-bounds at the end of the game on fourth-and-two. However, that's one half of the last four games. They could have won the Green Bay game . When they beat Buffalo that told me this team has a pulse. Watch out. BENGALS, 27-10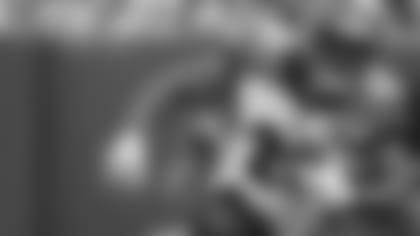 The numbers say a good day for Joe Mixon to break out.
Paul Dehner, Jr., The Cincinnati Enquirer
This is a get-well run game week. A Hobson special. Sure, you can say a Hobson's Choice special. It's whatever you want it to be. It's time to figure out this run game and this is the team to do it against. They're not very good at stopping the run. They don't have Hooker. They don't have Simon. They're missing pieces and they're already not great. The Colts are spiraling.
I think it's one of those where the Bengals are clearly the better team. There are opportunities to impart your will  on them a little bit. I think the Bengals defense is going to bounce back. They'll still give up some stuff. But for the most part this feels like a get-well game. If it's not, then panic would be the word  if they can't get this one. This is one you almost already have in the bank. If you're going to actually make a run this season, it has to be in the bank. There's really no choice. BENGALS, 28-13
Jay Morrison, The Dayton Daily News
I don't think the Indy offense can do much against this defense. Brissett still seems to be a bit unsure. He's still learning the offense. The whole narrative has been he's holding the ball too long. This defense will feast on him if he tries to do that.
Pittsburgh wasn't great against the run, but Indy is really bad against the run and I think the Bengals are going to find a way to get that going. They said there were different reasons that Joe Mixon didn't get the ball after the first seven carries last week. I think they find a way to make sure that happens. I'm not sure they need to find a way because I think they'll get a lead and it will be a no brainer and they'll just pound the ball. When A.J. has a down game, Andy typically finds a way to get him involved the following week. I think we'll see that against Indianapolis.  BENGALS, 27-14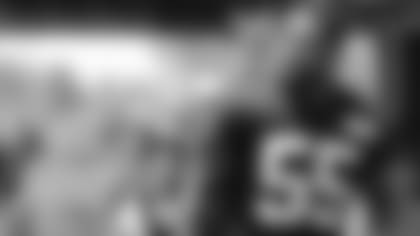 Linebacker Vontaze Burfict: after Le'Veon Bell went over 130 yards last week, the Bengals know they need to control the run ands that means Colts QB Jacoby Brissett, too.
OK, OK. We're talking the run game. Again. Because the Bengals are like 98 percent of NFL teams. They can't put everything on their quarterback and the offensive line continues to still grapple with third-down sacks. They're not going to get there with a per game rushing average that computes to 1,309 total for the season. That would be their lowest ever. For 14 games. For 16 games. In the '60s. In the oughts. All you have to know is the 3-13 Bengals of 1993 and 1994 rushed for more yards without a 100-yard rusher.
If there's ever a day to get it on track, it is Sunday. The Colts are week removed from giving up 188 rushing yards to the Jags without Leonard Fournette. His backup, T.J. Yeldon, pulled a T.J. Yates and averaged 13.5 yards per on nine carries. The Colts have been trying to explain that for a week as have the Bengals tried to explain how rookie running back Joe Mixon didn't touch the ball after gaining 48 yards on his first seven carries last week in Pittsburgh.
Since the Colts are without their three top defensive players, the Bengals can make amends quicker. There could be some game balls handed out because this could turn out to be mid-season version of the rookie show.
If  Mixon can channel Yeldon, he'll have his first career 100-yard game and it looks like rookie wide receivers John Ross and Josh Malone have a chance to get their first NFL catch in the same game with Tyler Boyd (knee) and Cody Core (concussion) already declared out. With two of the Colts' missing trio not in the secondary Sunday, top cornerback Rashaan Melvin and dangerous rookie safety Malik Hooker, they may be able to do more than that. Indy is next to last in the league in yards allowed and a lot of that is because they're next to last in passing yards.
Certainly the Colts know A.J. Green is going to be a frequent target and probably more than usual for Andy Dalton after last Sunday's three-catch game. Since 2013  in the nine regular-season games Green has been available after had three or fewer catches, he's averaged seven catches and 101 yards  to go with six touchdowns.
But the biggest matchup of all may be the Bengals run defense vs. Colts great Frank Gore, as well as Marlon Mack.  That's what Bengals defensive lineman Chris Smith says and as a member of the Jags the past three seasons he should know. "Stop Frank Gore,' is what he says and he's right as the Colts try to buck up after a 10-sack game last week against a Bengals pass rush still ranked sixth in the NFL in sacks per pass despite having their NFL-best 34 straight games with a sack snapped in Pittsburgh.
It looks like an ideal matchup. The Colts gave up most of their sacks when center Ryan Kelly left the last game with a hamstring injury and the Jags swarmed though the middle. Kelly, a Cincinnati kid from West Chester, is back. But so is Bengals Pro Bowl defensive tackle Geno Atkins against a line that has had trouble with stunts. And left end Carlos Dunlap draws right tackle Joe Haeg, a second-year guy probably better suited to guard.
It looks like an ideal matchup. But even though Gore has only 94 carries he can still control a game and Mack is averaging 4.9 yards per 32 carries and the Bengals, just nicked by Le'Veon Bell or four yards per carry , are ranked only 14th against the run. They need a down-hill game to open up the pass rush because there's little doubt the Colts are going to come in and try to smash it after what Pittsburgh did.
The running ability of the big , strong Brissett is a concern, especially in the red zone with three TDs. The Bengals may do what they did in the win over the Bills against QB Tyrod Taylor three weeks ago and shadow him each snap with a variety of defenders.
Working against Brissett in the face of the Bengals' pass rush is his penchant for holding on to the ball. According to profootballfocus.com, no quarterback has thrown more passes staying in the pocket 2.6 seconds or longer and no one has been sacked more (22) in that category.
Add it up and there could be a lot of game balls for the kids out there.