Bengals head coach Marvin Lewis is poised to show old Pitt coaching buddy John Fox, head coach of the struggling Bears (3-9), the best of his skills when the two meet Sunday (1 p.m.-Cincinnati's Channel 19) at Paul Brown Stadium.
Lewis is a master motivator known for getting his teams ready to play no matter the obstacles and he'll need all his guile six days after the 5-7 Bengals lost a soul-sapping, bone-crushing, walk-off game to the Steelers that left their roster and play-off hopes spare.
But the Bengals.com Media Roundtable has no doubt that Lewis gets them ready and our esteemed members know the landscape.
Alex Marvez, the media mogul turning double plays for Sirius XM NFL Radio and The Sporting News, has been covering the NFL since he charted local products Dan Wilkinson and Ki-Jana Carter for the Bengals and The Dayton Daily News of the mid-1990s. That's about the time cyberspace captain Richard Skinner, digital Local 12 sports columnist, had a special meeting with Colts legend Johnny Unitas while helping the Cincinnati Post cover the Bengals.
The Table's Windy City connection is formidable. The Chicago Tribune's Brad Biggs has been tracking the Bears since 2001, so he was at PBS when Marvez's buddy at Sirius, Jim Miller (120 passer rating), outdueled Jon Kitna (49) in the Bears' 24-0 slugfest keyed by middle backer Brian Urlacher's sack and five tackles. The Cincinnati Enquirer's Jim Owczarski didn't grow up a Bears fan living about a half-hour from Soldier Field in Tinley Park, Ill, since he bolted when Buddy Ryan did.
The Victor J. Andrew High School grad starts it off as we go around The Table:
Jim Owczarski, Bengals columnist, The Cincinnati Enquirer
I don't know if the Bengals offense can score more than 20-plus points against anyone other than Cleveland. I do think Bears defensive coordinator Vic Fangio's group is a little underrated. It's a good group for Chicago. I do think Bears running back Jordan Howard will be able to run the ball a little bit against this Bengals front. Especially with the depleted linebacking group.
But it's a rookie quarterback who is struggling and the receivers aren't very good. While the Bengals secondary is decimated, it's one of those things where the Bengals' injuries don't present really good matchups for the other team. I just don't think Bears quarterback Mitchell Trubisky and the receivers and tight ends are going to be good enough to make big plays. I think they'll score. Marvin's teams always play hard. They beat the teams they should beat. I still think that's the case.  Bengals, 23-10
Richard Skinner, Cincinnati's Local 12 digital sports columnist
It's a matter of do they still have something to play for? Emotionally and physically can you bounce back from Monday night? There are a lot of guys hurt. That said, Chicago right now, arguably, may be worse than Cleveland. I think this is a soft landing place.
It will probably be ugly because of Monday night and all the injuries. The Bengals probably have enough to get through defensively as long as you don't suffer an injury or two during the course of the game. Then all of a sudden you may be playing a safety at linebacker or wide receiver Cody Core in the secondary. You do have some issues. Maybe before the game they sign cornerback Tony McRae off the practice squad. As long as you can get through. You're not going to worry about them lining up three wide and not being able to match up. They don't have a great three wide. The Bengals are just the better team. You're facing a struggling rookie quarterback with no weapons. Not a good place for them to be. Bengals, 24-7
Alex Marvez, Sirius XM NFL Radio host and Sporting News NFL columnist
The Bears can get nothing going on the offensive side of the football. It's not Trubisky's fault. It's not head coach John Fox's fault per se. It's just simply a lack of talent. This is a Bears team the Bengals can really take advantage of if they're sufficiently motivated after Monday night's debacle.
It's a challenge for Marvin to get guys up after such a devastating loss. And if you played any another team I would say not having five of your back seven would be a big deal. But it's the Bears. They just have no targets right now to give Trubisky any sort of shot. The absence of guard Kyle Long is going to hurt them. It's just a really bad team. Worse than how the Bengals played the second half Monday night.
It was the most unbelievable thing. I've never seen the Bengals look so good coming out for a game. I can't remember a game. They were focused. They were intense. They were on point. Then it all fell. It's not the talent. Bengals, 12-10
Brad Biggs, Bears beat/NFL columnist, The Chicago Tribune
I'm interested to see how the Bengals respond to a tough, physical loss Monday night where they sustained some injuries and their play-off chances look dim. But the Bears are in a funk. They had been able to run the ball effectively earlier this season but that hasn't been the case of late. They're really struggling in the passing game as well. Points are going to be a premium for them.
After that, the Bears have sustained a host of injuries on defense the last month or so. I think it adds up to a win for Cincinnati. The Bengals' injuries aren't going to sway me. The Bears offense has been struggling pretty seriously. The last two weeks they have 16 first downs in two games. Eight and eight. How do you have single-digit first downs two weeks in a row? One of them was against the Niners and their defense is not good. Bengals, 24-10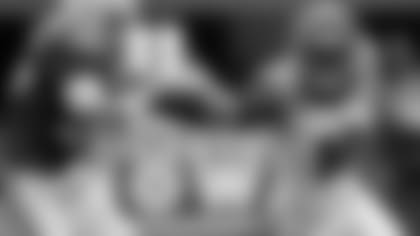 Cody Core (16) will be tracking Bears rookie returner Tarik Cohen in the kicking game.
Since the Bengals are at home on Dec. 10, it's going to be cold. It won't be as icy as Riverfront Stadium in 1977, when the Bengals beat the Steelers, 17-10, with the help of panty hose in zero degrees with the wind chill at 17-below. And it won't be as cold as Riverfront was in 1995, when Bengals offensive coordinator Bruce Coslet coaxed out a Jeff Blake-Darnay Scott 38-yard TD pass in 10 degrees and a 16 mile-per-hour wind out of the southwest to beat these Bears, 16-10, in front of mentor Bill Walsh
But it is their coldest game of the season. Adam (Grassy) Knollman, the Bengals equipment manager, is calling for 34 degrees and a Mike Nugent commemorative wind of 13 miles per hour out of the southwest. There's no snow or rain predicted and with a partly cloudy forecast look for Bengals football operations surgeon Jeff Brickner to flip on the lights.
Knollman won't need the panty hose that Bengals equipment manager Tom Gray ordered in three sizes for that day in '77, but look for the teams to provide the same kind of numbers (16-10, 17-10) in a game pitting the two lowest-ranked offenses in the league with both defenses severely banged-up.
Even though the Bengals are missing three defensive backs and two starting linebackers, the numbers are still good for Cincy. We already know they win in the cold at home on Dec. 10 and Lewis is 18-12 against rookie QBs. And Trubisky holds on to the ball, according to profootballfous.com, an average of 2.88 seconds. When he does it longer than 2.5 seconds, the site says he's been sacked 18 times, so the Bengals really have to make the Bears feel the loss of injured three-time Pro Bowl guard Kyle Long.
With rookie running back Joe Mixon (concussion) out for the Bengals, rookie running back Brian Hill figures to get his first carries since Wyoming lost the last-ever Poinsettia Bowl in spelling Giovani Bernard for the Bengals. The Bears get hammered for their lack or receivers (PFF ranks them 47, 76, 79 in the NFL), but the Bengals are also looking for help after A.J. Green at No. 7. Brandon LaFell is ranked 108 and the other guys (Tyler Boyd, Alex Erickson, Josh Malone) just don't have many reps with 40 targets among them. But Green, LaFell, and Boyd are the best receivers on the field.
This game probably comes down to Bears rookie running back Tarik Cohen and how the Bengals contain him on punts and kicks. And no doubt special teams coordinator Darrin Simmons has already picked the brain of Bengals cornerback Tony McRae, a practice squad player that played with Cohen at North Carolina A&T.
Last week the 5-6, 185-pound Cohen dominated the highlights with his 61-yard punt TD, where he retreated 15 yards and reversed field to follow his blocking. And his 67-yarder to the San Francisco 16 was called back because of an illegal block. He's also eighth in NFL kick returns.
Simmons compares Cohen's style to the great Darren Sproles, whose size and explosion hide the fact he's an extremely strong runner that is difficult to take down.
This is the only bad matchup for the Bengals. Because of their injuries on defense, the first place they'll feel the impact is in the kicking game. Plus, rookie gunner Brandon Wilson, who looked so good on Monday night drawing two penalties on punt cover, is questionable after not practicing this week.
That could be a bit dicey for the Bengals if they get anything big. The Bears have been wildly inconsistent in the run game, but then so has the Bengals defense. Cohen and Howard are quick and good. But after gouging Detroit for 222 yards two weeks ago, the Bears went for just six and 62, respectively, on the ground  the last two weeks. And that last number came against a Niners defense ranked 29th against the rush.
The Bengals have to avoid Cohen staking them to a lead and then Fox sitting on it if the Bengals can't stop the run with their depleted group. But Cincy should be able to take advantage of Long's absence up front and control the rush.