UCLA QB Josh Rosen turned out to be the key player in this scenario.
With the landscape looking pretty much the way it did last month in our first try of the year, we're on the phone trying to concoct the first trade in the history of the Bengals.com Media Mock Draft.
Last week's NFL scouting combine didn't move the needle on the top players so this is what you're going to get in the first 11 picks until quarterback Kirk Cousins signs on the first day of free agency on March 14.
And that's a big one for the Bengals because if he goes to Denver at No. 5 or the Jets at No. 6, that figures to push one of the four quarterbacks down toward the Bengals at No. 12. Not that the Bengals would take a QB there, but maybe they could pull a trade with a team that wants to move up and take one.
But that's the problem. There are only four QBs and they split the first round into two, giving the Bengals the first pick of that second half of the round. The Broncos, the Jets, and the Browns at No. 1 and No. 4, all need one. The Giants at No. 2 and the Dolphins at No. 11 could use a young one.  So if anybody wants to trade up for a QB, they have to get in front of Miami, right?
If the Giants can't resist Penn State running back Saquon Barkley, the Dolphins decide to hang with Ryan Tannehill and opt for a top defensive prospect, and Denver or the Jets take themselves out of the derby by signing Cousins, would one of those QBs get to 12?
But that what if Cousins signs with the Vikings?
Like last year, the Bengals go into the draft with 11 picks and they used the flexibility to make two trades on the clock, down in the second to gain another fourth-rounder and up in the sixth round to grab Houston special teams maven Brandon Wilson.
(Don't hold your breath for a trade up. That's only the fourth time it's happened in 50 years.)
But director of player personnel Duke Tobin has done two of them, starting with going up in the fourth round to get North Carolina center Russell Bodine in 2014. And Tobin tried to make it three last year in an effort to go up to the first pick of the fourth round and grab Auburn pass rusher Carl Lawson. Like most deals, it didn't happen. But they still got him.
But a trade back in the first round this year would give them more ammunition to trade back up in rounds two, three, or four in a draft rich with linemen on both sides of the ball.
"When you have a lot of picks, it opens a lot of doors for you. It gives you the opportunity maybe to move a little bit if you want to," Tobin said last week at the combine. "It also gives you the opportunity to sit and feel a lot of needs. It's hard to absorb 11 guys in one year. And we're aware of that
"This past season we had a couple opportunities that are pretty unique and rare. We were on the clock when we traded down before we picked Joe (Mixon). That was the most activity that we've had in a five-minute span, of people wanting to come up to our pick. We had to try to value all of the options that were there, but also our own philosophies of who we want to come up and who we don't want to come up, how far we want to go down and still get the guy we wanted. It came together, but last year we probably had a little more action than we've had."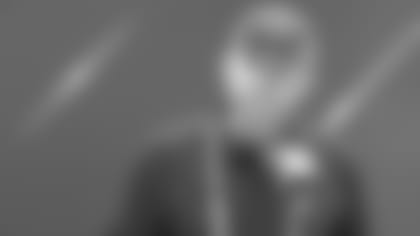 Duke Tobin spent a lot of time  on the horn during last year's draft.
So we're taking Tobin's advice and getting on the cell early.
"Every year I'll talk to all 31 other teams and see what their intentions are and what they're looking to do and if they're open to moving and if we're actually looking to move," Tobin said. "With Russell, we knew early in the process, so we were contacting the teams that had picks in the range that we wanted to go. A lot of that legwork was done early. It's easier if it's done early. If it's done in five minutes while the clock's ticking, not so easy."
1.BROWNS -  QB Sam Darnold, USC; Tony Grossi, ESPNCleveland.com
Does Andy Dalton really want to be a Bridge Guy for a season? But it would be more than that for McCarron. It would be an audition for the rest of the league. Grossi believes Darnold is the most mature of the QBs and brings a lot of quiet intangibles. Grossi's sense is Darnold's habit of holding the ball low in the pocket that led to his 21 fumbles has been deemed fixable.
2. GIANTS - RB Saquon Barkley, Penn State; Mike Eisen, Giants.com
Eisen covered the Bill Parcells Giants, back when GM George Young's mantra was, "Don't bring a depth chart into the draft room. You might miss a Hall-of-Famer to fill a need." The strategy very well could be, don't replace quarterback Eli Manning and instead put better players around him.
3. COLTS - DE Bradley Chubb, North Carolina State; Stephen Holder, Indianapolis Star
The last time they delved into the draft (2013) for an edge pass rusher, Bjoern Werner busted out and hasn't played in the league the last two years. New DC Matt Eberflus worked under Rod Marinelli in Dallas the past seven seasons and is looking to build the same kind of relentless fronts.
 Penn State running back Saquon Barkley could turn around a team quicker than a QB a la Todd Gurley and Zeke Elliott.
4. BROWNS -  DB Minkah Fitzpatrick, Alabama; Tony Grossi, ESPNCleveland.com
They're moving last year's late first-rounder Jabrill Peppers into the box at safety where he belongs and they think Fitzpatrick can do it all. They think he can be a lethal center-field at safety, but also a shut-down corner. Kind of high for a safety. Even Earl Thomas was only the 14th pick.
5. BRONCOS – QB Josh Allen, Wyoming; Mike Klis, 9News
If they don't get Cousins. Allen showed off his cannon at the combine and probably should go No. 1 like Broncos Prez John Elway did 35 years ago. Allen is an Elway guy with the big arm, good mobility, quick smarts and an easy personality. But if they get Cousins, the first domino falls and Klis has them taking Notre Dame guard Quenton Nelson.  
6. JETS - QB Baker Mayfield, Oklahoma; Rich Cimini, ESPN.com
* *The Jets and Vikings are apparently leading the way on getting Cousins, but if not they're warming to the idea of Mayfield. He's coming off a productive career where he played a lot of football and his accuracy fits into their West Coast offense. How about this? The last offensive player the Jets took in the first round is also a quarterback, Bengals-killer Mark Sanchez nine years ago.
 7. BUCCANEERS - G Quenton Nelson, Notre Dame; Roy Cummings, FlolridaFootballInsiders.com
 Maybe next to Barkley the best player in the draft, if a guard can ever be rated that highly. It's never a bad idea to add a piece that allows you to better protect your quarterback and helps you build a better running game.
 8. BEARS - ILB Roquan Smith, Georgia; Brad Biggs, Chicago Tribune
* *They make the value pick here. A 3-4 inside backer isn't their biggest need, but he makes a good defense that much better and he can step in and play right away. Plus, his versatility makes him a premium in sub packages. It also probably helped he measured a true 6-1 at the combine.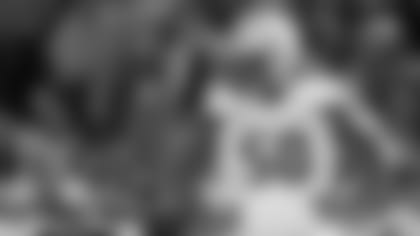 49ers fan Vita Vea stays in the Bay Area.
9. 49ERS - CB Denzel Ward, Ohio State; Matt Maiocco, NBC Sports Bay Area.com
This pick could be anything, particularly if they follow through and sign Rams cornerback Trumaine Johnson in free agency. It could be Virginia Tech linebacker Tremaine Edwards. It could be Alabama wide receiver Calvin Ridley. It could even be a dark horse like Boston College pass rusher Harold Landry because everyone needs one. But at the moment, they don't have a second cornerback. No one even close and they need a guy to pair with the other starter, last year's promising third-rounder Ahkello Witherspoon.
10. RAIDERS -  NT Vita Vea, Washington; Scott Bair, NBC Sports Bay Area.com
Old friend Paul Guenther breaks the Bengals' hearts. He gets that first-round front seven player he never got in Cincinnati on his first pick as the Raiders' defensive coordinator. The Raiders are mad at their Bay Area rivals for winning the coin flip and then swiping Ward, a guy they'd love to get. But they exact revenge by grabbing Vea, a life-long 49ers fan from the Bay. The Raiders think people have the massive 345-pound Vea pigeon-holed as a two-gap run stuffer. They believe he's athletic enough to not only penetrate, but also line up at a couple of different spots.
11.DOLPHINS -  QB Josh Rosen, UCLA; Chris Perkins, South Florida Sun-Sentinel
Perkins senses an internal struggle. The coaches and GM would love Edmunds here. But the owner doesn't see how they can pass on the QB of the future with Ryan Tannehill missing the last 20 games with a knee injury and he'll be 30 years old when the season opens. Plus, there's no one behind Tannehil if he goes down again. Like they usually do, the owner wins
12.BENGALS - OLB Tremaine Edmunds, Virginia Tech
OK, we're on the phone and we have been on the phone with Rosen sliding beyond six. We try to swing a deal with Vic Carucci of The Buffalo News. We offer the Bills No. 12 for No. 21 and left tackle Cordy Glenn. No go. Carucci thinks Rosen is the fourth QB for a reason and isn't going that far to get him. Plus, he figures they can sit and get Oklahoma State QB Mason Rudolph.
And the Glenn ask is a non-starter even though Dion Dawkins is ready to replace him. Carucci says Glenn's pre-June 1 salary cap hit is $9.6 million and Bills GM Brandon Beane "doesn't want that on his epitaph," never mind his ledger.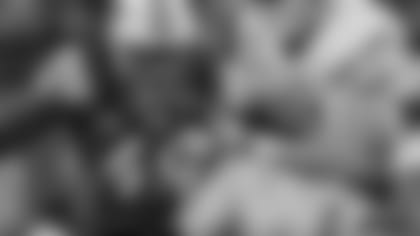 Tremaine Edmunds: take the impact player and get the tackle later.
The phone call to Kent Somers of The Arizona Republic goes much better. If Rosen is there at 12, Somers thinks the Cardinals want him and may be willing to give up their second-rounder. We'll start there, but take their third-rounder if it comes to that and stockpile it to add some offensive linemen.
Alas, the Dolphins pluck Rosen and the first half of the first round is complete.
Now comes our dilemma. The best players left look to be Edmunds and Florida State safety Derwin James. Solid players, but they're not left tackles. That's the Bengals' gaping need and also staring at them on the board is Notre Dame tackle Mike McGlinchey.
McGlinchey is perceived as a solid prospect that's going start for 10 years, but he's also rated more in the 18-22 category and so the purists would say he's a reach. To which some would say if you can project a guy as a 10-year starter at a premium position, that's not a reach anywhere out of the top five. Grab him and be happy. Who cares if he's 12 or 20?
This is the Levi Jones argument. When the Bengals took the Arizona State left tackle No. 10 in 2002, they got skewered for taking him half a round too high while tight end Jeremy Shockey went No. 14 and cornerback Phillip Buchanon went No. 17.
But here's the thing. The Bengals felt Jones was athletic enough and tough enough and talented enough to fill a hole they hadn't filled since Hall-of-Famer Anthony Munoz's departure 10 years before. And Jones was, going to the cusp of the Pro Bowl and earning a second contract putting him among the NFL's leading tackles before knee injuries curtailed his career.
What's it matter? Ten or 14? Do you think Carson Palmer cared while Jones helped keep him clean in the NFL's most blood-thirsty division?
(And, remember, the Colts got ripped for picking Dwight Freeney right after Jones at No. 11 when he was ranked as a late first-rounder. See you in Canton.)
And maybe you have to look at last year, too. The Bengals went with their board (and need) when they drafted speed wide receiver John Ross at No. 9. But they also had another glaring need with the departure of left tackle Andrew Whitworth and 2015 first-round pick Cedric Ogbuehi's struggles. They didn't have Wisconsin tackle Ryan Ramczyk rated that highly and they must have been right because he didn't go until the last pick of the first round. Yet he blocked Drew Brees' blind side well enough that the Saints went to the playoffs.
And McGlinchey figures to go a lot sooner than that.
So what's the difference taking him at 12, 15, or 21?
But when in doubt, go with the best player and that looks to be the 6-4, 250-pound Edmunds. Yes, we took James last month, but Edmunds wasn't available. Here's a guy with top ten talent and a vaulted ceiling.
He's only 19, raw, and he's played just two seasons. But his upside is soaring and teamed with Vontaze Burfict that can make the Bengals very dangerous as one of those rare three-down backers. He led Tech in tackles (109), tackles for loss (14), sacks (5.5) and forced fumbles (three). You can pretty much line him up anywhere, including the edge, as well as dropping him.
You want turnovers? The scouts say he's got great burst off the ball along with terrific closing speed. He's a good tackler, they say, and causes the kind of high-impact collisions that get the ball out, two elements this defense needs badly.
Need or board? It appears there are still promising offensive tackles with similar grades to McGlinchley's. Get the tackle next, then.
We go with best player available.