This is why we're here picking to No. 21. New left tackle Cordy Glenn.
Now you can breathe again.
It's OK now to take a deep breath as the Bengals.com Media Mock Draft is forced to issue a Spring Break version in the teeth of a blizzard of trades.
Last week's deal for Bills left tackle Cordy Glenn not only took care of the Bengals' biggest off-season need, it changed the entire tenor of the offseason. You couldn't pull a pin out of their fingers they were so tight at No. 12. Until, that is, the trade.
It extracted them from a no-win dilemma. Too high to fill that need and too low to get an impact player worthy of the pick. Now Buffalo has that problem as they try to figure out a way to get ahead of the Jets at No. 3 to take a quarterback and the Bengals are in the more familiar position of No. 21, where they have drafted three times since 2010.
Twice they found productive players in tight ends Jermaine Gresham (2010) and Tyler Eifert (2013) while left tackle Cedric Ogbuehi (2015) has struggled. Enter Glenn.
But, now they can relax with a left tackle in the fold and ease back to simply pluck the proverbial best player on the board.
1.BROWNS - QB Sam Darnold, USC; Tony Grossi, ESPNCleveland.com
OK, OK. Head coach Hue Jackson ended up with Tyrod Taylor instead of AJ McCarron in either history's greatest smokescreen or GM John Dorsey's coming-out party. But it changes nothing as Jackson and Dorsey ventured to The Coast this week to check on Darnold's arm. The template still seems to be the Bengals 2003 version with Jon Kinta The Bridge to overall No. 1 pick Carson Palmer.  As Grossi says, it would be nice if Taylor channels his best Jon Kitna and win eight games. 
 2. GIANTS - RB Saquon Barkley, Penn State; Mike Eisen, Giants.com
Hard to see them sliding all the way to No. 12 to service Buffalo's QB needs. The Giants and Jets are always competing and this draft is no different. It will be tempting to stay there and come out with what may be the draft's lone block-buster player.
Barkley: best player in the draft?
3. JETS – QB Josh Rosen, UCLA; Rich Cimini, ESPN.com
Rosen may be the most mentally ready and polished of the top four QBs, which is going to be needed in said Big Apple competition.
4. BROWNS - DE Bradley Chubb, North Carolina State; Tony Grossi, ESPNCleveland.com
With the Browns sifting through free agency to re-stock their secondary courtesy of Packers safety Damarious Randall, Raiders cornerback T.J. Carrie and Chiefs cornerback Terrance Mitchell, look for them to focus on the pass rush. Chubb may not be as elite as last year's overall No. 1, Myles Garrett, but he's a high enough talent to make them an enviable edge duo.
 5. BRONCOS – QB Baker Mayfield, Oklahoma; Mike Klis, 9News
Case Keenum looks to be an excellent bridge guy for the similarly skilled Mayfield.
6. COLTS – G Quenton Nelson, Notre Dame; Stephen Holder, Indianapolis Star
The offensive line-challenged Colts would run, not walk, to make this pick since Nelson is perceived as the lone O-line prospect that can't miss. Cincy product Ryan Kelly is fine at center when healthy and left tackle Anthony Castonza is OK, but after that they need serious help.
 7. BUCCANEERS –  DB Minkah Fitzpatrick, Alabama; Roy Cummings, FloridaFootballInsiders.com
They could use some edge help on defense, but the trade for Jason Pierre-Paul should quell that urge early and allow them to look at bolstering a thin secondary with a versatile prospect that might be able to play both corner and safety. Safety T.J. Ward struggled last year and while corner Vernon Hargreaves III is in his prime, the other one, Brent Grimes, turns 35 before the season.
 8. BEARS – S Derwin James, Florid State; Brad Biggs, Chicago Tribune
Not that it's the greatest need, but he's one of the top players in the draft, he's versatile, and he steps in as a day one starter. And they've paid two corners already in matching the Packers' bid for Kyle Fuller and giving Prince Amukamara a one-year deal.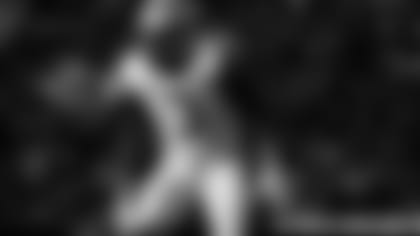 Derwin James heads to the Windy City.
9. 49ERS – LB Tremaine Edwards, Virginia Tech; Matt Maiocco, NBC Sports Bay Area.com
Talented, versatile linebacker who can fit a number of roles as uncertainty plagues Reuben Foster's future.
10. RAIDERS - CB Denzel Ward, Ohio State; Scott Bair, NBC Sports Bay Area.com
Fact of life for old friend Paul Guenther is that he's in a division with Philip Rivers, Patrick Mahomes and, yes, Case Keenum, and he's got only one corner in sophomore Gareon Conley. So why not go get his old Buckeye buddy in Ward? Guenther knows how much it helps. In his four seasons as the Bengals defensive coordinator, they went corner twice in the first round.
11.DOLPHINS - QB Josh Allen, Wyoming; Chris Perkins, South Florida Sun-Sentinel
No one thinks the last of the four QBs are going to be here. But if he is they'll gladly take him. The thinking is that Ryan Tannehill's time has come and gone in Miami and now's the time to get his successor. But it doesn't look like they're going to leap up and get him and go through their draft picks. Perkins senses they're going to re-stock this offseason with low salaries at high-impact positions and if that means the QB isn't there, they can go for an Edmunds or a Ward or any other player they deem a difference-maker that's there simply because the fourth QB has been taken instead.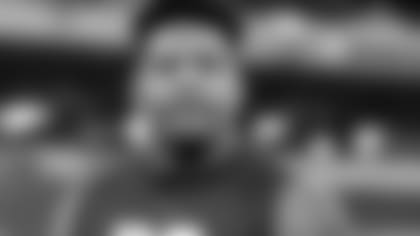 Marcus Davenport is chasing QBs
12.BILLS - DE Marcus Davenport, Texas-San Antonio; Mark Gaughan, The Buffalo News
The quarterback is the target. The thinking is they're going to keep trying to trade up here to get one. But they'll take the quarterback chaser, instead, if they can't chase down the QB themselves.
13.  WASHINGTON - DT Vita Vea, Washington; Liz Clarke, The Washington Post
They were worst in the NFL last season at stopping the run, dead last at 134.1 yards per game. Head coach Jay Gruden is working on his third defensive coordinator in his five seasons running the Capitol Gang. If they can't stop the run, it may be a tough midterm. 
14. PACKERS - WR Calvin Ridley, Alabama; Bob McGinn, BobMgGinnfootball.com
Suddenly it is Davante Adams and a cast of thousands at wide receiver. Jordy Nelson and his Packers record TD connections with Aaron Rodgers are gone while the great Randall Cobb has barely averaged 10 yards per catch the past four seasons and actually slid under double digits to 9.9 last season.
15. CARDINALS - ILB Roquan Smith, Georgia; Darren Urban, azcardinals.com
It's doubtful this guy is still on the board. This is the pick simply because he should be long gone by now and he certainly wouldn't get by new Cards head coach Steve Wilks, a guy that is leaving a lot of good backers in Charlotte. An even more pragmatic pick would be Notre Dame tackle Mike McGlinchey, an attractive choice at this point.  Note Arizona is unsettled enough at right tackle that they brought in the Bengals' Andre Smith to battle for the job.
But if Louisville quarterback Lamar Jackson or Oklahoma State quarterback Mason Rudolph is here, would they jump? Who knows? It could come down to the Cards hoping to trade back here and get one of those guys later.
16. RAVENS - T Mike McGlinchey, Notre Dame; Jeff Zrebiec, The Baltimore Sun
Baltimore really doesn't have an Opening Day starter at right tackle. They declined to bring back Austin Howard after he started every game and James Hurst is more of a guard. With center Ryan Jensen gone in free agency, the Ravens look to have the same needs as the Bengals. Their building block is left tackle Ronnie Stanley, so the answer is obvious. Make his bookend his old teammate in South Bend.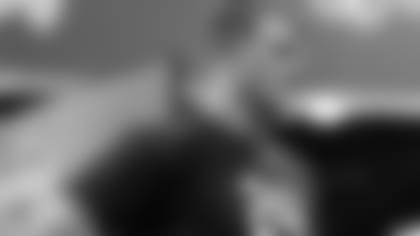 McGlinchey goes to the AFC North.
17. CHARGERS - OLB Leighton Vander Esch, Boise State; Dan Woike, The Los Angeles Times
A big-time athlete and all-world tester who put all of it on display at the scouting combine. They don't call him a freak for nothing. Defensive coordinator Gus Bradley loves speed because it makes his sub packages go. Plus, the Chargers need backers for their 4-3. A nice fit of need and scheme.
18. SEAHAWKS - RB Derrius Guice, LSU; Mike Sando, ESPN.com
Seattle is a prime candidate here to move back. They look to be in a youth movement after dealing Michael Bennett and as they shop Earl Thomas. The 'Hawks don't have a second and a third are willing to move back to get them. They like Chris Carson and Mike Davis, but the running back situation hasn't been the same since Marshawn Lynch, plus head coach Pete Carroll set the running game as a priority this offseason. They signed massive guard D.J. Fluker and brought in Mike Solari, a traditional offensive line coach, which would indicate he's moving more toward a power game than the zone.
19. COWBOYS - LB Rashaan Evans, Alabama; Todd Archer, ESPN Dallas.com
The 'Boys lost Anthony Hitchens in free agency and they need a middle linebacker, so head coach Jason Garrett finally dips into the Nick Saban pool. But they could be looking to move up if certain players fall. Certainly linebackers look to be in play.
20. LIONS - DT Maurice Hurst, Michigan; Mike O'Hara, Detroitlions.com
They seem satisfied that Hurst has passed muster with the heart problem that arose at the scouting combine and ESPN via ProFootballTalk.com has reported cardiologists at Michigan and Harvard have cleared him to play. The 6-2, 288-pound Hurst isn't massive, but what sets him apart besides his four-year not-too-big-for-him reliability in Ann Arbor is his initial quickness that allows him to wreak havoc in gaps. The Lions had a very little presence in the front seven last season except for edge rusher Ziggy Ansah and they seem to think Hurst is versatile enough to play in the middle while also being able to move outside opposite Ansah.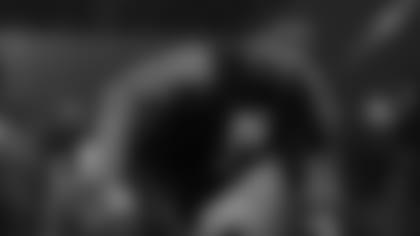 Da'Ron Payne: the mock's on us. A large man that can break.
21. BENGALS - DT Da' Ron Payne, Alabama
With McGlinchey off the board, they could always take a look at Texas' Connor Williams. But there's that projection to guard. It's not going to take their eyes very long to get to the best player on the board when it comes to the premium of position and talent.
There are going to be calls for a center here, but why? They've got two veterans they can line up back home in Trey Hopkins and T.J. Johnson and this is a draft deep with centers. With this pick you have to find a match with talent and value of position and here is the 6-5, 320-pound Payne. He's experienced (35 games in three seasons) and monstrously strong with a famous 545-pound bench press and 635-pound squat followed up by jacking up 225 pounds 27 times at the combine and a rather rapid 40-yard dash in 4.9 seconds.
You're still looking for first-round talent here and he's got it. The only knock on him is he's not a pass rusher. No problem. They've got Ryan Glasgow and Michael Johnson they can team in there with Pro Bowl pass rusher Geno Atkins on third down. Payne is that kind of unique player that makes sure you get to third down. Get the card in and that's the first D-lineman they've taken in the first round since Missouri defensive end Justin Smith went No. 4 in 2001 and he would be the first D-tackle to go in the first round since Ohio State's Dan Wilkinson went No. 1 overall in the 1994 draft.