Mike Brown, flanked by his outside backers Patrice (left) and Paige, seemed destined to meet his son in the Bengals locker room.
It was meant to be. It had to be.
Before family, there was football. Cincinnati football. Of course, if you're the family of new Bengals linebacker Preston Brown, there is family because of Cincinnati football.
Both are so intertwined like a football's laces that it was no surprise when Preston Brown dropped by his new office for a media meet-and-greet Wednesday at Paul Brown Stadium that the family came along.
There is Mike Brown, the dad who came back to Cincinnati to marry Preston's mom 30 years ago when an NFL coach cut him and made him a high school football coach.
There is Patrice Brown, the mom and Federal Express sales executive who drew up the family's first play on a long-ago trip to the airport that delivered a lesson they still teach.
There is Paige Brown, 28, the older sister who was born when her dad was a head coach in the Cincinnati Public Schools and is now a probation officer at the county court house when her brother returns to play for the Bengals.
"I haven't been able to wipe this smile off my face," says Mike Brown as they gaze at the lockers and talk softly while Preston tames the microphones.
But then, they have already been Cincinnati and the Bengals all the way even though Preston Brown went away to play at the University of Louisville and then the Buffalo Bills. There is Woodward High School and Walnut Hills High School giving birth to Northwest High School and College Hill and now Springfield Township and the NFL. Ever since Mike moved from Hamilton when he was ten and following everything and anything NFL.
"Before then it was going anywhere that was good. Pittsburgh. Minnesota. You know how it was in the '70s," Mike says of his boyhood allegiance. "The Cowboys a little bit. But then when I moved here the Bengals definitely became my favorite team."
And his favorite player turned out to be another Bengals linebacker. When Mike Brown was 16 he attended a banquet at the Avondale Boys Club where Reggie Williams was the guest speaker and after the festivities the director introduced Woodward High School's earnest, young defensive tackle.
"We walked out to his car and that was a great experience. For somebody like that to spend that much amount of time with me was unbelievable," Mike Brown says. "He took my home number down and he talked to me a couple of times. That stuck with me forever."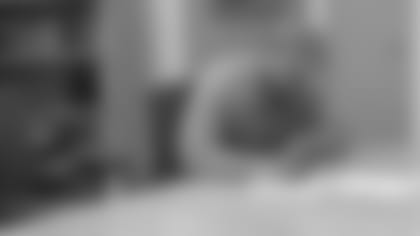 Preston Brown signed a one-year deal last week. (Note the shirt.)
Brown and his mates had a game forever in their senior year in '79 when they beat Western Hills, 6-0, to win the CPS title. You can still hear the hum of the 16 millimeter projector through Mike Brown's recall.
"The quarterback rolled out right and me and Andre Scott, the middle linebacker, hit him and he fumbled. (Woodward) picked up the fumble and returned it about 60 yards," Brown says. "I blocked a field goal and then we stopped them from scoring a touchdown late."
But the most significant play of that game came right after when Brown and some of his mates hoisted their coach on their shoulders and The Cincinnati Enquirer caught the moment in the next day's sports section. A girl from Walnut Hills noticed the defensive tackle in the photo and exclaimed to her friend, 'Who is that guy?" It turns out her friend was a mutual friend.
"Our first date we went to see 'The Fish That Saved Pittsburgh,'" Patrice says.
"The movie that starred Julius Erving," Mike says. "The funny thing is after she went home I told the girl who introduced us, 'I'm going to marry her.'"
But there was a lot of football before that happened. They dated through college, but Patrice went to the University of Dayton while Mike went to Ball State to play a different position on defense all four years, whether it was outside or inside backer or strong safety. He didn't get drafted, but he was good enough to get scouted and the Colts and Broncos offered contracts.
"Of course I wanted to go to the best team," Mike says, so he ended up in a Denver camp loaded with terrific linebackers like Karl Mecklenburg, Tom Jackson, and an old Bengals linebacker named Ricky Hunley.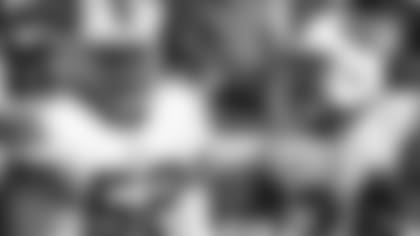 Preston Brown led the NFL in tackles last season.
It took nine days before Broncos head coach Dan Reeves called him into his office.
"He was nice," Brown says of the Grim Reaper. "He told me, 'We'll have some nice things to say about you if you go someplace else.'"
But Mike says Reeves seemed a bit taken aback when he asked him what he was going to do: "I'm going to go back to school, get my degree, and marry my girlfriend,' " Mike told him.
When Brown landed at the airport from Denver, said girlfriend didn't show up with open arms because they were full.
"She had balloons, flowers. She thought I was the Super Bowl MVP," Mike Brown says. "I knew right then I made the right decision. It's been great ever since."
Patrice Brown is laughing, but it is a knowing laugh.
"We always tell Preston, 'Make sure you find a girl that if it doesn't work out, she'll still meet you at the airport,'" Patrice says. "If she won't …"
There have been balloons and flowers whether he was the head coach at Aiken, like he was for four years, or at Woodward, like he was for one, or what any other assignment the Cincinnati Public Schools has had for him. Right now that means teaching in the section at the juvenile courts.
But the one constant has been coaching his son. Always drills. Always the little things. If Michael Preston Brown is one thing, besides the NFL's leading tackler carrying a bit of a chip after not getting re-signed by the Bills it is that he's a coach' son.
When he signed with the Bengals last week, Preston Brown talked about how he has never really left Cincinnati. His Fourth Street apartment is a Double A Gap Blitz away from The Paul. His off-season workouts have always been here, and he immediately pointed to those drills he does on the University of Cincinnati fields with his dad.
One of the best things about it all, Preston Brown says, is he's playing in the same town with his oldest coach, Cincinnati and Bengals football all the way.
"Watching your kid's dream come true, and no matter what that dream is, it's your kid," says Mike Brown with the smile that won't go away, "and when it happens, it's the coolest thing in the world."