"It was just business," Andy Dalton  said.

AJ McCarron has both footballs in his trophy case in Mobile, Ala.

Bengals wide receiver A.J. Green handed him the big one, the ball he caught from McCarron with 1:50 left from 25 yards away to give the Bengals that breath-taking 16-15 lead over the Steelers in the Wild Wild Card Game of 2015.

 Green caught the other one, too, and it was also against the Steelers a few weeks before, a 66-yard bomb that was McCarron's first NFL touchdown pass. Except Green picked that moment for the first end-zone celebration of his career and punted it into the Paul Brown Stadium stands.

"I had to buy that one back," McCarron recalled Thursday, moments after he'd been told anyone in the NFL can buy him when free agency starts March 14.

McCarron greeted an arbitrator's ruling that set him free with a mixture of relief, anticipation, and gratefulness.

"To get the chance to be able to show what I can do and get out there and compete, that's really all you want as a player," McCarron said. "I'm just so glad the waiting is over and now my family and I can get on with the next chapter in our lives."

McCarron garnered the enormous respect of his coaches and teammates in Cincinnati with a big presence and an even bigger heart fiercely committed to the game and the work that goes with it. So it was no surprise he said Thursday that he's not looking for the biggest payday but for the best situation. If you've been listening to him that last few seasons, that means starting and he knows the Bengals are sticking with Andy Dalton.

It was also no surprise he talked warmly of his days in Cincinnati, despite what turned out to be an amicable grievance.

"It was just business," McCarron said. "They had to do what was best for them and I had to do what was best for me. It was never anything personal. I loved the city, loved the fans, loved everything about it. It's an awesome place to play."

McCarron had to laugh. He wanted to thank "the Browns," but not the team.

Yet.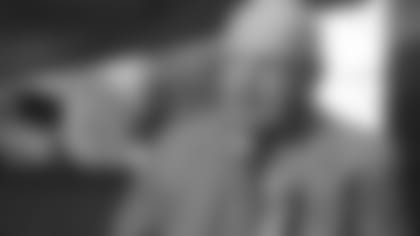 McCarron appreciates how Mike Brown was willing to trade him to a division foe.

 The Cleveland Browns are apparently still quite interested in securing McCarron's services even though they are expected to take a quarterback with the first pick in late April's draft. Free agency is going to be their second chance to get it right. They famously blew their first shot back on Oct. 31 when they were late with their paperwork on the trade deadline that would have reportedly given the Bengals' second- and third-round picks for McCarron.
Now the Browns luck out. If McCarron had been ruled a restricted free agent, the Bengals probably would have tendered him an offer that would have given them a second-round pick if they didn't match. But its doubtful Cleveland would have given up that up since it is the 33rd overall pick.

It makes sense. Browns head coach Hue Jackson loves his grit and gamesmanship. And that new Browns quarterbacks coach? Ken Zampese was his coach in Cincy for two years and an enthusiastic supporter of taking him in the fifth round in 2014.

But the Browns McCarron wanted to thank Thursday are the family of Bengals president Mike Brown and his wife-husband team of Katie and Troy Blackburn.
"
I can't thank them enough the way they treated me," McCarron said. "Mr. Brown. Katie. Troy. The Bengals drafted me when a lot of teams passed on me so I thank them for giving me a chance and believing in me."

McCarron knows Brown had agreed to do something he had only done once in 50 years and not since 1972 that would result in him getting a chance to start. Make a trade in the division. It's just one of some great memories headlined, of course, by his throw to Green at the goal line with 1:50 left in a surreal mist at PBS that would result in that ever-so brief 16-15 lead.

"To have one of the great players in the game come over and hand me that ball, it was an awesome moment," McCarron said of Green.

"There were precious memories."