Andy Dalton still calling Bengals signals.

AJ McCarron knew he'd have a tough time finding Bengals president Mike Brown in the Bengals locker room Wednesday before practice.

Long before McCarron thought he was the newest member of the Cleveland Browns, Brown watched his father Paul Brown lose his hold and then his job as head coach of that team named after him when the owner cozied up to the players.

"Mr. Brown doesn't make a whole lot of trips down here," McCarron said.
But McCarron knew exactly where to find him in another or hour or so because Brown is in the same spot every practice. At the 50-yard line watching from his golf cart and McCarron thanked him for pulling a trigger on the trade with Cleveland even though the Browns ended up shooting themselves in the foot when they fu-barred the paperwork.

Brown told him if he, McCarron, kept doing what he was doing, he would be a happy man. If it's one thing Brown loves more than draft picks it is quarterbacks. That's why you knew Cleveland had to be ready to deliver a high price if Brown was willing to sign a trade and send it into the league five minutes before Tuesday's 4 p.m. deadline.

Not only does Brown not give away quarterbacks, he has given nothing to the Browns in 50 years of Bengaldom. Draft picks. Players. Heck, he barely gave away a coach and fought back tears when Hue Jackson left Paul Brown Stadium to take command in Cleveland. Fifty years in the game and never had Brown had seen a day like Tuesday when a deal came down so close to the wire.

Not everyone in his building was comfortable with giving up such a solid back-up player at a position that is always thin around the league. And not everyone was comfortable helping a division cure foe try to cure its 20-year ill. Brown was one of them. He knew the risks. He also knew the picks. A second and third have been reported. Even head coach Marvin Lewis said he was more than fine with the outcome.

"AJ is a very valuable member of this team. I told him that yesterday after (the trade deadline)," Lewis said at his Wednesday presser.  "Frankly, I was relieved that I don't have to go through those gymnastics of the next steps. He's a great kid. True team player. He's a leader – a leader on this football team. And that's why we feel like he's such a valuable asset, and (Brown) was very clear about that. (That's) how we felt about him. That's the key."

The next step is No. 3 quarterback Jeff Driskel, who may be the most athletic quarterback to ever be a Bengal. But he's short on experience. If the trade had gone through he no doubt would have come off injured reserve (broken throwing hand) since he's the only guy behind Andy Dalton. But since it didn't, Driskel was back on the rehab field Wednesday and the Bengals don't have to make a roster move.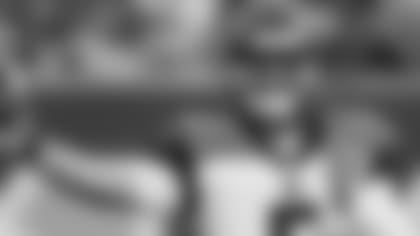 AJ McCarron at work in preseason.

"It happened, it didn't happen, it happened too late," Dalton said. "Whatever it may be, it's pretty crazy."

Imagine what it was like for McCarron, who woke up Tuesday figuring there was no shot of a trade and then being told by his agent at 3:30 it looked like he was going to Cleveland. Then an hour later he got the news like everyone else in the tweet storm greeting the failed trade.

Now, throw in that it was Halloween and his family was dressing up as the cast of an Ace Ventura movie. His wife was Ray Finkel. One-year-old Tripp was Ace in the mental hospital, complete with T-Shirt, tutu, and wild hair. His mother was the dolphin and, of course, McCarron was Dan Marino. And not Bernie Kosar, it turned out.

"With the trade and all that you've got my mother bouncing around in a dolphin suit, the dogs are going crazy, Tripp's pissed he's wearing a tutu," said the good-natured McCarron.  "I'm lost like everyone else."

His teammates were not. They knew to rib him. Vontaze Burfict joked they would have "tagged," him if they played him and McCarron dared him to bring it on by flexing his muscles.

"Guys tell me to do an e-mail and then tell me to remember to hit the send button," McCarron said with a laugh.

But this was a tough day for him. He was almost handed his own team, which he desperately wants. And he handled it with class when it was taken away.

"I'm not angry. I'm not upset. It feels good to be wanted," McCarron said. "Today I'm going to thank Mr. Brown personally. I admire that he was going to give me an opportunity to go start and play somewhere. I really appreciate that of him. He's been an unbelievable owner in my experience here."

McCarron has lived an NFL life like no one else. He's currently in a contract dispute with the team in which an arbitrator is expected to decide in February if McCarron is a restricted or unrestricted free agent. He's come thiscloseto doing what Dalton and Carson Palmer haven't done and that's come within seconds of winning a play-off game. He had to rebuild his tired shoulder for most of his rookie year in 2014. And he's been the subject of trade rumors ever since he got healthy in 2015.

"The biggest thing it does, I have been through a lot of mind games," McCarron said. "I think it makes you mentally tougher. Stronger. Let's you see all the crazy sides of this business in a short amount of time. Just in my year-long of experienced a lot guys who have been in the league 10 years haven't experienced. Just by hearing your name and you are, you might be, but like I said, I am blessed to be in my situation and enjoying every minute of it."

The Browns may not have had a plan for confirming a trade with the NFL (or maybe that was the plan), but McCarron thinks someone does.

"It's God's plan. Our time is not always His time. I truly believe that," McCarron said. "My wife believes that in our hearts. That's something we were both brought up on. Us as humans want things to happen when we want them to happen, but it's not always the case. Just let God's plan play out."

It's believed it was Jackson pushing for McCarron and why not? Jackson was his offensive coordinator in 2015 when he nearly led them to watershed victories over Denver in overtime and Pittsburgh in the Wild Card Game. Either one would have put them in a Divisional Game while Dalton rested a broken throwing thumb.

McCarron said he was looking forward to a Hue reunion. How convenient would that have been in the same division? But then he must have also remembered the chaotic Halloween scene. Not in Cleveland, but his house.

"I'm blessed to be either way. Either situation. I'm living out my dream playing in the NFL," McCarron said. "I have a beautiful family. Everybody is healthy. It would have been awesome but at the same time I'm focused on my job here now and being the best backup, the best scout team guy. Whatever I need to be for us to help win during the week so it correlates during the weekend. I'm just blessed. There is no hard feelings either way. It's just a good time to be living right now, I guess."



Cincinnati Bengals honor Bengals legends at Indianapolis Colts vs Cincinnati Bengals game