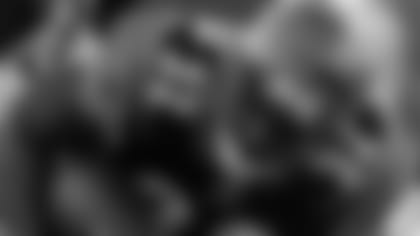 Rudi Johnson is tackled by Patriots defensive back Artrell Hawkins. (AP Photo/David Kohl)
While the Paul Brown Stadium crowd booed Patriots running back Corey Dillon, his understudy shredded an overwhelmed Bengals defense in New England's manhandling of the previously unbeaten Bengals.
Rookie running back Laurence Maroney ran for two touchdowns as the Pats racked up 236 yards in New England's dominating 38-13 victory that flattened the Bengals in all three phases Sunday and gave them plenty to mull in their bye week.
Running back Rudi Johnson wondered, "Maybe we're not as good as we think we are," an hour after Dillon, the Bengals all-time rusher, fittingly capped it off when he walked in from one yard out with 11:15 left in the game for a 31-13 lead and then tried a Chad Johnson-like dance much to the disdain of the surly sellout of 66,035.
"If you don't do the fundamentals, be it tackling, be it blocking and things like that, you're not going to beat a good team," said head coach Marvin Lewis. "We've been flying along pretty good and today we got hit in the face. We get an opportunity to use this bye and come out of it a better team."
But, like wide receiver T.J. Houshmandzadeh, there were those who pointed out, "Not many people thought we'd be 3-1 at the bye."
But the Bengals saved their worst for the last game before the bye. They gave up nearly six yards per rush and Bengals quarterback Carson Palmer couldn't hit an 80 passer rating against the Pats' decimated secondary while handing New England the turnover differential with two more fumbles as Bill Belichick's robots reminded the rest of the NFL why they haven't lost two straight since Decemeber of 2002.
It was not lost on the Bengals that the Pats reminded them what the elite is like.
"They played like men, and we need to play better in crucial situations," said right tackle Willie Anderson. "This team has won three Super Bowl championships and they played like it."
"You never think you're going to get beat like that," said Palmer, who didn't have a completion longer than 33 yards even though two of the Pats' starting defensive backs didn't play. "Maybe it's what we needed."
A week after the Steelers rolled up 170 yards rushing, the Bengals didn't come close to stopping the 1-2 punch of Maroney (115 yards on 15 carries) and Dillon (67 on 17) as they fell a game behind the 4-0 Ravens in the AFC North.
"They took us behind the old woodshed on that one," said defensive end Justin Smith after the Bengals allowed their most rushing yards in 34 games.
On top of that, the Bengals go into the bye thinking about Lewis' benching of Chris Henry.
Lewis chose to deactivate Henry after the two best games of his career. The move came six days after he was reportedly in a car driven by Odell Thurman when the middle linebacker was arrested for driving while impaired.
Lewis said Henry wasn't one of his best 45 players for Sunday and Palmer said it always hurts to lose "a playmaker," but that Lewis sent a good message.
Two late turnovers costly
Palmer fumbled away two fourth-quarter sacks deep in his own territory to set up New England's last two touchdowns (giving him three lost fumbles in the last two weeks) and Kevin Faulk returned a punt 43 yards late in the first half to spark the Pats to the touchdown that gave them a 14-6 halftime lead after coming back from a 6-0 deficit. Palmer got jostled by defensive lineman Jarvis Green beating right guard Bobbie Williams for the first fumble and then Tully Banta-Cain came up the middle on the next series to knock it free as Palmer went through a miserable pounding from the Pats in the fourth quarter. He completed just 19 of 35 passes for 245 yards before getting lifted for Anthony Wright in the last 1:10.
The Bengals just had no answer for Maroney. With the game swinging in the balance late in the third quarter and the Pats holding a 14-13 lead, Brady continued his torture of the Bengals on third down when he found wide receiver Doug Gabriel over the middle for a 19-yard gain on third-and-nine.
Then safety Kevin Kaesviharn was called for unnecessary roughness when he popped wide receiver Reche Caldwell in mid-air. On the next snap, Maroney broke a tackle at the second level and then gave free safety Madieu Williams a stiff arm on the way to a 25-yard touchdown run that gave New England a 21-13 lead with 4:27 in the third quarter.
Then when the Bengals took a delay of game on a fourth-and-two from the Pats 38 and to punt, Maroney scooted past missed tackles by linebacker Caleb Miller, cornerback Tory James, and he finished it off with a stiff arm of Kaesviharn. The Pats had to settle for Stephen Gostkowski's 24-yard field goal, but the 11-point lead 15 seconds into the fourth quarter seemed like 51 with the way New England ran the ball.
New England up at the half
Lewis may have benched Henry, but it was Patriots head coach Bill Belichick's savvy defense that shelved Cincinnati's high-powered offense on two field goals as New England took that 14-6 halftime lead.
And the Bengals defense couldn't respond as Patriots quarterback Tom Brady revived the Pats' dormant downfield passing game that included one of New England's longest pass of the season and the longest touchdown pass of the season to a wide receiver thanks to blown coverage.
After Palmer hit eight of his first 13 passes for 92 yards on the game's first two drives to set up Shayne Graham's 40- and 45-yard field goals for a 6-0 lead, the Patriots bowed their back and held the Bengals to just one first down until a hurry-up drive at the end of the half. With Palmer inexplicably unable to exploit the secondary (they were one of seven on third down in the first half), he finished just 12-of-23 for 128 yards in the half as the Bengals took their first halftime deficit of the season.
To make matters worse, with Henry, Tab Perry and Reggie McNeal already inactive, Pro Bowl wide receiver Chad Johnson needed help leaving the field after landing on a shoulder laying out for a ball on the sideline in the half's last minute. He had a bruise, but returned to play in the second half and finished with just six catches for 64 yards.
The Patriots took a 7-6 lead when the Bengals defense failed to accomplish their two offseason goals: Preventing the big play and stopping the run. Brady worked the play-action fake and found tight end Ben Watson for a 35-yarder, the Pats' longest pass of the season. Maroney went unmolested around the right side of the defense for an 11-yard touchdown run with 8:38 left in the first half.
The Bengals got no support from their perimeter players on the touchdown run, but they also got suckered on a third-and-six play earlier in the drive when Faulk took a direct snap and handed it to wide receiver Chad Jackson and he got the first down behind Brady's block on a 10-yard gain.
The Patriots went up 14-6 late in the half when the big-play bit them again. Faulk popped a punt for 43 yards to the Bengals 42 when punter Kyle Larson's booming kick went past his coverage.
Then on third-and-five from the Bengals 25 Brady found Gabriel wide open for a 25-yard touchdown pass when cornerback Tory James and Kaesviharn both jumped wide receiver Troy Brown on the short route and let Gabriel get behind them.
The Bengals didn't put much heat on Brady as he hit 15 of 26 passes for 188 yards, and the Pats running game didn't go away as old friend Dillon (25 on six carries) and Maroney (27 yards on eight carries) pounded away in the first half. Rudi Johnson matched his mentor with six for 25, but finished two yards behind him with 65 yards on just 14 carries.
After starting fast, Palmer and the Bengals went through three series in which they got just one first down and that came on a Rudi Johnson 13-yard run.
Palmer had Chad Johnson wide open over the middle on a third-and-five, but the timing got skewered on defensive tackle Richard Seymour's tip. Then a big play to T.J. Houshmandzadeh got waved off when it was ruled he didn't come down inbounds with the ball. Of Palmer's 11 possessions, more than half (six) had one or no first downs. Chad Johnson, off a one-catch game in Pittsburgh, grabbed three for 30 yards in the first drive that also included another third-down conversion from Houshmandzadeh, but he only got one more catch the rest of the half, and three more the rest of the game.
The Bengals veered near the red zone again on their next possession, thanks to an 18-yard screen pass to running back Rudi Johnson made possible by center Eric Ghiaciuc's takedown of Patriots linebacker Tedy Bruschi.
But another drive stalled on the edges of the red zone when the Bengals were flagged for having too many men in the huddle and Palmer had to hurry a third-down come-back route to Chad Johnson that got unloaded on the sideline, and they had to call on Graham again.
PREGAME NOTES: Also inactive was starting strong-side linebacker Rashad Jeanty (ankle), giving Caleb Miller the start at weak-side linebacker. Johnson, who started nine games at strong last season, moved over to strong from weak while Brian Simmons stayed in the middle as Miller made his fourth NFL start and first since the Bengals' Monday night win over Denver in 2004.
Henry, who already faces a possible suspension from NFL commissioner Roger Goodell, was found with Thurman and fellow receiver Reggie McNeal hours after catching two touchdown passes in Pittsburgh last Sunday. In the game before that, Henry had the first 100-yard game of his career with 113 in the 34-17 win here over Cleveland.
Lewis also sat down McNeal for the second straight week since coming up from the practice squad.
Lewis' decision on Henry may have been rendered easier by the presence of wide receiver Antonio Chatman, active for the first time this season Sunday after being hobbled by a groin problem since the first weekend of training camp. The 5-8, 180-pound Chatman, off a 49-catch season in Green Bay last season, is seen as a slot receiver and punt returner, but he has played in only one preseason game and it figured that Chad Johnson, T.J. Houshmandzadeh and Kelley Washington would get the bulk of the snaps for a receiving corps that had just four active for the second straight week.
What also might have made it easier was when the Patriots had to declare Saturday which players didn't make the trip, and on the list were starting defensive backs Eugene Wilson and Ellis Hobbs.
Besides Henry, McNeal and Jeanty, also inactive for the Bengals were four injured players in strong safety Dexter Jackson, center Rich Braham, wide receiver Tab Perry, and linebacker A.J. Nicholson.
The Pats also took some hits on their inactive list with Wilson, a safety, and Hobbs, a cornerback. scratched from a secondary already decimated.
Yes, former Bengals running back Corey Dillon got booed when he was announced in the starting lineup for New England. The Bengals captains for Sunday were wide receiver Chad Johnson, cornerback Deltha O'Neal, long-snapper Brad St. Louis, defensive end Bryan Robinson, and left guard Eric Steinbach.