In his O-line leading eighth Bengals season, left guard Clint Boling and his mates are pointing to new coach Frank Pollack's May grind.
The Bengals began their second week on the field Monday without helmets in something the NFL calls "Phase 2," of the voluntary off-season workouts. But the offensive linemen don't need their headgear to know new coach Frank Pollack is changing the way they think.
Not to mention move with a bevy of new techniques.
Pollack's up-tempo, physically demanding drills have emerged as one of the talking points of the sessions that aren't open to the media. In Monday's locker-room media availability his players confirmed there's a new approach up front. Now they're just wondering how much tougher it's going to be with helmets in two weeks.
"It's a lot different," said right guard Trey Hopkins, who is going to play some center this spring as No. 1 pick Billy Price's shoulder heals. "There's not much standing around. It's, 'Let's get out there, get to work and when we're in the classroom we'll talk about it.' It's about the physical reps and your mind has to be right … He'll make a point to the group and it's on to the next rep."
The line coaches who swapped jobs come from two different schools that have both had enormous success.
The Cowboys' Paul Alexander, the only line coach the Bengals had from Dave Shula's last full year to Marvin Lewis' 15th season, is the cerebral guru who uses the field as a classroom. Pollack, who coached the Cowboys offensive line to nine Pro Bowl berths in the last three seasons, is a '90s NFL lineman and a smart, resourceful mechanic schooled under the hood of several models. While Alexander preferred using mainly light blocking shields while teaching, Pollack has rolled out more equipment than a road crew battling with I-71.
There's the trap-and-chute, where the linemen must stay low near their stance and power through without touching a tight tunnel. The arches are also designed to keep them low when they simulate the movement in trap plays. There are pop-up bags, sand bags, and small tire-like pod objects that the feet must be balanced on while they catch medicine balls.
"I haven't seen those before," Hopkins said of the pods. "That's so you're able to sit in your stance … trunk strength."
New left tackle Cody Glenn says he had four different O-line coaches in Buffalo and has seen every kind imaginable. He calls Pollack, "a throwback O-line coach and it's been good."
One observation from the trenches is Pollack is "an attitude kind of guy. It's fun. It's kind of contagious. He was a player. He knows what we're going through. He brings energy every day."
No one is saying that either approach is better. Both are proven. Many of the Bengals' single-season and career offensive records were set with Alexander as the line coach.
Just different. And after the struggle of the last two years (41 sacks allowed in 2016, the fewest rushing yards in franchise history last year) different is what people want.
"It's only phase 2 and it's one of the more intense phase 2 workouts I've been a part of," said left guard Clint Boling, the dean of the line in his eighth season. "A lot different tempo, a lot different mindset. Clearly things weren't good enough last year. We've had some changes that are evident in the coaching staff, in the locker room, and on the field. I think we're making the changes necessary to succeed in this league. As we go along, we'll keep learning and figuring things out."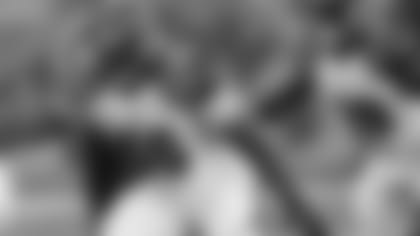 Trey Hopkins is centering a new brand of ball up front.
It's not just up front. The aggressive style matches what offensive coordinator Bill Lazor wants to establish throughout the playbook. On Monday wide receiver Brandon LaFell talked about how the passing game has changed.
"It's more attack. Stretching it down the field," LaFell said. "Not these 10, 12-play drives. We're trying to attack (quickly) and get in the end zone and get on the sideline."
The offensive line is talking about the same thing as Pollack introduces his own techniques.
"The technique is the big thing. That's going to take the longest to break habits and create new ones," Hopkins said. "Every coach brings in a different way. From college to the NFL. From Paul to Pollack. It's the smallest thing. Taking a kick step a certain way. Taking a zone stop a certain way. The smallest change in a coaching point will feel huge the first couple of days you do it and that's where we are now. The drills we do and the way everything is, is a lot more intense I would say. You feed off the kind of energy that's brought and I think everyone here feels like we're flying off the rock."
They have to or else they'll get buried by the sand. The sand in the 50-pound bags Pollack uses in a drill held in in conjunction with bungee cords wrapped around their legs for grinding resistance in an effort to cultivate stability and balance.
"The big thing with Pollack is he pushes mental toughness as well as physical toughness," Hopkins said. "Just like learn how to push through stuff like that. Just building your legs is a big thing that he preaches and you have to buy in."
"It's been a lot different," Boling said. "We're just trying to figure it out together and learn together. And kind of go from there."