*            BENGALS LT ANDREW WHITWORTH VS. RAVENS OLB TERRELL SUGGS*
They call Suggs "T-Sizzle." In Cincinnati they see him as the Ravens' "Swizzle Stick," the man who stirs the drink of the Bengals' arch-rival defense that has climbed back to No. 2 in the NFL.
As Suggs lines up for his 23rd game against the Bengals Sunday in Baltimore (1 p.m.-Cincinnati's Channel 12), Whitworth calls him, simply, a fellow Pro Bowler.
"I've always voted for him for the Pro Bowl," said Whitworth Friday of the man he's gone against all 11 of his seasons and has yet to give him a sack. "I've always thought he was a team leader, the guy that makes them tick."
Whitworth had to laugh. They're the same age, 34, but Suggs is in his 14th season because he came out of Arizona State at age 20 when Ravens General Manager Ozzie Newsome again displayed his wizardry when he looked past his glacial 40-yard dash time and plucked him from a slide down the 2003 draft board at No. 10.
Suggs has rewarded Newsome with 112.5 sacks, the most in franchise history. After coming back from an Opening Day torn Achilles' that wiped out all of 2015 he's got a team-high six sacks despite playing the last three games one-armed with torn biceps.
"I hope to be just like him. He's a fantastic player," Whitworth said. "He's always been good. Last year I was lonely. It was like a miserable year not getting a chance to play against him. It's good to have him back."
Well, maybe not this year. For the first time in the Whit Era, the Bengals are struggling protecting the passer and not because of him. He's rated the second best pass-blocking tackle in the NFL by profootballfocus.com, giving up three of the Bengals' 29 sacks (but only seven hurries), putting them 28th in the league in allowing sacks per pass, a category in which they are almost always in the top ten.
And one of the reasons is because they always seem to keep the Ravenous Ravens at bay, a team that always seems to be in the top ten of getting to the passer. They are 13th this week, but there's no better proof at how good the Bengals have been at protecting the passer than their stats when it comes to dousing T-Sizzle.
Suggs' most sacks against one team are against the Bengals' AFC North rivals Cleveland (17 sacks in 25 games) and Pittsburgh (14.5 in 24 games), but he's only been able to log 8.5 sacks against Cincinnati in 22 games. The same total he's got in seven games against AFC East Miami.
The Ravens do it flipping sides with the 6-6 Suggs and whoever is his partner in grime on the outside during the current time. Presently it is Elvis Dumervil, the 5-11 dynamo with 96 career sacks despite missing the last five games with a foot injury, No. 8 on the active list with Suggs at No. 6.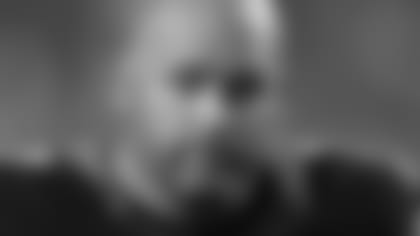 Whitworth: trying to douse T-Sizzle one more time.
With Bengals first-year right tackle Cedric Ogbuehi struggling against the bull rush (PFF says he's allowed seven sacks and 26 hurries); look for Dumervil to be back after practicing full all week trying to get under Ogbuehi's pads, which is the newcomer's weakness.
Suggs will, too, but by Whitworth's count, he has yet to be charged with a sack against Suggs, although he believes Dumervil and Dwight Freeney are the only guys to nick him for multiple sacks. And, Whitworth reminds you, Dumervil got him in 2013, the year his knee was injured so badly he wondered why he stayed at tackle.
Still, Suggs is uniquely formidable. Only Ray Lewis has more tackles in Ravens history.
"He's still out there every snap. I've always said that's one of the things I admire about him is he's a guy that doesn't come off the field much," Whitworth said. "He comes off some, like everybody, but very rarely. He plays every dadgum snap."
Despite the Achilles' surgery, Whitworth can't find much difference in one of his oldest rivals.
"He looks good. He looks like Terrell Suggs," Whitworth said. "He still has the shakes and the stop and start and can bull. He still looks like a guy, almost like Ray at the end of his career, that's just kind of their tone-setter and a guy they feed off of. He's kind of always been their guy."
Both Suggs and Dumervil will take their turns at Whitworth and Ogbuehi and Whitworth is going to go to the ends of the earth, or at least the AFC North, to make sure Suggs' 113.5 sack doesn't come against him.
"He does it all. He has the whole plethora. And he plays every day," Whitworth said. "There's just not that many guys in this day and age. Now this new thing is these guys can come on and just rush in certain situations. He's never reduced himself to that. He's always been a guy that plays every snap. He's bringing it in the run game, the pass game, all of it. I think that's why so many people have such a deep respect for him. He's out there like an O-lineman. He's out there every snap."