*Andy Dalton goes against his old OC Sunday. *
BENGALS QB ANDY DALTON VS. BROWNS HC HUE JACKSON
And so they meet again Sunday (1 p.m.-Cincinnati's Channel 12) at Paul Brown Stadium when Dalton tries to stay a move ahead of the man who helped catapult his career last season.
This meeting is in a far different setting than The Meeting. Neither Jackson nor Dalton are going to get very specific about it, but not long after Dalton's fourth straight Wild Card loss in Indianapolis to end the 2014 season, Jackson  challenged Dalton as only Jackson can.
It went beyond Xs and Os and mechanics. The passionate, blunt Jackson, the man Bengals wide receiver A.J. Green calls "hard driving," dove into the heart of what it takes to be a great NFL quarterback. What emerged was Dalton's MVP season that got cut short and helped get Jackson to where he is today in his second head coaching stint.
And with Jackson in Cleveland, Dalton has carried it over with new offensive coordinator Ken Zampese in another blue-ribbon year that puts him in the top ten of quarterbacks.
With his team 2-4, he's not in any MVP conversation across the NFL but he certainly is team-wide. While the offense struggles to run the ball and the defense is scuffling to keep the points down, Dalton is on pace for his career high in yards (4,685), completion percentage (67.4), completions (392), and fewest interceptions (five) in keeping his team in games despite other grim numbers that include a pace for one of their worst rushing seasons ever. But he's still twirled four triple-digit passer rating games.
Before The Meeting in early 2015, Dalton was having a nice career averaging 10 wins a season with a passer  rating of 85.1, a completion percentage of 61.6 on seven yards per threw with 99 touchdowns and 66 interceptions and an interception rate of 3.1.
But Jackson thought there was a lot more on the table.
In Dalton's 19 games since The Meeting?   His passer rating is 102.9 with a 66.5 completion percentage and 8.3 yards per throw. His 31 touchdown passes and nine interceptions give him an interception rate of 1.5.
"We can't go there. That's behind us now," says Jackson when asked of what exactly transpired between 2014 and 2015 in Wednesday's conference call with the Cincinnati media. "That's not for me to rehash. Obviously Andy is Andy and Andy's playing good. That time there was special for me and hopefully special for him and all involved. For me to comment on the past doesn't do anything right now."
What we know is that Dalton is comfortable among the best Bengals quarterbacks ever. As he starts his 84th game Sunday, he's got a better passer rating (89.1) than Carson Palmer (87.7),  Boomer Esiason (87.2), and Ken Anderson (81.9) had after 83 starts in stripes, as well as more yards with 19,765 and more wins with 52.
Plus, he has more yards per attempt than Carson Palmer with as many touchdowns (130) and fewer interceptions (75) than Esiason (84) and Palmer (81).
"All I ever tried to do for Andy is create the right environment for him to be the best that he can be," Jackson says. "He's playing extremely well at a high level. I think Andy's one of the better quarterbacks in the National Football League. I think he's playing that way. I think he's a tremendous competitor and obviously a great person. I think he has a love for football; he has a love for Bengals football and he's trying to do anything and everything he can to have his team win and play as good as they can play."
Sunday's game finds a bit of a confluence of the generations of Bengals quarterbacks merging at the river. Ray Horton, Jackson's defensive coordinator, was a teammate of Anderson and Esiason. Jackson recruited Palmer to USC and Zampese was Palmer quarterbacks coach for two AFC North titles. While Jackson now has another USC quarterback at the helm in Cleveland in Cody Kessler, his fingerprints along with those of Zampese are all over Dalton.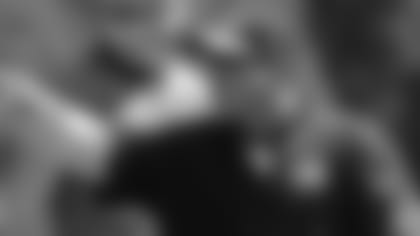 Dalton has kept roling with Ken Zampese as OC.                                                                 
Dalton acknowledges that Jackson not only helped his game on the field, but also with the intangibles, such as leadership. The leap between Jackson's first year as offensive coordinator in 2014 and his second last year bounded off the charts.
"The expectation," says Dalton of what Jackson brought home in that offseason. "He really impressed on me to get the guys going. I just think a little bit of his personality carried over. His first year wasn't one of my better years, but last year was one of my better years I think just the level of confidence I'm playing with. I feel really confident about what I can do for this team."
Remember Uncle Andy? When Dalton was throwing 17 interceptions in 2014, Jackson would always talk about knowing when to say "Uncle," and either eat the pass or throw it away. With just two interceptions this season despite the most pressure he's ever faced in the pros (his next sack matches what he had in 13 games last season), he's been as good as he's ever been protecting the ball and head coach Marvin Lewis keeps saying it every time he's near a microphone.
"Just make the ordinary play, and the big plays will happen," Dalton says. "Be accurate with the ball. Get the guys going. There's a lot that goes into it."
*                                   FIRST 83 STARTS*
*                                           (ELIAS)*
*                     W-L        Att   Comp   Yards    TD    INT   RATING*
Andy Dalton 52-30-1 2,715 1,703 19,765 130   75  89.1
Ken Anderson 51-32 2,030  1,155  14,920  96  68    81.9
*Boomer Esiason 46-37  2,399  1,365  19,392 134 84 87.2  *
Carson Palmer   43-40 2,716  1,312    19,236  130 81 87.7
Six TDs. Two picks. More than eight yards per throw. A 67.4 completion percentage. Call it the Hue Jackson Memorial Stat Line.
"He knows how to do it," Jackson says. "He's become a master at distributing the ball, and he knows how to do it as well as anybody."
Dalton isn't playing like a guy on his third offensive coordinator in his sixth season. He sees Jackson  Sunday and then he'll see his first Bengals offensive coordinator, Washington head coach Jay Gruden, in London next week.  The common thread has been Zampese, his quarterbacks coach ever since he's been here, a major reason he got the nod to replace Jackson.
"I felt like I had a similar relationship with Jay as I did with Hue, and it's kind of the same with Zamp. It's just kind of the style of the way we do things here," Dalton says. "But especially for Zamp, because we've been together for so long, we know how each other works. We know what to expect. We can have conversations. We can pull from things from years ago because we've had those experiences."
Zampese has seamlessly kept Dalton rolling with the help of the new quarterbacks coach, Bill Lazor. Lazor, a former Dolphins offensive coordinator, is no neophyte. He worked as a quarterbacks coach under Joe Gibbs and Mike Holmgren before guiding Nick Foles to an NFL passing title in 2013 in Philadelphia.
"It's a cumulative effect," says Zampese of Dalton's 2016. "You benefit more from the more things you see and do. He's been coached well with Bill Lazor. That's a big plus. They work very well together. With AJ (McCarron) having snaps under his belt, that helps the whole process."
The confidence has flowed with the familiarity. Green has noticed the change in Dalton's demeanor in the last year and a half when it comes to leadership. "He always embraced it," Green says. "He's just a little more vocal now, that's all."
When Jackson urged Dalton to expand his leadership, he knew it was an easy ask. Dalton already did so much at the line of scrimmage  and now his teammates rely on him for every move. Lazor calls what Dalton does at the line "in the upper level," of the league.
"I feel like I put a lot of work into it," Dalton says of his calls at the line. "It's strength. I think that's one thing we've had a lot success with.  Understand the looks. Be able to get in and out of plays. You have to be able to do that."
Everything is working but in the red zone, where they are 28th in touchdown percentage.
"It's real frustrating to get the ball down there and not score," Dalton says. "Somebody has to make a play. Somebody has to change that for us. We're doing our best to scheme it up."
And that's the next question. Just exactly how will Jackson scheme it up? Horton's defenses in Arizona, Cleveland and Tennessee have faced him four times and the Bengals are 3-1. But Horton's Dick LeBeauish zone-blitz schemes that clouded Green haven't been easy for Dalton. He's thrown five touchdowns and four picks with a 68.2 passer rating. The way this season has unfolded, rating like that would be death because he's kept them close with 97.2 overall.
"They play hard and they give you a lot of looks," Dalton says.
But in all those sessions with Jackson, including The Meeting, it never came up. How would Jackson stop him?
"I've talked about it with Paulie a little," Dalton says of defensive coordinator Paul Guenther with a smile. "But never with Hue. Now I wish I had."
Everybody finds out soon enough.
Marvin Lewis Community Fund hosts Hometown Huddle event at Ryan Memorial Sports Complex 10/18/2016