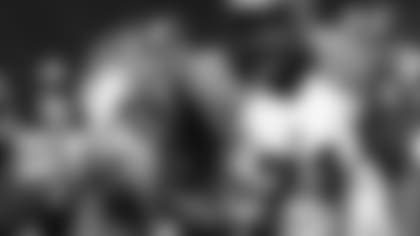 Andre Smith gets the most feared sacker in the NFL Sunday.
*                  BENGALS Ts ANDREW WHITWORTH AND ANDRE SMITH*
*                VS. CHIEFS OLBs TAMBA HALI AND JUSTIN HOUSTON*
Even Bengals defensive lineman Wallace Gilberry  is planning on watching this marquee matchup in Sunday's game (1 p.m.-Cincinnati's Channel 12) at Paul Brown Stadium that pits the NFL's best 3-4 pass-rushing tandem that Whitworth calls "heat seeking missiles," against one of the league's best tag-team pass blocking tackles.
"Three and out and I'm excited to see how it plays out,' Gilberry says, "Three and out and I want to sit back and watch it and see how it plays out."
If anyone is qualified to break down Sunday's matchup it is Gilberry, who played with Houston and Hali for a season in Kansas City and has gone against Whitworth and Smith at various junctures during four seasons in Cincinnati. He played with the 6-3, 275-pound Hali for four seasons and his last year in Kansas City was in 2011, when the 6-3, 258-pound Houston arrived in the third round from Georgia.
Since Gilberry left, Houston has 46 sacks in 46 games, including last season's NFL-high 22. He's already got three this season and is going to be matched mainly against Smith, fresh off duels with Oakland's Khalil Mack and Baltimore's Elvis Dumervil in which he didn't allow a sack.
"He understands the game," Gilberry says. "Tamba took him under his wing when he first came into the league.  And everyone knows what an animal Tamba is and Justin is the spitting image. They're two different body types and they have different styles of play, but they both get to the quarterback with great effort. Justin is lean and tall and rangy. Tamba's short, pokey, stocky, but they're both strong as mules."
When they lined up against Hali and Houston in 2012 in Kansas City, Whitworth and Smith held them to Hali's one sack in a 28-6 victory. Proffotballfocus.com charged Whitworth a sack that day, but he's currently riding a streak of 25 straight games without allowing one. He'll mainly get Hali, although sometimes the rushers flip and he'll get Houston.
"(Houston) understands the craft. He understands football," Gilberry says.  "He's always where he's supposed to be. He's never out of position. It's tough to explain."
But Gilberry tries. He takes you back to his days at the University of Alabama, where he watched the grainy film from the early '90s when the Crimson Tide's John Copeland and Eric Curry were the two best defensive ends in the country. Copeland would come in high and Curry low and they would meet at the quarterback. They were never on the same level.
"It's kind of what we do with Geno (Atkins)," Gilberry says of the Bengals Pro Bowl defensive tackle. "We understand where everyone is going to be on the field. It's just something pass rushers know."
Bengals offensive line coach Paul Alexander wants Smith to block Houston better than he did Dumervil last Sunday in Baltimore.
"That's what we need him to do," Alexander says.
 Smith didn't allow a sack, but profootballfocus.com charged him with allowing five hurries against the Ravens. Yet, he didn't allow a hit or a sack and he's prepping for a guy in Houston that, according to PFF, has allowed three sacks, a hit, and 13 pressures.
"The guy is tremendous,' Smith says. "There's really no one else like him. He's big and he's fast. He's a mixture."
According to analyst Dave Lapham on Wednesday night's "Game Plan," show on the Bengals' radio network, the Chiefs' Bear defense that covers the guards and/or center forces teams to block Houston and Hali one-on-one without giving help. But that won't be a new look for the Bengals. They've typically let their blue-chip-pass-protecting tackles block one-on-one since the tag-team days early this century of right tackle Willie Anderson and left tackle Levi Jones. 
Usually the left tackle gets the big-name sackers because many of them are right handed. But, like Anderson before him, Smith reminds you there are just as many good guys on the other side.
"Case in point,' he says. "Justin Houston, Khalil Mack, Elvis Dumervil, Von Miller. Some of the best. The big thing is to be technique sound. I'm looking forward to it. He's a pro, I'm a pro, we're going to compete, its fun going against a guy like that."
Whitworth, who PFF says has allowed just one pressure and no sack or hit, agrees that the two have great chemistry together.
"What's crazy is Tamba Hali gets (Houston) a lot of his sacks," Whitworth says. "Tamba wins and forces the quarterback to him and Justin is more a power rusher, so he's pushing his guy back and Tamba is winning and he can't get there for the sack but Justin gets it. Those two guys, when watching them on film, they're heat-seeking missiles for the quarterback."
Whitworth is amazed that Packers quarterback Aaron Rodgers got sacked just once Monday night because he said Hali and Houston got good pressure.
"A regular pocket passer with just average movement would been sacked a bunch of times," Whitworth says. "Aaron made some great plays."
Whitworth says the major problem with Hali and Houston is you don't know what they're going to do. Since Hali trained Houston, he has passed on the gift of versatility.
"(Hali) is a guy that can react and rush and run over you. He can use his feet, power, or his hands," Whitworth says. "He probably plays the hardest on their defense. He goes 100 miles per hour. You have to bring your energy and sustain it because he's going to try and go right through you until the whistle.
"I think (Houston) has learned a lot from Tamba. He's doing a lot of the same stuff Tamba did when he was younger," Whitworth says. "There are some guys you might be able to have an idea and set a certain way, but you can't with them because you don't know what's coming. Speed? Power? Hands?"
Whitworth pays Houston and Hali the ultimate compliment. He says it's like playing Baltimore when they have Dumervil joined by Terrell Suggs, out for the year.
"If I was a betting man," says Gilberry, who should know. "I'd bet my money on Whit and Big Dre."