Reggie Nelson eyes another big-time quarterback at Paul Brown Stadium Sunday.
*                      BENGALS S REGGIE NELSON VS. FALCONS QB MATT RYAN*
Something is going to have to give in Sunday's Paul Brown Stadium opener (1 p.m.-Cincinnati's-Channel 12) with two of the best players from Kickoff Weekend.
Nelson did everything but host SportsCenter, playing all but two of the relentless 88 snaps against the Ravens. As usual, he played tall with time running short and came up with a shared stop on the two-point conversion in the fourth quarter and a shared sack on fourth-and-nine from the Bengals 21 to make it the last play of the game.
He'll have to disguise his defense against one of the game's most accomplished infiltrators. Ryan is coming off a career-high and franchise-best 448 yards against New Orleans with three touchdowns and is riding a streak of four multiple TD games in his last five with 50 for his career.
Ryan comes into a building where last season the Bengals held four Super Bowl champion quarterbacks (Ben Roethlisberger, Aaron Rodgers, Tom Brady, Joe Flacco) to a combined three TD passes and a 56 passer rating. With the Colts' Andrew Luck the only quarterback to throw for multiple TDs against them in eight regular-season home games, they allowed just nine touchdown passes while scoring six themselves.
But the biggest obstacle for a quarterback besides the four-man rush at PBS is the stifling third-down percentage of 23 the Bengals built at home last year.  
"It's always the same thing against every great quarterback,' says defensive end Carlos Dunlap. "You have to get to them up front."
Dunlap is involved in one of the day's biggest matchups as he goes up against Gabe Carimi in place of injured rookie left tackle Jake Matthews, the club's No. 1 pick. Despite remaining one of the top quarterbacks in the league, no quarterback was harassed more last year than Ryan when he was sacked, hit, or pressured on 40 percent of his passes.
But Nelson's secondary has the biggest charge against a wave of big, athletic receivers that make hay after the catch from a quarterback that likes to unload it quickly. Ryan isn't Brady, but he's close to him in style as far as running the show and getting the ball out of his hand.
"They don't call him Matty Ice for nothing," says Bengals defensive lineman Wallace Gilberry. "He's one of the coolest guys in the league and we have to disrupt him."
Nelson gives off his own chilly air with a cool head in the hottest part of games and a cold-eyed approach to practice.
And it's going to be a game that turns on Nelson's nickel, meaning the bulk of the afternoon the Bengals are going to be lined up in their nickel passing defense as the Falcons flood the field with receivers. It's a test for a defense that finished first in the AFC last season on third down, but gave up close to 50 percent last week (8-for-17) in Baltimore. Yet their new defensive coordinator, Paul Guenther, looks as comfortable bringing pressure as he has the last couple of years coordinating the third-down packages under Mike Zimmer.
With the Ravens in the red zone last week and a tying touchdown away in the last minute, the Bengals dialed up a stunt with Gilberry and end Margus Hunt on third down and Nelson's safety blitz on fourth down to get sacks. To end it.
"When they got inside the 30," Guenther says, "I wanted to stop the bleeding."
Cornerback Leon Hall says Guenther has a knack for finding a way to get to the quarterback with some kind of pressure.
"It comes naturally to him. He was our third down guy when Zimmer was here. It's an easy transition," Hall says. "He knows everything about our protections. You would think he was an offensive lineman or a quarterback the way he knows how things are going to work out according to pressures or coverages that we're running, route combinations and how they're going to run them with the protections.
"Our third down meetings, when he used to run them last year, it was intense. The meetings this (Thursday) morning when had our third-down talks were intense and energetic because he's excited about having third-down meetings and having protection meetings. I'm not too familiar with all the protections as much as I really want to be, but he loves it and he's really good at it."
Guenther dates that enthusiasm back to when he broke into the NFL a dozen years ago on the offensive side of the ball under head coach Steve Spurrier in Washington.
"You're sitting up there in the office at 11:30 at night trying to figure out a way pick up the blitzes," Guenther says. "You become familiar with offensive line sets, running backs, and quarterbacks because you're trying to set your protections. It's experience."
It's also having good leaders like Nelson familiar with your style. Guenther coached the Bengals safeties in 2011 as Nelson revived his career from underachieving first-round pick in Jacksonville to one of the most valuable players on a perennial top ten defense.
"He's improved every year,' Guenther says. "He's great with the guys. A great team guy  and he does what he's asked. Last week we made an adjustment at half-time on the blitz and (on the last one); he did it exactly the way we asked. He's a very serious guy. He's all business out there."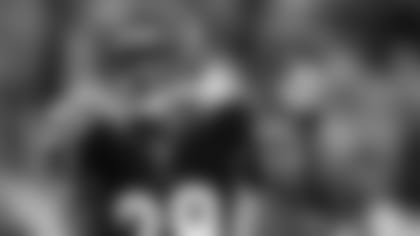 Cornerback Leon Hall looks to Reggie Nelson as one of the defensive leaders.
Hall says the no-nonsense Nelson can be so stern he wonders if the kids get a little scared.
"There are some young safeties, especially George (Iloka) last year and even coming out this year Shawn (Williams) and all of the younger safeties, he's firm in what he says, in what he asks of his teammates and he basically shows you how to do it," Hall says. "As a young guy looking up it may be a little nerve-wracking, you've got this stern guy telling you what to do and then he shows you how to do it and then he makes it look easy but that's the way it should be."
Nelson lost his captaincy this year to Pro Bowl WILL linebacker Vontaze Burfict, but Hall says that hasn't changed him or the guys looking at him.
"If things aren't going the way they should be and he realizes it, sometimes he'll bring us up as DBs or sometimes as a defense and let us know, or just individually," Hall says "If I'm not mistaken he was a captain last year and even though he's not this year in my eyes he's still a leader of this defense."
You don't get any more high praise than when you get mentioned in the same sentence with former Bengals safety Chris Crocker, the ultimate coach on the field.
"I don't even know how long he's been here (the late 2010 preseason trade) but since Day One he started picking up the book, learning the defense," Hall says. "At this point he's completely comfortable with it. He knows the ins and outs of it, kind of how Crock was – a power patch – for years. He's kind of picked up that torch, so to speak, and he knows the ins and outs."
Nelson has made some memorable late plays. His pick of Roethlisberger in the last 40 seconds in Pittsburgh put the Bengals in the 2012 playoffs and he had another fourth-quarter pick of Big Ben to seal last year's win at PBS. He likes the road. He intercepted Philip Rivers in the last minute in San Diego to secure a one-score win in 2012 and then there was last Sunday in Baltimore.
"He's one of our playmakers on defense. I tell him all of the time, when games are close in the end and we need a play, I feel like more times than not Reggie is in that area," Hall says. "It's like last week when he got the sack. I don't know if it was a half-sack or whatnot but he was in the area pressuring on that fourth down."
It was a half-sack, but he was all out.
"It's just not blitzes, we feel comfortable with anything that Paulie calls," Nelson says. "We feel like he's got us in the right position."
In the Bengals scheme, the safety is more than a traffic cop. The best way to rankle head coach Marvin Lewis besides asking about an injury is calling a guy a free or strong safety. His safety has to do a little bit of everything. He has to be in the box as well as cover the whole or half field depending on the call. And with Guenther showing an early penchant for bringing the house, the safety has to disguise his intentions up until the quarterback calls for the snap.
"Matt's been a great quarterback for a long time and we've got our work cut out," Nelson says. "He's got a lot of weapons. You just have to do what's called. You can't do too much."