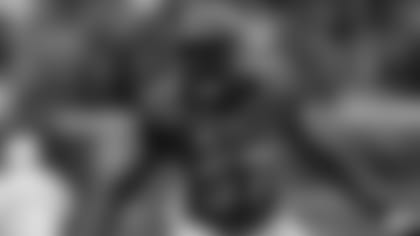 BENGALS MLB VINCENT REY VS. RAVENS RB JUSTIN FORSETT
It's a no-brainer. It will be the deciding stat of Sunday's 1 p.m. game at Paul Brown Stadium against AFC North-leading Baltimore.
The Bengals are ranked 30th against the rush and giving up an astounding 4.9 yards per carry on the ground, a number they haven't had for a season since the year man landed on the moon with 5.1. The Ravens are seventh in the league running the ball with Forsett, a seven-year journeyman leading all NFL running backs with 5.8 yards per carry.
The 5-8, 197-pound Forsett does have a career 5.1 average, but before signing with Baltimore as a free agent in April, he had just 347 carries in six years with four teams. It shows you how good the Ravens offensive line has been despite playing with rookies at left guard (fifth-rounder John Urschel from Penn State) and left tackle (college free agent James Hurst from North Carolina) and how big the trade for Tampa Bay center Jeremy Zuttah has been.
As Rey says, the Bengals are going to have to be on their "Ps and Qs," against Forsett. Only the Cowboys' DeMarco Murray has more rushes of at least 10 yards and he and Forsett are tied with a league-leading seven runs of at least 20. They can't get in that kind of battle. The Bengals have just 12 runs of 10 and only two of 20.
"It's rough. Frustrating. Sometimes embarrassing for yourself when you're watching it and the coaches are calling you out. Everybody's calling you out. It's frustrating. It's something you don't want to put on tape. Especially this last game," Rey says of the Bengals struggles.
"They look a lot different. They're doing a great job of running the ball. Forsett does a great job of getting downhill, and the other backs do also. They make decisive moves and get downhill and make yards."
The Bengals got a dose of the patient, slashing Forsett when he came off the bench in the opener back on Sept. 7 and picked up 70 yards on 11 carries. Since then, he hasn't looked back and the Bengals have never been able to get their run defense right even though they have most everybody back from the unit that finished fifth against the run last season.
They've had their share of injuries. Last year's leading NFL tackler, Pro Bowl WILL backer Vontaze Burfict, has missed two games and been unable to finish three others, leaving the opener in Baltimore late in the first half with a concussion. They haven't had one of their best run stuffers, rotational tackle Brandon Thompson, for the past month, and starting middle linebacker Rey Maualuga and starting SAM backer Emmanuel Lamur missed last week's game in Indianapolis.
Everybody but Maualuga, declared out for Sunday, practiced on Wednesday. And that leaves Rey in familiar territory. One of the more reliable players on their roster, the special teams co-captain came off the bench last year when he started for the injured Maualuga in the overtime loss in Baltimore and became the first Bengal to ever have three sacks and an interception in the same game. A Justin Tucker field goal away from being AFC Defensive Player of the Week.
The 6-0, 255-pound Rey is supposed to be a better cover player than run player because of his size and he can't take a 16-game pounding in the middle. But he did show in that three-game stretch replacing Maualuga last season he could hold up for a month, and had 13 tackles that day in Baltimore.
"They had a different offensive coach," Rey says of the arrival of former Texans head coach Gary Kubiak. "I played some last game. I'm expecting them to try to run the ball and play-action us. We just have to win early on the downs."
The Bengals have always struggled with Kubiak's swift, zone-blocking scheme and they're going to have to get off the blocks Sunday. Rey is promulgating the clubhouse theory that they aren't getting overmatched, but that they have simply been in the wrong place at the wrong time, not doing their jobs and trying to do too much.
"I know I tend to press and I think that may be true of other players," Rey says. "We tend to press when the other team makes a play on us and they're going to make some plays. When that happens some will try to do something uncharacteristic or outside the scheme of the defense and it can turn into an avalanche. We just need to stay the course, not to get too high or too low. Just keep doing our jobs as hard as we can."
This is typical Rey, the ultimate coach's guy and locker-room-leader-by-example. A self-made undrafted player who came out of Duke in 2010 to establish a solid NFL career as a backup backer and special teams staple, Rey talks about what he has to do and not what everybody else has to do.
For instance, he's still flogging himself about giving up Sunday's touchdown that put the Colts ahead, 17-0, early in the third quarter. Rey had blanket coverage on tight end Dwayne Allen over the middle, which is his strength, but quarterback Andrew Luck threw the perfect high ball. Rey's problem is he didn't tackle Allen after he caught it and he was gone for a 32-yard touchdown.
"I've to get him on the ground," Rey says. "It's the NFL. We were only down 10-0. Anything can happen. Even if we make them kick a field goal, we've got Margus Hunt and Carlos Dunlap, guys who are always blocking kicks. If we get a scoop and score, who knows?"
Jayson DiManche knows. DiManche, a second-year undrafted free agent out of Southern Illinois, made his first NFL start last Sunday and having Rey next to him was one of the more soothing parts of the day.
"He's been my locker mate since I've been here. He knows it all, does it all, can do it all," DiManche says. "It's amazing to see how far he's come just in the time I've been here. He's a great guy to look up to, even not about football. I've always been taught to try to learn as much as you can from people that do positive things in their life. You try to see how to add those things to your life. I see what Vinny does and I try to add that to my game."
Rey studied under former Bengals linebacker Dhani Jones and learned so much he took his No. 57 when he retired. Now he's paying it forward to guys like DiManche, Burfict, and Lamur.
Rey's advice is going to be particularly powerful Sunday. DiManche says the biggest thing he's taught him is, "Do your job."
"I've kept that in my hip pocket," DiManche says. "If you're just doing your job you're helping the team be successful."
It's fitting. Rey arrived here after the 2010 draft with a great stroke of teamwork between scouting and coaching.
Greg Seamon, the club's East Coast, saw Rey offer great production for an undermanned Duke team that didn't give the undersized Rey much help. When Rey had an eye-popping pro day on campus, the measurables reflected athleticism buried on the tape because of the makeup of the team. That day Seamon called home to tell vice president of player personnel Pete Brown that Rey deserved another look and that worked out well because head coach Marvin Lewis had already been tipped about Rey and had been aware of him on film. Then when they signed him and got him on the field, guys like defensive coordinator Paul Guenther helped develop him as his linebackers coach.
When Burfict went down with a neck injury late in the first quarter Sunday and took the helmet headset with him, Guenther couldn't have had a better guy with the backup hat working between DiManche and rookie Marquis Flowers.
"He does a good job. Vinny knows what I want done," Guenther said. "He's been a role player for us here and did a good job last year going into start and now he had to go in there and really lead the group unexpectedly, having two young guys on either side of him making sure he's got to do his job first and foremost. Obviously, he's got to line everybody up and all that stuff."
But he's had to be more than a role player this year because special teams has not gone away with the injuries. He only played six teams snaps on Sunday, but all 79 snaps from scrimmage.  
Against Carolina it was more like it, with 20 from scrimmage and 19 on teams. But against New England he had to play a total of 101, 78 from scrimmage and 23 on teams.
"You always have to be ready because you never know," Rey says. "You've always got to work on your conditioning and that way you're always prepared."
Rey is always thinking. He even gives off-field advice that sticks with them.
"Saving money," DiManche says. "It's hard when you're a free agent and you're not making as much as other guys that got drafted. You think you can (spend it like that), but you can't because you're a little behind the totem pole. Save your money, play as long as you can and be smart with it."
Not bad advice for Sunday. It is one of those money games.