BENGALS WLB VINCENT REY VS. JETS QB RYAN FITZPATRICK
On the day the Bengals and Jets honor victims and heroes on the 15th anniversary of 9/11, it's more than fitting that a quintessential New Yorker plays a key role for the visitors in what is unfolding as a Central Park chess match Sunday (1 p.m.-Cincinnati's Channel 12) in MetLife Stadium.
Making his 22nd start over the past three seasons from his back-up spot on the depth chart and his second straight Opening Day start, Rey is savvy and smart and indispensable. Coming out of Bayside High School he wasn't supposed to go big time, but he went ACC. Coming out of Duke, he was unloved, unheralded and undrafted. But he's heading into his sixth full year on the roster, his fourth year as a captain, and 83rd straight NFL game before what may be as many family and friends.
"At least 20 tickets, maybe 30," Rey says with his indefatigable smile. "Aunts. Nieces. Nephews. Some high school friends, old coaches."
His parents won't be there. They retired last year to Charlotte, N.C. and Caldine Rey says she wants the New Yorkers to go to this one. She and her husband are content to come to Cincinnati for a few games and visit their five-month-old granddaughter.
"I think everybody is going,' she says.
Caldine Rey remembers 9/11 like we all do. But not for very long. 
"I think of the people and their families and I say a prayer," Caldine Rey says. "The people jumping, when I think of those things, it's scary, and I have to let it go. It's not a good place."
If she passed on her spirituality to her oldest son, he also embraced his parents' native New York optimism whole-heartedly. She was born in Brooklyn after her parents fled the Carolinas in the post-war pursuit of The City, where there were more jobs and less segregation. Vinny's father was born three months after his parents landed at Ellis Island from the Caribbean at the sunset of the 1950s looking for better things.
Their first date was an only-in-New-York special. They were matched by a fellow church member and while she took her little daughter he took his little godson and they went to the circus at Madison Square Garden.
Caldine said you can see Vincent's character in the way he responded to the horror in his first week in high school.
"He's always been responsible.  He's always going to do the right thing," Caldine Rey says. "He was a Christian since a young child and we knew he would pray and ask for guidance."
 On the Thursday before he turned 14. The next Tuesday morning the planes crashed and his city fell into a place he hasn't seen before or since.
"People were saying they hit the Word Trade Center and we were under attack," Vinny Rey says. "Who are they? Attack? A war? That happens on another soil …Were they going to take over New York City?"
Vinny Rey saw the smoke during biology class in third period. When he got to his history class, he knew they were making it:
"Our teacher was a big Italian guy. Had to be 6-5 with slicked back black hair. He was trembling. I was thinking, if he was trembling, we should all be trembling."
Rey didn't know anybody yet at his new school and suddenly they were dismissed. He had no cell phone and after trying pay phones that weren't working well enough, he was out of quarters.
He figured his mother and sixth-grade brother were OK in Brooklyn. Like they did every morning, she drove Victor Rey to a Christian academy for school and then she would go to her job as guidance counselor at Middle School 217, Francis Scott Key. And on this morning it seemed like there were bombs bursting in air.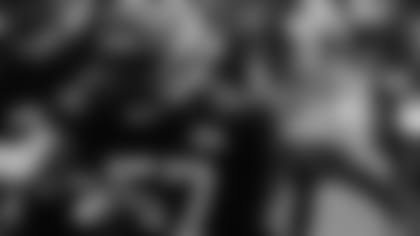 Rey has become a leader on and off the field.
"When I dropped him off at school, I could see the smoke," Caldine Rey says. "When I got to my school, it was chaos. Most of their parents worked in Brooklyn, but there were a couple who worked downtown. They called looking for their children. One lady walked for about an hour. It's a 15- to 20-minute walk from our school to the (Brooklyn) Bridge, but it was so crowded with people walking. She was overwhelmed.
"I knew they wouldn't release Victor until I got there and he was within walking distance."
But Vinny was worried about his father driving the A train in the New York City subway from the tip of the island in their aptly named hometown of Far Rockaway all the way through Manhattan. Caldine had heard from him that we was OK since both had cell phones. But Vinny didn't.
"They were saying the next attack was going to be underground. In the subway," Vinny Rey says.
Which is why he took the bus home, a two-hour extravaganza that involved a switch. Except when he tried to catch the Q113 to get the Q31 at Jamaica Avenue, he saw quite a sight before he could finally get on one.
"The buses were packed. They were driving right by me," he says. "There was no room. Everyone was standing up."
When he got on he saw "the adults were nervous. They were panicking. The teenagers were quiet. We were just looking at them thinking, 'Wow, they're panicking.'
"I think we were on the bus when somebody said, 'They got D.C.,' and I was wondering what that meant … There were people in the street running and yelling. Jamaica Ave. is usually crowded and it looked like people were just walking into stores, grabbing stuff and walking out without paying."
Meanwhile, Caldine Rey was doing what every other New Yorker seemed to be doing. She was thinking about her family, but helping others.
"We wanted to make sure the kids were OK and that the parents were able to get them and bring them home," Caldine Rey says. "I didn't leave early … Maybe even around the same time."
When she did leave, she picked up Victor and what was usually a 45-minute ride was two hours. She kept the same route. Fulton to Atlantic to Conduit Boulevard which turned into Conduit Avenue as it took her from Brooklyn back home into Queens. The back way, she says. No highways.
"My nerves were very bad," Caldine Rey says.  "I don't think I listened to the radio. I wanted to focus on my driving. It was crowded. It was crazy. People were out in the street. People were walking. Some of them were covered in this white powder looking stuff."
For Vinny, it took an hour longer to get home. Maybe three hours. And maybe it took two hours for Caldine. By the time she got home with Victor, Vinny was already there.
"I knew he'd be OK. He'd lock the door and be OK," Caldine says. "As long as there's enough food. If there's not enough food, he'll call everyone in the world. He'll panic."
There was enough food and when his father walked in about 8 p.m., maybe four to five hours delayed, it was an emotional buffet. Vinny remembers being able to get only one station on the static-filled TV.
"WABC. Channel 7," Rey says. "One of the reporters, she was crying. Another reporter, he was swearing. I was thinking, 'They're definitely not staying with protocol.'"
His father told some stories. One of the PATH trains that goes to Jersey got buried in the WTC grave.
"Out of all the stuff that was going on, my place was to get home and be with my family," Caldine says.
You could say the same for her son, still impacted by 9/11. It was half his lifetime ago.
"It gave me an appreciation of the people who sacrifice for our country," Vinny Rey say. "I grew up in a household where my father sacrificed and my mother sacrificed. Both are hard-working people. I didn't know about people serving in war.
"We as New Yorkers and Americans give me great pride in this country, "Rey says. "Just the people, who went in on/9/11, some sacrificed their lives. Some were even off that day, but they went in on their own. The courage and the bravery they had, I appreciate that."
There is a game to be played and you could say it is Duke vs. Harvard. Fitzpatrick, who has been out of Harvard for a dozen years, has made a lot of money being smart. Rey has made his pro career on smarts and with him replacing the suspended Vontaze Burfict, he'll be leading  defensive coordinator Paul Guenther's Double A Gap that has become sort of a defensive rage around the league.
Asked about the challenges of that scheme, Fitzpatrick offered to buy drinks for his conference call because the options are so vast for the Bengals and it would be a long conversation.
"Part of it is just the enormous amount of pressure it puts on your guys up front. They can run their whole defense from that look," Fitzpatrick says. . "Whether they're coming, who's coming or whether they're bluffing out. They present a lot of problems, because of the communication it forces the offense to do and how many things they can do out of it. It's not the post-snap look every time. There are a lot of different things they can do."
And Fitzpatrick is still stinging from last year's loss in the regular-season finale to the Bills when his three straight picks in the fourth quarter knocked the Jets out of the postseason.
So Rey has to get them in the right look against Fitzpatrick's microchip. Plus, he also has to keep an eye out on running back Matt Forte, one of the league's top receiving backs.
But there is one thing he wants to do first.
"I would like to shake their hands," Rey says of the first responders who will appear on the field. "It's an honor to be playing."
Cincinnati Bengals 53 Man Roster