Middle linebacker Rey Maualuga was one of the key Bengals defenders that didn't see Andrew Luck the last time.
*                            BENGALS PRESSURE VS. COLTS QB ANDREW LUCK*
Sunday's Wild Card Game pitting the Bengals vs. the Colts (1 p.m.-Cincinnati's Channel 12), comes down to two hard-boiled facts. The Bengals, with the fewest sacks in the NFL, have to find a way to get to the hugely talented Luck, by most counts the most hit quarterback in the game.
The Bengals defense has under gone a massive overhaul since they allowed the Colts 171 yards rushing in the Oct. 19 loss. That came at the tail end of a terrible binge they allowed an average of 143 yards on the ground in the first nine games. Since then, they've allowed just 82 on the ground, allowing them to make teams one dimensional while giving up just an average of 19 points.
They'll have to do that Sunday against Luck so they can take advantage of a scheme that allows the QB to get hit and turn it over. The Colts have given it away 31 times, third most in the league with not only 16 interceptions, but they've lost 15 of 31 fumbles.
The Colts are beat up on their front line. Starting tackle Gosder Cherilus went on injured reserve this week, rookie guard Jack Mewhort has bounced between left guard and right tackle, and they've had three different starting centers.
"By and large people have attacked their offensive line and the quarterback," says an NFL scout. "Teams that were good enough, the Patriots, Steelers, Browns, and Cowboys, have gotten after them good with whatever works for them. Twisting, stunting, blitzing. Luck is a lot like a young Big Ben (Roethlisberger). He never wants to give up on a play. He'll extend plays and sometimes he tries to make throws that are impossible and sometimes he'll hit them, but he'll also throw interceptions. Defenses have been very aggressive with their offensive line."
The Bengals haven't been all that aggressive, building one of the NFL's top pass defenses with coverage instead of blitzing. They have the NFL's third best defensive passer rating while allowing the third fewest touchdown passes and are in the top ten in allowing completion percentage and yards per attempt, all the while staying pretty conservative. When they harassed Denver's Peyton Manning ten days ago, they only blitzed nine times and went after Roethlisberger even less this past Sunday night when they didn't get any sacks.
Bengals defensive coordinator Paul Guenther isn't offering any clues what he'll hatch against Luck.
"I thought we rushed the passer pretty good against Manning. Last week against Pittsburgh, they max-protected a lot and they got the ball out," Guenther said after Wednesday's practice. "So we've just got to make a good emphasis this week at rushing Luck much like we did against Manning."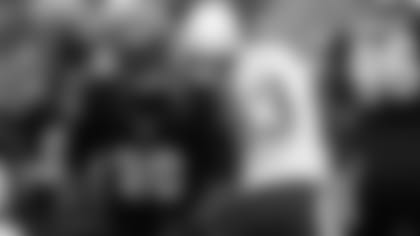 The return of tackle Brandon Thompson has quietly helped quell the run.
Guenther has taken heat for not bringing heat, but here is his take on blitzing:
"When you blitz a lot in the beginning of the year and teams start mass protecting you on third downs, if you blitz it's like banging your head up against a brick wall, against seven or eight protectors. You've got to be smart about it. That's the decision you got to make as a coordinator:  do you want to blitz against mass protection or do you want to cover them when they're trying to keep everybody in? If they're going to keep a tight end and back in every time why send eight guys and let your corners be out there one on one."
What Guenther has done in his first season as defensive coordinator after replacing Mike Zimmer is adjust to the loss of his quarterback, Pro Bowl WILL linebacker Vontaze Burfict, last season's leading tackler in the NFL. One of the few times Burfict played this season was against the Colts, but he was the only starting backer they had that day and he was  only in there for a quarter before leaving with a cervical neck strain.
Looking at the Oct. 19 tape, Guenther says he thought he was looking at a pre-season game. Not only did he not have any starting backers, he didn't have two of his best run defenders in middle linebacker Rey Maualuga and tackle Brandon Thompson, he didn't have cornerback Leon Hall (Achilles) for most of the game, and cornerback Terence Newman got nicked before coming back in.
"We were missing two corners, a couple guys up front. I remember saying this going in at halftime, we were down 10-0, I told Marvin going in, this is unbelievable we are only down 10-0 with the crew we have out there," Guenther said. "At that point they were the No. 1 offense in the league going into that game. Hopefully we have some guys that didn't play in that game it will help us out this time around."
There are some major differences. The return of Maualuga and Thompson and a different approach in practice.
While the Colts game was by far the worst in Lewis' 12 seasons in a game they were trying to win, it took another brutal effort two-and-a-half weeks later against Cleveland to begin the comeback.
"Just guys honing in, paying attention to details, effort, things like that," said safety George Iloka. "Things that it takes no talent. Preparation takes no talent. Being more focused, being more into it. More film study. That takes no time at all. Then obviously we have changed a few things schematic-wise. All those thing have led to use playing a lot better since Cleveland. Those are the things I have seen change. Then we keep building from there and continue to get better. 
"We started 3-0, then after the bye I don't think the focus was there then we got our focus back after Cleveland."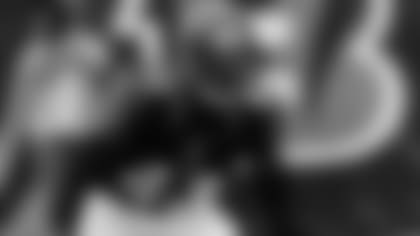 Safety George Iloka says the Bengals defense has been more focused in the last seven games.
Guenther said he re-shuffled the practice routine.
"We just changed the emphasis on how we do things in individual (drills) and the emphasis you put on the running game, certain things like that," Guenther said. "But when you're not doing things certain, you've got to spend extra time on those things, maybe break it down individually and then put it together as a group."
And the return of Maualuga was huge. As inspirational and as smart as Burfict is, Maualuga gives them some of that savvy and swagger.
"We have a different personality in the run game. It's just a different standard. That really happened with Rey Maualuga coming back," said Vincent Rey, who has replaced Burfict by playing double the snaps he played his entire career before 2014. "The standard has risen. We expect to hit that standard every time.
 "(It's his) attitude on the field. When you hear the contact from him on another guy, it encourages you to go out there and set the tone also," Rey said. "It's loud. I'm glad it's not me getting hit."
Maualuga injured his hamstring the week before they played the Colts, he missed the next four games, and it was thought he'd be out deep into December. But Maualuga rehabbed like crazy and he was back as the Bengals began that critical three-game road trip after the Cleveland loss. He made a fourth-down stop on the goal line that first game back in New Orleans that arguably began the '14 playoff push and the Bengals have allowed more than 85 yards on the ground just once since.
Thompson, the beefy third-rounder from 2012, has been big since he returned from a knee injury the week before the Cleveland game. He's hard to move in the running game and the Bengals need his snaps. One of the reasons for their lack of a pass rush comparted to the past few seasons is they don't have the same rotational wave along the defensive line.
Five linemen, sack leader Carlos Dunlap, tackles Domata Peko and Geno Atkins, and defensive linemen Wallace Gilberry and Robert Geathers, are playing the bulk of the snaps, ranging from 964 to 604. Then there's a big drop off to tackle Devon Still's 237, and he's been inactive the last two weeks. The top five played at least 59 percent of the snaps against Pittsburgh, so Thompson's presence in the run game is a needed boost.
With Maualuga and Thompson back in full mode, the Bengals have given up just 574 yards rushing in the last seven games. In the last seven games, the Colts have rushed for 588 and have averaged only 23 attempts per game. They're getting good production from old friend Daniel Herron, a Bengals sixth-round pick in 2012 with Indy decimated at running back, but the Colts have evolved largely into a passing team since they played the Bengals.
They've had some tough games on the ground in the last seven and it's led to blowouts. When they rushed for 19 and one, respectively, against New England and Dallas, they got routed in allowing more than 40 points in each loss.
But Guenther isn't looking at the numbers.
"You've still got to be able to stop the run. You can't just pass rush all the time," Guenther said. "But certainly there will be certain situations where depending on down and distances, those type of things will be run-type formations and things like that. So they're still able to run it, and Luck runs around too. Even him running the ball, he'll do that some when he drops back to pass. So we've got to be balanced and we've got to play well, and I think we will."
They simply have to stop the run because they have yet to do it with this defense in the Wild Card Game, stretching all the way back to 2009 when the Jets went for 171 yards. In the last three years, the numbers have been 188, 158, and the devastating 196 by San Diego last year, fueled by Ronnie Brown's 58-yard thrust to the chest in the fourth quarter.
A play that Vinnie Rey kept seeing in his head until spring ball started.
"I just remember watching the guy run for a long touchdown," Rey said. "Stopping that was theme of the day, and we weren't able to do that. So we need to come in and be able to stop the run and that will help us out."