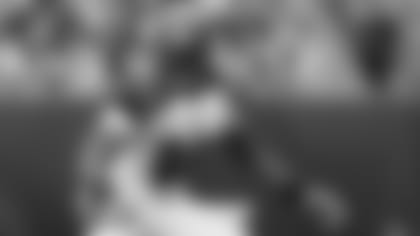 *  Carlos Dunlap leads the Bengals with three sacks.          *
*                     BENGALS LE CARLOS DUNLAP AND RE WALLACE GILBERRY VS.*
*                     COLTS LT ANTHONY CASTONZO AND RT GOSDER CHERILUS*
The big matchup in Sunday's game in Indianapolis (1 p.m.-Cincinnati's Channel 12) is probably the Bengals' best pass rusher, Dunlap, against Cherilus, the NFL's 66th ranked tackle out of 72, according to profootballfocus.com. But the face of the Bengals defense heading into Indy is Gilberry as the front four tries to get some of its teeth back before Colts quarterback Andrew Luck takes a bite out of them in the AFC scramble.
Bloodied. Proud. Resolved.
"He's in the same predicament we're all in," says Gilberry of first-year defensive coordinator Paul Guenther. "This is our defense. We all have stock in it. You want to protect your stock. That's what we're trying to do."
Gilberry showed just how valuable he thinks it is during Sunday's 37-37 bloodbath against Carolina. Prone on the ground after being head butted without his helmet, blood pouring from a cut above his eyebrow that required five stitches and blood filling his eye, he checked back into the game after being helped off the field and finished. Later he absolved the guilty party because, "It's football."     
"I just wanted to do what I could to help my team overcome the situation we got ourself in," Gilberry says. "That's all I could think about. I wasn't worried about myself at that time. After the game I was."
The doctors checked his cornea for scratches and his eyeball for abrasions and cleared him to go Thursday in limited fashion.
"That's Gill. That's my man," says defensive line coach Jay Hayes.  "He knows what it's like to be watching. He doesn't like to watch."
Guenther has promoted him to a starter for a reason. In his seventh season with 280 plays under his belt for 69 percent of the snaps, it's the most playing time Gilberry has had in his seven NFL seasons.
 "Wallace is one guy I never question his intensity and playing style," Guenther says. "He's a blue-collar guy like me. I admire guys like that."
The blue-collar defense is trying to rally around each other after the worst two games they've had since they came together in their current top ten form in 2011. With Luck ready to unleash the NFL's No. 1 offense, Guenther has gone from a September genius to an October target. So he has put the two traits that have been the building blocks of The Scheme under the microscope. Fundamentals and the four-man pass rush. The fundamentals have been lacking and the pass rush inconsistent.
Gilberry agrees. It's a mystery. Same scheme and except for right end Michael Johnson, same players. The first principle of a Marvin Lewis defense, the do-your-job-mind-your-own-responsibility-plow-your-own-field golden rule has been violated time and time again. According to profootballfocus.com, there have been 14 tackles missed in the last two games.
"It comes down to just getting back to what we do around here, and that's play hard, run to the ball and minimize mistakes," Gilberry says.  "Just desperation. You see them driving down the field and you want to stop it. It's just like anything. You want to be that guy that makes that play, even if it's not your play. That's a good thing to have, but at the same time the defense, with how our defense is set up, you can't play like that. And we know that. That's one thing we've just got to get cleaned up."
The Bengals went sack-less last Sunday for the first time in eight games dating back to last Dec. 8, when these Colts blanked them. The week before they sacked New England's Tom Brady just once and it's hard to see them being that punch-less and surviving an onslaught from Luck, on pace to throw for more than 5,300 yards.
And don't look for Guenther's blitzes to bail them out. Luck has a passer rating of 120.7 against pressure and the last time out against the Texans he threw for 142 yards and a touchdown against the blitz. Yes, that old four-man rush would come in handy right about now.
What has made the Bengals defensive line elite is its depth and rotation. Hayes, the man who juggles that rotation, and his players are adjusting to a different chemistry. Pro Bowl defensive tackle Geno Atkins is still not himself as he comes back from an ACL injury.  Johnson's 90 percent play time is gone. Productive defensive tackle Brandon Thompson (knee) is expected back soon after missing a month. Sophomore end Margus Hunt is still learning the ropes.
"We haven't found our stride yet," Hayes says. "When Gill had 20 plays in a game, he would make plays. He'd get a sack, tip a ball, whatever. We need to get that same kind of production out of our new rotating people. When Gill was a situational player, he knew he had to make hay. And he still is as a starter. He plays like he always plays. Now our situational guys need to go in there and stir the pot like Gill did.
"We need to get more from Margus and we need to get Brandon back because he was producing," Hayes says. "We haven't gotten the production yet from Gene. We've gotten some and he's still getting himself back healthy. Everyone is used to Gene being Superman. He's still better than 95 percent of the guys playing, but he hasn't been himself yet."
Gilberry is 27 snaps away from playing as many downs as he did in 14 games in 2012, his first with the Bengals. Last year he took about 47 percent of the snaps and Hayes thinks he's thriving, although he is behind the torrid pace he set with 14 sacks in his first two Bengals seasons. He does have 1.5, tied for second with safety Reggie Nelson.
"He prepared to play this much. It's something he's wanted," Hayes says.
Another factor for the inconsistent pass rush, says head coach Marvin Lewis, is they've faced a lot of max protections and those play-action passes that freeze the pass rush. Only one way to stop that, Gilberry says.
"You get them in third and long. With that, that's stopping the run on first down and executing on second down," he says.
"(Offenses are doing) a lot of chipping. It's frustrating. You're doing everything you can to get back there and you've got seven- or eight-man protections, the backs are chipping, the line is sliding," Gilberry says. "Teams are doing a good job. I'll give them that. They're doing a good job of containing us."
The 6-2, 275-pound Gilberry has a big assignment to match his heart in the 6-7, 311-pound Castonzo. According to PFF, the 26-year-old Castonzo is having a break-out year in his fourth season as the league's No. 7 pass-blocking tackle, allowing no sacks, three hits and 11 hurries.  He held DeMarcus Ware to two hurries, Trent Cole to one hurry and Terrell Suggs to two hits.
"I know we have the tools to get it fixed and the people that want to get it fixed in this locker room," Gilberry says, "so I'm not concerned about that."