Jake Fisher needs another big-time game Saturday in Houston.
BENGALS RT JAKE FISHER VS. TEXANS DE JADEVEON CLOWNEY AND SAM LB WHITNEY MERCILUS
Fisher is coming off last week's first NFL start against the Steelers more confident than at any point in his two-year career. It doesn't hurt that offensive line coach Paul Alexander says if he keeps playing like this he'll win the starting right tackle job that has been passed around this season like a John Podesta e-mail.
In fact, and this is indeed high praise, he also said Fisher played better against Pittsburgh than any of his right tackles "in recent memory."
"He probably graded out higher than any player I ever had for a first game," says Alexander, nearing the end of his 22nd season as the Bengals line coach. "But that will be forgotten quickly because he's got Mercilus and Clowney this week. Probably the best 1-2 punch in the league."
And the two former first-round picks in the draft are throwing haymakers for the NFL's top-ranked defense. Defensive coordinator Romeo Crennel's 3-4 has had to be more versatile than usual with a spate of linebacker injuries and the 6-5, 270-pound Clowney and the 6-4, 265-pound Mercilus can  be anywhere any time on the edge.
The 6-6, 305-pound Fisher thinks Mercilus is one of the best outside defenders in the game and forget the pass, where he has rung up 20.5 sacks in his last 25 games. Mercilus is also one of four players league-wide that have two games with three or more tackles for loss for a run defense that leads the NFL allowing just 70.6 rushing yards per game during the second half of the season.
"I think he really has a counter for everything an offensive lineman has," Fisher says. "He can stop the bull (rush), he has a move for that. If you stop his other move outside, he has a move for that. I think he's very, very diverse in his rushing and run game and I think we're going to have a great matchup."
If he sounds confident, he is. Fisher is an extremely intense guy, not unlike his right guard, Kevin Zeitler. Some would call it "high strung," a trait usually reserved for defenders. But they're both heatedly passionate and meticulous about their games, their bodies, and their training regimens. It was that heat that Fisher brought to his pre-draft visit to Paul Brown Stadium in 2015 that carried the second round.
(Indeed, it was that heat he flashed just a little bit on the back burner after Sunday's game when he said he was surprised it took him this long to start.)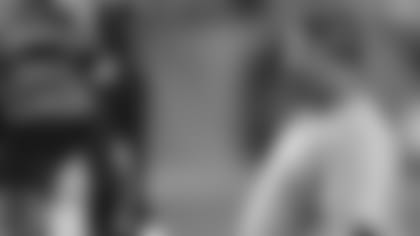 Paul Alexander (right) says if Fisher keeps playing like he did on Sunday, he'll be the right tackle.
Despite drafting Texas A&M left tackle Cedric Ogbuehi with the 21st pick that year, the Bengals selected Fisher out of Oregon in the second round; the first time in their history they had taken tackles back-to-back at the top of the draft. They gave Fisher first-round grades, so by then he was their highest rated player on the board.
But it was his personality that sealed the deal. The day of the pick, head coach Marvin Lewis recalled players like that they did and didn't get. One of them, left tackle Andrew Whitworth, remains the Pro Bowl leader of a locker room that has had more success than any in franchise history.
 "This is one of them. With the second round, we can talk about Jordy Nelson or  Randall Cobb — guys like that who we spent time with and had what we deemed special qualities, a special energy about them, and they've come into the league and proven that," Lewis said the day they drafted Fisher. "And we didn't quite get to them — they went a little bit before we were picking. It proves the exercise.
 "Take those kids that have the passion and look in their eye, who on Sunday you want to put in front of your football team. Andrew Whitworth has that. We have guys like that on this football team who we feel good about in that way."
But Fisher admitted he's had to go back and find that guy that walked into PBS in April of 2015.
"I think you lose that a little bit when you're not playing," Fisher says. "You're not you, you know? I think I've done it pretty well in the mindset of I'm here to play this game and I'm not letting outside influences push me to do things I don't want to do. Not let guys influence my mindset and things I want to accomplish and just come out and fight and things will work out well for you.
"It's a matter of time before you get your chance," Fisher says. "Either you're going to be prepared or you're not. I thought I did a good job of preparing myself, preparing my mind, my body."
You don't hear many guys talking about body language. The only body language a lot of guys think about is making it curse all over the guy across from them. But Fisher knows what it says. Enough that he feels like he's fixed his.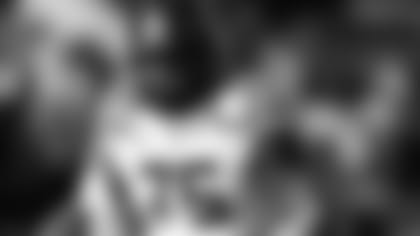 *                                                                    Fisher at Oregon.*
"It's well known who has positive body language, who has negative body language," Fisher says. "Whether you internalize that and actually put that forward or not, it's up to you. I think I have changed (my body language). I think I've developed mentally as a player. (Sunday) is the first time I really played in a game in two years and I did pretty well. This is the NFL. This is what I'm here to do.
"I think, simply, my body language showed that's what I'm here to do. I believe in my abilities. I believe in the things I've been doing. I have a great team behind me helping me get to where I am."
Saturday is a huge test, bigger than the Steelers. Because here's the thing. If the speculation is right and they move Whitworth inside to left guard and give the beleaguered Ogbuehi a shot at left tackle after his 11 starts at right ended in a benching, the 2015 draft is under the microscope against the league's stingiest defense. There is Clowney with career highs in 15 tackles for loss, five sacks and 16 QB hits. There is Mercilus with 5.5 sacks and 11 tackles for loss.
"They are more than speed," Alexander says. "A lot of times you think of these guys as just quick, great athletes. (But) they're great leverage players, great technical players against the run and the pass. Many of their plays you can put on a coaching reel. How to do it exactly, technically. It's so rare for guys with that much athletic ability. Which is why they're dominant players."
For Fisher, it's mind over matter. Body language over body slams.
"I'm here to stay for a while I hope," he says.