Andre Smith (71) is leading the way for an offensive line looking for a foothold.      
   BENGALS RT ANDRE SMITH VS. BRONCOS OLB   VON MILLER
Bengals offensive line coach Paul Alexander has graded Smith in all of his 90 games with the club stretching back to when they took him with the sixth pick in the 2009 draft and says Smith's outing last week in Tennessee is one his better games.
But he adds a quick caveat.
"His challenge will be far greater this week," says Alexander.
In the last two weeks the Bengals have gone to Jacksonville and Nashville and now they go to Vonville Sunday (4:25 p.m.-Cincinnati's Channel 12) to play the Broncos a Mile High.
All you have to know is that Miller has 80.5 career sacks in 94 games and only the late, great Reggie White got to 80 faster. Alexander prepared tackles to play White back in the day and when it comes to Miller joining White in the Pro Football Hall of Fame he says, "I would think so."
"Different players. Different styles," Alexander says when asked to compare. "I tell you what. He reminds me a lot of Von Miller. He's so fast. He's got all the moves. Great athlete."
So the underlying matchup that is going to dictate this one is old friend Domata Peko working as the Broncos nose tackle in their 3-4 alignment against the run. Because as Bengals back-up tackle Eric Winston can tell you, the running game came to his aid back in 2014 in the only game of the five the Bengals have beaten Miler's Broncos since he came into the league with the Green-Dalton Bengals in 2011.
"Real explosive," Winston says. "His suddenness pops off the screen. When you watch him play, he's just a tough matchup for anybody. You've got to execute your game plan.  And hope you get ahead so you can run the ball more"
With Smith shelved for the rest of the season, Winston was three weeks removed from coming off the street and in the win that put the Bengals into the 2014 playoffs he helped shut out Miller on no sacks and no QB hits while giving up just one hurry, according to profootballfocus.com. It was one of the great clutch performances by a newcomer in club history and no doubt helping his cause was running back Jeremy Hill's 85-yard touchdown run in the game's opening moments as they were en route to rushing for 207 yards.
The tough thing about this year, of course, is they haven't rushed for 85 yards as a team in a game since Oct. 1, when they nudged out 86 in Cleveland. And 207 rushing yards? They've got 211 combined in the last four games.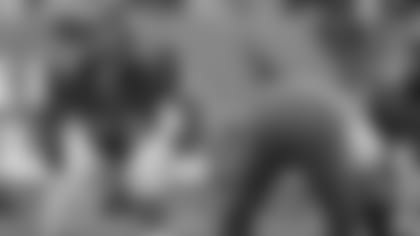 Eric Winston's first Bengals start came against Miller's Broncos in 2014, Cincinnati's only win vs. Denver since Miller came into the league in 2011.
"He was younger then and you could maybe get him on some things," Winston says. "But now he's seen all the tricks. He's a different player now. He's figured out how to combat all that. Plus, they also do a good job getting him favorable matchups They set their fronts certain ways where it makes it hard for teams to get double teams for him. He's a highly-paid perennial Pro Bowler for a reason."
 Now here comes Peko, a week shy of 33 in his 122nd straight start, most by an NFL defensive lineman and all but nine with the Bengals until the club went young at nose tackle this season. The Broncos haven't exactly shut down the run the last two weeks. They come in ranked fifth in the league, but have allowed 412 rushing yards the last two weeks against the Patriots and Eagles.
But that hasn't stop Peko from saying he feels like he's revived out there. He's playing about the same number of snaps a game (35), but he says they're of a different variety. Attacking in Denver's 3-4 and not so much reading in Cincinnati's 4-3.
And Miller loves the guy. Who doesn't? He sees the same qualities that made him such locker room cornerstone in Cincinnati.
e practice field and off the practice field. Hot, cold or raining, loss or win, he's the same guy. He's great. He's definitely been a shining star in the locker room for us."
"He's probably the most positive teammate that I've ever been around," Miller says. "No matter what, he's always, 'How's it going boss? Good morning. We're going to get this one today.' You look at him and you're like, 'Man are you 24 or 23 years old?' He's one of the oldest guys in the locker room and still has that energy about him on the practice field and off the practice field. Hot, cold or raining, loss or win, he's the same guy. He's great. He's definitely been a shining star in the locker room for us." All Bengals left guard Clint Boling knows is they've got an all-day fight from Peko. If anyone knows, it's Boling from all those OTAs and training camps.

"We know him, he knows us. It's going to be a fun matchup," Boling says. "The fans and everybody in the locker room enjoyed having him around here. He plays hard, he plays with energy, he moves well for such a big guy. Those things show up on tape."
Peko's departure got the headlines but Andre Smith's return after a one-year hiatus barely got agate mention with the Bengals committing to their two young tackles. Jake Fisher took over Smith's long-time role  when the experiment at right tackle with Cedric Ogbuehi failed, sending Ogbuehi to the left. When both struggled early this season, Smith was suddenly inserted into a rotation and when Fisher's season ended two weeks ago with heart surgery he's back where it all began.
And those 90 games and wars against guys like Miller and those wins that added up to six post-season appearances are exactly what a beleaguered offensive line needs.
"He's a good leader," Alexander says. "We need it desperately."
A big part of Smith's value is his calm approach. Going back to Alabama, he's played in a lot of big games. So back in a full-time role for the Bengals, Smith is taking it like he did the first 90 games.
"Taking it snap-by-snap. Just trying to put up good film and get some wins," says Smith, who fondly recalls spending a few hours with Miller a few offseasons ago.  "He's a great pass-rusher. We all know it. He does it all. I'm looking forward to the matchup."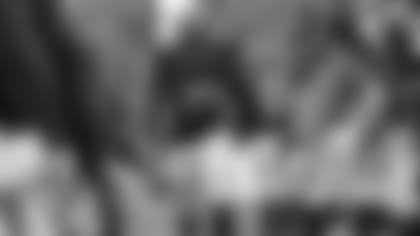 Smith makes his 77th start as a Bengal Sunday.
Smith has played them all in the last decade and he puts Miller in the upper echelon with Khalil Mack (who beat out Miller for last season's NFL Defensive Player of the Year by a vote) and Lamarr Woodley "back in the day when he came off the edge. And Elvis Dumervil, too."
Cincy has played him those five times with three different tackles and the only game Miller really took over came against Smith in 2012 with three sacks in Denver's win at Paul Brown Stadium.  But when the clubs were playing for the AFC's top seed in Denver in 2015, Smith came back big and didn't allow him a sack and gave him two hits on quarterback Andy Dalton, according to PFF.
"I'll be looking at all the games," Smith says of his tape work this week. "What I did well against him, what I didn't do well. He can wreck the passing game so you can't let him do that. You've got to be in the right place at the right time and keep Andy clean.
"The thing about him," Smith says, "is he can play the run as well as he rushes and he's got all the moves. He's got a good bull-rush that you've got to pay attention to."
Last year Ogbuehi had the assignment of tracking Miller in his fourth NFL start and didn't give up a sack until the last minute of a 29-17 loss. They gave him some help, mixing 23 handoffs and 36 drop backs while also usually having an extra tackle and/or tight end in there.
How they'll handle him is always top secret, but Winston thinks the matchup is in good hands.
"Last week was as good as I've seen Andre play since I've been here," says Winston, two weeks into another stint off the street and ready if called. "He played phenomenal. Energy and everything else. He'll be just fine. He's a guy who's been around a long time and knows what he has to do."
Cincinnati Bengals host practice at Paul Brown Stadium Practice Fields