BENGALS RT CEDRIC OGBUEHI VS. BRONCOS SLB VON MILLER
It's been 10 years in rookie seasons long ago and far away, but Pro Bowl left tackle Andrew Whitworth and backup Eric Winston can look at the media crowd around Ogbuehi this week as he preps for the hottest defender alive and smile and sit back and fondly reminisce and …
 "From what I remember he hit me up pretty good," says Winston of his first meeting of a marquee, big name pass rusher. "First road start. In Oakland. Derrick Burgess was just off a 16-sack year. Yeah, I think he got me pretty good."
Whitworth shakes his head. Here's a guy who hasn't allowed multiple sacks in a game in three years, has been to two Pro Bowls, and has been a captain of the Bengals for the last eight seasons, and it looks like he's seen a ghost. Future Hall-of-Fame pass rusher Dwight Freeney in his prime can do that to you if you make a living protecting the quarterback.
"Remember? Willie got hurt in warmups," Whitworth says of his Pro Bowl right tackle Willie Anderson that night in Indianapolis in just his ninth start at left tackle.
"So we couldn't give me any help because Stacy Andrews was playing the most he had ever played at right tackle. It's Monday Night Football on the road in a dome against Dwight Freeney and we both need a win to make the playoffs. It didn't go real well."
Winston's Texans won, but Burgess had 1.5 sacks, a QB hit, and a forced fumble. A few weeks later, Whitworth's Bengals got beat, 34-16, to Peyton Manning and the Colts and he allowed 1.5 of Freeney's three sacks. Freeney added his signature move of three forced fumbles. Bengals.com airily called it Whitworth's worst game as a pro.
"Any time you're a player and when you step on the field against a guy like that, you're a better player before you walked on it, that's for sure," says Bengals offensive line coach Paul Alexander. "If you block him, well that gives you confidence. If you have struggles, you know what you have to work on. It's the best environment you can have for a young player. You can't hide against these guys. You have to play them some time."
Perhaps no Bengals tackle has been better prepared for such an assignment in Alexander's 22-year era. Ogbuehi is in his second season, not his rookie year, and he's already got 22 snaps under his belt against Miller and the Broncos as late as last Dec. 28 a Mile High in the Bengals' overtime loss when he was an extra tackle.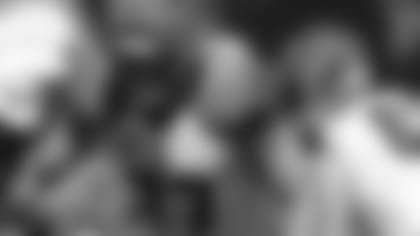 Before Andrew Whitworth (77) became one of the best left tackles in the game, there was the Freeney game as a rookie.
Plus, he's already gone against Miller a few times as an 18-year-old scout teamer and it may not have been Whitworth-Freeney, but there is some local knowledge and respect there. Miller doesn't remember getting doubled by Ogbuehi
"It didn't go real well then," Ogbuehi says.
Miller doesn't remember getting doubled by Ogbuehi and the then right tackle Andre Smith, which means Smith, pushed out by Ogbuehi and now in Minnesota, did a heck of a job blanking Miller. That game and the first game against Pittsburgh in the playoffs is the last time that happened.
Winston and Whitworth weren't playing the defending Super Bowl MVP. Never mind that just four days ago in Indy Miller chewed on Andrew Luck's leg for three sacks and the AFC Defensive Player of the Week award.
"Every week there are great players, but he's probably the best player right now," Ogbuehi says. "So it's a little different because he's the best player. It's exciting for me. It's a great test to see where I'm at and I'm excited for it.
"This is why they drafted me. To block guys like him. I'm excited for it. It's going to be a great challenge and we'll see what happens."
The early word is that Ogbuehi, the club's 2015 first-round pick, got better in Week Two than Week One. He admits he's still getting the timing down robbed from him with a toe injury that wiped out a valuable month of the preseason. At 6-5, Ogbuehi knows he has to get leverage against the 6-3 Miller.
"Less body to grab. I have to be more patient, have better technique," Ogbuehi says. "Really, the name of the game is technique with him. That's how I'm going to practice this week."
Winston has been in his ear as a kind of right tackle whisperer, but only when asked.
 "There are things to work on, especially for a guy that lost most of the preseason," Winston says. "I think he's learning about himself and the positon as he goes along. Just from what I can see, I think he's starting to understand some things I've been talking about."
For instance, not that Ogbuehi is out of shape. But there is last Sunday he was playing what Winston assumes was the most physical game of his life in the rain, and dragging heavy soaked  shoes through the mud. Nobody can get you ready for that.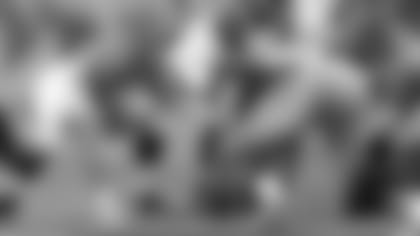 Eric Winston (73) has seen it all during 11 seasons in the NFL and hasn't minded telling Ogbuehi about it when he asks.
 But then again, no tackle under Alexander has ever been as ballyhooed as Ogbuehi and Alexander has had elite ones, from Anderson to Levi Jones to Whitworth to Andre Smith. Still, Alexander has never batted an eye in saying Ogbuehi will have a great career and others have joined in.
"He's got tremendous ability. He's got the right heart. He's got the right mind-set. I think his future will be bright," Whitworth says.
Just ask Miler himself about the kid he took under his wing at Texas A&M the year before he became the second pick in the draft behind Can Newton.
"Cedric is talented. I see him putting the handcuffs on guys," Miller says. "I'm sure it's not as consistent as he would like it to be, and I'm sure it's not as consistent as he knows he can do. I know full-hand what type of player Cedric is. When he got drafted, I called him going to the Cincinnati Bengals. That's my little brother. I love him to death, and I feel like he's kind of the little brother I taught him everything I know pass-rush wise. I coached him up."
Now Ogbuehi is getting coached up against Miller and he's got plenty of help. Whitworth went against Miller early in his career and although it went a sight better than the Freeney game, he can pass on a few things.
"I think what makes Von Miller special is he really can do all three. He can rush with power, he can rush with speed, he can rush with just quickness, reaction moves," Whitworth says. "That's what makes him different. You put James (Harrison) and (Elvis) Dumervil in the category of power rushers, guys that just run you over and they're exceptional at it. And Von has the ability to do all three."
Winston, who played the right tackle spot for years, could be seen talking with Ogbuehi for several minutes after the Steelers game at their Heinz Field lockers. Ogbuehi never met a question he didn't like.
"I try to stay away from him during a game if it's something he doesn't absolutely need to know," Winston says. "But after the game he asked me what I saw and it's the type of thing where Paul is coaching him, but I might say the same thing about an issue in a different way and he'll get it."  
Whitworth agrees with Alexander. You go into hand-to-hand combat against the elite and you come out better for it.
"Every time I get done playing James not from the sense of beating you but from the sense of how powerful he is, there won't be many guys I'll face that I'll feel that kind of bull (rush) ever again," says Whitworth of Harrison, his Steelers' arch-rival. "So it sets me up for the rest of the season. If I can handle him, there's a lot of guys I can handle.
"Guys like that train you and make you better. I think with a guy like Von, Ced's going to play with technique but there's going to be some survival mode. Any offensive lineman knows exactly what I'm talking about. There's a survival mode. You get out there and you just survive, you do whatever it takes, you fight and claw and do whatever you have to win. And it doesn't have to be pretty."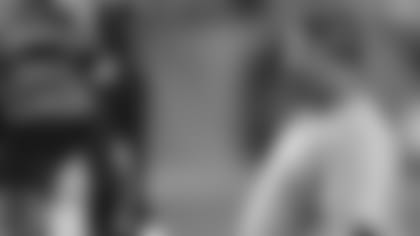 Bengals offensive line coach Paul Alexander: he's had some of the best tackles in Bengals history and he thinks Ogbuehi fits right in.
But it is going to be symmetrical.
Miller plays the kid he nicknamed "D'Brickashaw Ferguson," at the time the Jets Pro Bowler.
"He always had length and athletic ability and he's always been strong," Miller says. "He reminded me of D'Brickashaw Ferguson in his prime. He has that length and he's able to sit back there and shoot his arms and not get off-balanced."
If it sounds like Miller watches a lot of film, he does. He credits his focus and study habits to what has transpired in the last four games, when he has out-Watted J.J. Watt. In the AFC title game against the Patriots he had 2.5 sacks and a pick of Tom Brady. He famously wrecked the Super Bowl and drove Newton into silence with 2.5 sacks and a strip-sack that turned into a touchdown. Then he re-visited havoc on Newton in this year's opener with a game-changing sack before taking over the fourth quarter last week.
"I just made the windows smaller. I just made my views smaller," Miller says. "I don't really spend too much time focusing on anything other than my teammates and my scheme. I spend a lot of time with my teammates. I spend a lot of time with Aqib Talib, T.J. Ward. It's like college here for me. I watch film all day, getting extra workouts in, and its all football now. It's not really anything outside of that.
Winston says they've been talking about this stretch ever since the schedule came out. Quite a first three games for Ced, they said. That rugged Jets defensive line in New York, the always relentless Steelers in Pittsburgh, and top it off with a home opener against the Face of the NFL in Miller.
"I think he's starting to realize he's in the big city now and it's going to be a really good guy every week," Winston sys. "You're not getting Sam Houston State anymore."
But Ogbuehi does have a decade of advice:
Whitworth on what to avoid "I think underestimating his quickness and at times being off-page with where the quarterback is. With a guy like Von Miller or any exceptional rusher, you'd better know where the quarterback should be in the pocket at all times and what kind of play it is, if it's a quick step or deep drop. I think those things are important."
Winston on countering Miller's moves: "I always told people that the biggest difference from players in the bigger conferences is how smart they are. They take advantage of a mistake you make so much quicker at this level. You have to change up your sets. You can't do the same thing over and over. You have to think, 'What does that guy see when he sees me?'"
In his matchup with Burgess, it wasn't the one-on-ones that bothered Winston. It was a Hall-of-Famer in Warren Sapp playing inside Burgess and the games and picks he had to handle with Sapp coming underneath him.
"Just play as technically sound as you can. Some of it, you can't help," Whitworth advises. "The bottom line is the great rushers; they're getting really close every play. That's the truth. It doesn't matter how they're playing. Plays will break down, the quarterback's got to hold it, he may get one. But you know what? Every play just have the same mind-set, the same attitude and technique and go out and execute what you need to do."
Playing rush end these days is a lot like hitting a baseball. You fail seven out of 10 times, you go to the Hall of Fame. If you get a sack every game out of 50 rushes, you go to the Hall of Fame. And that makes tackle a thankless job.
But he can always go to the guys who got the baptism ten years ago in rather rude fashion.
"I think he's getting his feet wet early on and I think by the end of the year he'll be a different player," Winston says. "You'll have those challenges that test you. You have a bad game and you either have to have resolve or ship it in. We'll help him avoid that as much as possible."
As he signed off Wednesday, Miller asked the media to, "Tell Ced, 'Gig 'em.' It's an A&M thing."
It turns out that is the term for a closed fist and thumbs-up in Aggies' lore. Ogbuehi will be looking for the thumbs-up Monday morning after his first of many brushes with greatness.