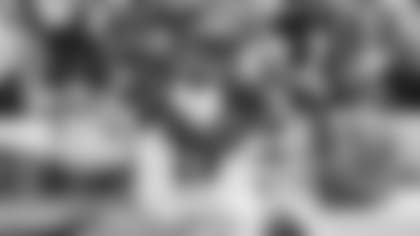 *   Bengals cornerback Dre Kirkpatrick is all over this deep ball in Pittsburgh.                 *
*                         BENGALS CBs vs. GIANTS WR ODELL BECKHAM JR*
Monday Night Football and the weekly spectacle (8:30 p.m.-Cincinnati's Channel 5, ESPN) deserves the capital letters with the Bengals' A.J. Green and the Giants' Odell Beckham Jr. lining up at wide receiver like it's some kind of Pro Bowl.
Why not? They've been to every one since they've been in the NFL and they've carried their respective teams through the first half of the season.
While Green has racked up the most catches in the league and the second most yards, the Bengals haven't lost in his four 100-yard games and Beckham has scored his five touchdowns in the last four games in a run the Giants have reached at least 5-3 for the first time in four years.
But that's where the similarities end. The glacial 6-4, 210-pound Green silently post ups, boxes out and glides to get his yards. A beast in traffic. The fiery, effusive Beckham has caught the NFL's most touchdowns in the past three seasons bobbing and weaving at 5-11, 198 yards like a welterweight champ. A terror after the catch.
After last preseason's joint practices with the Giants at Paul Brown Stadium, Bengals cornerback Adam Jones thought Beckham had a long way to go to reach Green's level. But he's still impressed enough to put Beckham in the top tier.
"When you talk about A.J. and you talk Beckham its two different players," Jones says. "I'm not taking anything away from Beckham, but I'm definitely not going to take anything away from 18 … (Beckham) the kid is a freak. He can do it all. He's got real good speed. He runs decent routes. He competes every play. He's the real deal. He's got a lot."
 The elusive Beckham's timing with Giants quarterback Eli Manning brings the Bengals face-to-face with one of their biggest weaknesses of the season. Without a running game to speak of, Manning is averaging 38 passes per game into the teeth of a Bengals defense on pace to allow its second most passing yards in history.
And, according to profootballfocus.com, Beckham is fifth in the NFL in yards after catch (YAC) while the Bengals are coming off a game they gave up 209 of YAC to Washington quarterback Kirk Cousins' 458 yards. That's a season-long trend. In eight games PFF says the Bengals have allowed 914 yards after the catch, nearly half of the 2,099 they've allowed this season through the air.
"You want to get your hands on him. But you don't want to be too aggressive. It's like the cat and mouse game," Jones says. "You have to make sure you tackle him. He's a big chunk yard after the catch (receiver). He runs good routes. He can stretch the field. He's a complete receiver."
PFF has marked each starting cornerback, Jones and Dre Kirkpatrick, with five missed tackles each, but Kirkpatrick realizes tackling is a premium this week because Manning gets the ball out of his hand so quickly.
"Just got to play low, got to be able to get in and out of your breaks pretty quick because we know in two seconds, that ball's gone," Kirkpatrick says.
Beckham isn't the only they have to YAC. Sterling Shepard, one of only four rookies in the NFL with a 100-yard game this season, is a slippery 5-10, 194-pounder that can get away from you with 132 of his 384 yards coming on YAC. The veteran Victor Cruz has raced for 130 of his 378 yards after the catch.
But the Bengals get a break because Cruz is banged up and may not play and if he does he won't be 100 percent. Still, the Bengals have their hands full with Beckham, the NFL leader since 2015 with nine touchdown catches of at least 50 yards.
 "We just have to play leverage, stay on top and let everything else take care of itself," Jones says. "If you look at the game we played in London you wouldn't think it was (458 yards), but when you go back and look at it, it was a lot yards after catches so we have to tackle better and stay on top."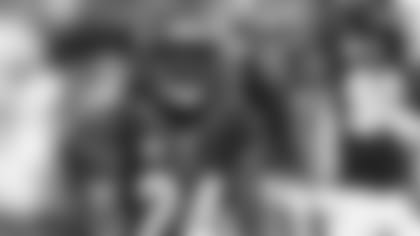 Adam Jones lives for big matchups like this.
Throw in the fact that it sounds like the Bengals are going to tweak their nickel package Monday (and they'll be in nickel all night against New York's three- receiver sets) by using cornerback Darqueze Dennard in the slot some of the time and it makes the matchup all the more intriguing.
 Even though Beckham doesn't go in the slot very much, Dennard has done his homework.
"He's very explosive out of his breaks," Dennard says. "He can run every route in the route tree. You rarely see that with a small receiver like that. You figure all he runs is go balls or post balls, pretty much the highlight plays."
And there's the rub. If you play off him, he'll make you miss the tackle. PFF says he's fourth in the league in forcing 10 missed tackles. But look at the 50-yard bombs. If you press him ….
"You can see him get separation on teams. He's got a good stiff arm. He jukes. He's got acceleration," Dennard says. "You just have to stay close to him and minimize the plays."
The Bengals held in check another smallish, productive receiver early in the year. Pittsburgh's Antonio Brown, who has one more yard than Beckham this season with 677, had just four catches for 39 yards against the Bengals in an all-out team effort. The Bengals don't shadow receivers, but they mix up coverages.
"He definitely can run any route," Kirkpatrick says. "But he and AB are not the same receivers, if you ask me. I feel he's a little bit more elusive in his transition. AB, he goes off what his quarterback does, where Odell kind of creates his own plays.
"We see it in Pittsburgh. It's kind of familiar but the difference is everything with Eli is timing where Ben (Roethlisberger) is unpredictable."
What is predictable is that Bengals defensive coordinator Paul Guenther emphasized tackling the past two weeks. A tough thing when you can't go live in practice.
"There's different ways to do it, whether it's just good come-to-balance position," Guenther says. "There's sideline tackling, angle tackling, safety coming from the back end, coming up and being in the right positions. Those are some of the things we're missing on. Some of the passing yards we're giving up might be a catch and run where we're all over a guy but we miss the tackle and he goes for 20 more yards. We can't afford to do that.
 "It's angles. It's tackling with your arms and closing on your hip and leg and all those things."