BENGALS QB ANDY DALTON VS. TITANS QB JAKE LOCKER
At the 2011 Senior Bowl, Bengals quarterbacks coach Ken Zampese worked with Washington's Jake Locker for the North against TCU's Andy Dalton for the South before watching Locker go with the eighth pick in the draft and the Bengals taking Dalton the next day at No. 35.
Four seasons into this thing and Zampese is still coaching him and that's one of the edges that Dalton has in Sunday's game (1 p.m.-Cincinnati's Channel 12) against the Titans. While Dalton is in the fourth season of the same program, Locker is working on his second head coach and third offensive coordinator.
It is also Dalton's 51st straight start behind an offensive line that has stayed relatively intact since he arrived while the injury-plagued Locker makes his 21st start behind a line that re-tooled itself in 2013 with free agency (left guard Andy Levitre) and the draft (right guard Chance Warmack and center Brian Schwenke). Dalton has thrown 1,000 more NFL passes than Locker, taking a sack every 17 throws while Locker takes one every 12.
Which is why Locker is one of the arguments for signing Dalton long-term. Franchise quarterbacks don't grow on trees no matter where you pick them and the best way to develop them is with stability. The Titans still don't know if Locker is their guy while Dalton looks to be maturing along with everyone else around him in the best start of his career.
Spice it up with new Titans defensive coordinator Ray Horton, a former Bengals player and coach who has made life difficult for the Green-Dalton era, and there should be a good show.
While Locker sat his first year and struggled the next year at 4-7, Zampese appreciates how well Dalton came in and played as a rookie.
"To his credit," he said. "And that allowed us to keep the same thing going. Same coaches. Same receivers. It's exciting to see."   
Asked this week to name three reasons why Dalton has looked so good with an NFL-leading 9.1 yards per attempt and a career-best 65.6 completion percentage and Zampese doesn't hesitate:
"The atmosphere created by (new offensive coordinator) Hue Jackson on the offense in general and the specifics of every position with accountability to the man next to you," Zampese said. "Andy's extra attention to detail and pride in technique. And the offensive line. They've got great chemistry. They're the same group with experience together with time on task."
No sacks, no turnovers. According to the stat gurus, it's just the second time since the fall Kennedy debated Nixon that has happened in the season's first two games. It all goes hand in hand, of course, with Dalton's decision-making complementing the blocking. He's the line's best friend with what ProFootballFocus.com's says is the NFL's second fastest release at 2.21 seconds from the snap.
But left tackle Andrew Whitworth says look at the makeup of the line.
"It seems like I've been saying it forever about how young we were as a team. But now look at it," he said. "Andre Smith is on top of his game. Clint Boling is now in his fourth year and Kevin Zeitler is in his third year and they're on top of their games. We've got a young, athletic center (Russell Bodine) and guys are maturing."
And then there is the work of Dalton and Zampese under the new direction of Jackson. All we heard about in Dalton's first three years is he had to extend plays and look downfield when the play broke down. Now suddenly he's dumping instead of extending.
"He understands what we're trying to accomplish every play," Jackson said. "If it's there, hey, let it rip and if it's not, check it down and move on to the next progression. I try to make things very simple for the quarterback. 'This is how to do it, this is where to do it,' and if not, let's go to the next play."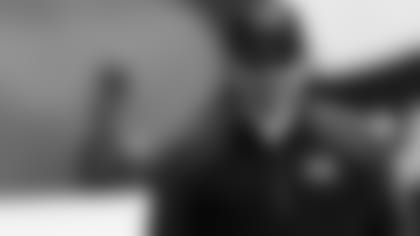 Quarterbacks coach Ken Zampese has been with Dalton all the way.
There is no gray area. It is this, this, or that, and move on. The buzzwords are now not "extend plays and buy time," but "be decisive and get it out." There can be no such thing as throwing late deep over the middle. Especially against a Dick LeBeau-Ray Horton defense. If he's late, it's going to be a snug, safe dump pass. We give you running back Giovani Bernard last Sunday with a 46-yard catch-and-run on what was an afterthought as he stood close enough to chest bump Dalton in the middle of the field.
Locker is the quarterback/athlete, the guy who tucks it and goes when it breaks down. Locker has thrown just 17 interceptions compared to 25 TDs, but he's also run it 81 times while averaging just 6.7 yards per attempt.According to PFF, Locker has been pressured 31 times this season, sacked six times, and is the league's third least accurate quarterback.
So far this season, Dalton has been the quarterback/technician.
"His decision making is improved. His willingness to take a check down," Zampese said. "He's comfortable with what he's asked to do on each play and how to salvage them when it doesn't go the right way early. Not all (of the passes) have to go up the field. But they have to end up in our hands without minus-yardage plays.
"Like most people do, he operates better with certain guidelines. If there's a process to follow, he can follow it to a tee and we get the right answer more often than not," Zampese said. "The time he decides to throw until the time it comes out of his hand, it's short. We're better technically."
His teammates were impressed with how well Dalton and the system adapted on Sunday. Not only were they without A.J. Green after five plays, but he overthrew some people in the end zone early and couldn't keep it on the field (Dane Sanzenbacher and Brandon Tate). Yet he persevered, didn't turn it over, and waited patiently to make the big throw later.  
Patience is going to be a priority Sunday. Horton's zone-blitz scheme has had success against Dalton despite his 1-2 record against his old team coordinating defenses in Arizona and Cleveland. Dalton has a 71.6 passer rating in those games with five touchdown passes and four interceptions. Last year the Browns held the Bengals to two field goals in Cleveland.
"Good coach and plus you've got Louie Cioffi coaching the DBs and that's always a factor,' said Zampese of the long-time Bengals assistant. "Any time you go against Coach Horton, they're going to be physical up front. Everywhere he's been. Arizona. Cleveland. They're salty. You can see it on tape. They take pride in their unit. You're just not going to walk in and push them around."
But Horton is going to have to adjust, too, because this isn't the same offense. It's a little quicker. A little more decisive.
 "We're a little further along," Zampese said. "We'll play as fast as we can. We've got a long way to go, but it's been exciting to watch it grow with the same people."