Ryan Glasgow during spring camps as a Bengal.
           Bengals DT Ryan Glasgow vs. Lions LG Graham Glasgow
Drs. Michele and Steven Glasgow, who fix football's ferocious casualties for a living, "stonewalled," their two oldest from the sport when they were young for as long as they could.
The kids won and the fruits of their victory are on display Sunday at Paul Brown Stadium (1 p.m.-Cincinnati's Channel 19) when Bengals 24-year-old rookie Ryan actually engages in brotherly shove against Lions second-year man Graham, 10 months his senior.
"When it became clear running around and banging into people was pretty consistent with their nature, we relented," Steven says, "because  they were going to be doing other idiot things anyway and at least this way it's somewhat controlled."
The good Dr. Glasgow, who operates on knees while his wife repairs shoulders, probably donated a little bit of the strain to his sons. A native of greater Scranton, Pa., Steven played football and wrestled at the University of Pennsylvania. That's also where he went to medical school, did his residency, and met a general surgery resident from Queens when Michele rotated through his stints in orthopedic surgery.
There will be no prognosis for Sunday. "Are you trying to get me in trouble?" Steven Glasgow asks. But he can give this advanced diagnosis: "It's pretty interesting for the boys and very anxiety provoking for my mom and my wife. It's not ideal."
Ryan admitted as much this week when he revealed what went through his mind when he limped off the field last Sunday in Minneapolis before he came back to play. First of all, he flashed the selfless grit the Bengals raved about when they took him out of Michigan in the fourth round and still are
"I'm just not going to let my teammates be out there," Ryan says. "I've been in that situation where one or two reserves go down and before you know it you're dying out there playing every defensive snap. I'm not going to let that happen to my teammates."
And, oh yeah. The Lions game.
"I wasn't going to miss that game for anything," Ryan says. "I've been thinking about that for a while. You'd have to cart me off the field to get me out of this game."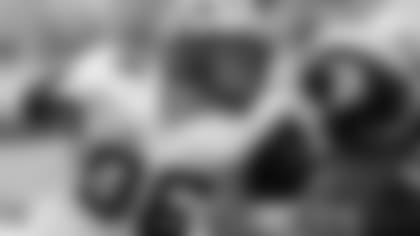 Ryan (96) is one of three Glasgows to play at Michigan.
The weird thing is not that they're going to be hitting each other. "They've been banging into each other since Ryan was born," Steve says. It's just that they're going to be doing it in a game for the first time. There have been plenty of practices where they banged heads, especially that year at Michigan Ryan played nose tackle and Graham played center. Before that it was in high school in Aurora, Ill. He never got the sense they let up for each other.
"We've been on the same team for everything since I can remember," Ryan says. "That was nice (at Michigan) because I knew Graham was really good, so if I could do something against him, I should be fine in games. I think it might have been amped up even more. I'm trying to get him better, I'm trying to prove my worth in camp (during head coach Jim) Harbaugh's first year and he's trying to do the same. Even more trying to get the better of each other."
Mission accomplished. Graham, the left guard, is ranked 30th among NFL guards by profootballfocus.com after Detroit took him in the third round in the previous draft. Ryan has played well enough that he's logged 36 percent of the snaps with 365 and is on pace to play the most downs by a Bengals rookie defensive lineman since tackle Pat Sims nine years ago. More than Michael Johnson. Carlos Dunlap. Geno Atkins.
"We're proud of the boys, all the kids," says Steve Glasgow. "They work really hard, which I think is the important thing."
They saw that close up. Their parents were in their late '30s when they moved from Philadelphia to the Midwest and Aurora to start a sports medicine practice that took care of the Northern Illinois University teams all the while raising four children.
"We were able to do what we did because my mom and dad came to live with us," Steve says. "They helped us raise the kids and that allowed me and my wife to work full-time. We've had an extended family ever since Ryan was born and that's been a wonderful thing for everybody."
The youngest, Anna, is a high school senior. Jordan just finished his red-shirt sophomore season as a safety and Michigan's most valuable player on special teams. "He's supposed to be the best athlete of the three," Steve says. "If you ask him he would say he is." The 6-6, 310-pound Graham and the 6-3, 300-pound Ryan are spoken for Sunday.
"I got the chance to see the game he played his first (NFL) offensive snaps last year. That was awesome to see," Ryan says.  "I'm proud to see how far he's come and I imagine he says the same thing about me."
But there will be no quarter taken. Graham told the media in Detroit he'll treat Ryan like anybody else and if that means he has to cut him, he'll cut him. It will be intense, but probably no fisticuffs.
"When I was a freshman on the scout team there were a couple of scrums on the offensive field," Ryan says of the days at Ann Arbor.
The last time they took a swing on each other?
"His senior year in high school," Ryan says. "In the front yard. We got in an argument on the way home from school. There was like a foot of snow on the ground and we got out of the car and started hitting each other."
At least there is no water hazard on the Paul Brown Stadium turf. They grew up in a backyard with a pond.
 "I'm not going in that pond again," Ryan says. "I'm not going in that backyard again if I can help it."
The good doctor can only laugh.
"They love each other, but you know how brothers are," Steve Glasgow says. "They used to play football in the backyard. Inevitably there would be fights breaking out, things of that nature. Getting thrown in the pond.  Standard kid stuff. The boys have always been hyper competitive and there's certainly nothing wrong with that."
As Sunday's house call attests.
Dre Kirkpatrick and AJ Green suprise Students of St. Bernard Elementary School with bikes.