*As effective as Giovani Bernard has been running the ball, he's made some key blocks. * 
           BENGALS RB GIOVAVI BERNARD VS. STEELERS DC KEITH BUTLER
We are watching Giovani Bernard's tablet and he has to be reminded where to find what is becoming one of his patented blitz pickups.
"First drive of the second half,' he is told. "The 42-yard bomb to Marvin Jones."
Bernard has a slight smile as he watches Rex Ryan's two blitzers coming at him in one of the key freeze frames capturing the Bengals' 34-21 victory in Buffalo before the bye week.
"It's my job," Bernard says. "I shouldn't get credit for that. A guy has a job to do and you have to make that job happen."
The blitz is going to be everybody's job Sunday. It always is when you go to Blitzburgh and on Sunday (1 p.m.-Cincinnati's Channel 12) first-year defensive coordinator Keith Butler gets his first shot at the Bengals.
It is the first time the Bengals have faced the Steelers without Dick LeBeau calling the defenses since head coach Marvin Lewis' first season in 2003, but what's changed? According to profootballrfocus.com, the Steelers blitz 40.7 percent of the time, well over the NFL average of 30.5.  PFF's numbers have defenses blitzing Bengals quarterback Andy Dalton 32 percent of the time and rank him sixth in the league throwing under pressure, one of the zillion reasons why the Bengals go into Heinz Field 6-0 Sunday.
For the most part the Bengals' pass protection has kept the NFL passing leader cleaner than the Disney Channel and the 5-9, 205-pound Bernard is a fearless example how.
Forget that Bernard and Jeremy Hill have rushed the Bengals to a No. 12 ranking with Hill co-leading AFC scoring with six touchdowns and Bernard fifth in AFC rushing with a 5.5 average that is better than everyone in the NFL with at least 70 carries but the 6.0 of Miami's Lamar Miller and St. Louis' Todd Gurley.
Forget that. Try that two of Dalton's biggest throws of the season have come with Bernard picking up the blitz.
On one of them, against a Baltimore team that blitzed more than Pittsburgh in that game, Bernard knew the extra man was coming and he offered textbook technique against a man much larger. And on another one of them came a Ryan two-fer out of nowhere that left Bernard on an island against two invaders.
Both plays show the traits needed by a back to pick up the blitz and therefore survive in a Hue Jackson offense: brains and brass, improvisation and ingenuity. Not to mention a chip on your shoulder the size of Dalton's passer rating.
According to profootballfocus.com, Bernard, Miami's Miller, and the Colts' Frank Gore are the only running backs who have played at least 60 percent of the snaps and haven't allowed a sack or hit on the quarterback in pass protection.
"Gio does a great job taking what we give him during the week and then building on it himself," says running backs coach Kyle Caskey. "He asks questions of possible scenarios and that shows you he knows what's going on. He does a great job communicating with Andy and the offensive line during the week.
"Then when it comes down to taking on guys, he knows week in and week out he'll be on a guy that may not be the guy we thought he's going to be on. He may be on somebody that's larger than him and much stronger than him and, honestly, he could care less. Jeremy is the same way even though he's a bigger man. Gio goes in there and gives it everything he's got and he does what he can to get it stopped."
Take second-and-eight from the Bengals 40 on the sixth play of the second half as the Bengals try to blunt a Bills' surge that cut the Bengals' lead to 17-14 at halftime.
The Bengals deploy two wide receivers and two tight ends and put Bernard as the lone back standing to the right of Dalton. Dalton waits on a shot-gun snap with Jones split to the left and A.J. Green lined up tight to the right side.
Meanwhile, the Bills have inched middle linebacker Preston Brown to the line of scrimmage and stand him up over left guard Clint Boling and left tackle Andrew Whitworth. Staring from the other side, Bernard not only sees the 6-1, 250-pound Brown, No. 52, he sees 6-0, 196-pound safety Corey Graham, No. 20, looking like he's coming.
"We have other ways of picking this blitz up. Sometimes it's just tough to see that. It's not always pretty, but you have to make it work," Bernard says. "They have two free guys coming at us and we didn't have any guys but myself picking up those guys. I knew I had one of the guys and the guy was probably playing me man. (Graham) was just a hug rusher.  No. 52 really came in the gap screaming and I think No. 20 was just waiting for him. I saw No. 20, but I could only take on one. You really can't take two. I just had my eyes locked on No. 52. My technique wasn't great at all."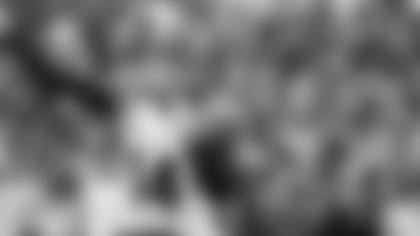 Bernard's blocking has unleashed two huge Dalton passes.
But Bernard couldn't worry about technique. He had to get from right to left on the other side of Dalton. This is how it is. Often things hardly ever go like they're drawn up. Even for the other guys.
"No. 52 was probably supposed to go (outside) and probably hit my left shoulder to give a free lane for the safety. But he didn't do that," Bernard says.
Because Bernard is moving from the right to the left, he doesn't have the time to execute the No. 1 principal in blitz pickup. Get the shoulders square. Instead, he can only race in front of Dalton and drop his left shoulder into the onrushing Brown. That upsets Brown just enough to make him lose his balance. And for some unknown reason, Graham follows right behind Brown in the same gap and falls into Brown, giving Dalton time to throw a great ball to the double-covered Jones. Jones makes an ever better catch.
"I got my head across and somehow I was able to slow his rush down and he bumped into No. 20 and they fell," Bernard says. "I don't think Andy realized he had a little more time. He was able to stick in the pocket and really just got a good ball out there and Marv made the play. That's a tough catch in double coverage. That's really tough."
Two plays later Jones scored on his cart-wheel play and it was back to 24-14.
"A lot of it is recognition before the play. A lot of it is recognition after the ball is snapped,' Caskey says. "Defenses in the NFL throw something new at you every week. You have to adjust on the run. He adjusted on that one and made the play."
Bernard isn't on the ground long as Dalton unloads it, but there are some things going through his mind.
"Technically I knew it wasn't the best," Bernard says as he watches the throw. "I kind of looked back and saw Andy still upright and I saw him throw the ball and I saw Marv catch it and then I realized, 'That's a big play.'"
Bernard is watching it again. He knows it looks ugly.
"You'd like to get in front of the guy. Square him up. Take him head on,' Bernard says. "Where I was coming from, it was a tough block. I just threw a shoulder in there. It at least slowed him down. It worked. They kind of messed each other up."
A few weeks earlier on what may end up being the play that turns the season around, Bernard has a chance to show off his technique. The Bengals have just fallen behind for the first time all year in Baltimore with 6:49 left in the game, 17-14, on, of all things, a protection issue. Tight end Tyler Eifert couldn't contain outside linebacker Elvis Dumervil on what produced a sack and strip of Dalton that resulted in the go-ahead touchdown.
But on the next snap, first-and-ten from the Bengals 20, they get it back on the way to a 27-24 victory. The Ravens, as they did 62 percent of the time that day, blitz. The Bengals send four receivers out of their set of two wide receivers and two tight ends. Bernard, the lone set back, is again lined up next to Dalton on his right.
When Ravens inside linebacker Albert McClellan lines up two yards off the line of scrimmage between Green in the slot and Eifert in a three-point stance at the end of the right side of line, Bernard points to him and has time for the textbook.
"You want to have a good base. You always want to get in front of him. Get your feet in the right position and just really shoot (the arms),' Bernard says.
Which is nice in the football textbook.
But McClellan is 6-2, 254 pounds. Sir Isaac Newton and the science textbook are in charge of this play. Bernard gets square, gets his hands out, and greets the backer three yards in front of Dalton. But McClellan is able to still steam Bernard's helmet right back into Dalton. Yet Bernard has given Dalton that split second he needs to hit Green racing down the seam for a stunning 80-yard touchdown play.
According to PFF, Dalton finished eight of 13 against pressure for a TD and 238 yards against the Ravens. The Bengals would certainly take those numbers Sunday.
"A lot of it is just want-to," Bernard says. "They may be bigger, but you have to get in the way and not let Andy get hit . . . We take pride in that. My rookie year (2013), when he was the running backs coach, Hue really taught me about that."
There'll be another lesson Sunday in Blitzburgh. But it probably won't be drawn up like it was during the week.
 "The defenses we see in the NFL so complex," Caskey says, "you have to be smart enough and quick enough to react. Gio does a good job of that."
Bernard is taking a last look at his tablet.
"It's not always pretty,' he says.