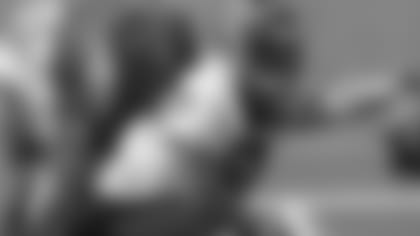 *                    BENGALS C RUSSELL BODINE VS RAVENS DT HALOTI NGATA*
Sunday (1 p.m.-Cincinnati's Local 12) is one of the reasons the Bengals traded up in the fourth round to get Bodine back in May. Bodine may not have circled Sept. 7 on his calendar. But on Sept. 2 he and some other offensive linemen spent some of their off day at Paul Brown Stadium watching film.
"He gets that part," says left tackle Andrew Whitworth. "He's hungry, he wants to get it right. He'll be prepared."
The other five AFC North games are the other reasons the Bengals traded up for the third time in their history.  Gargantuan, athletic men anchor the 3-4 defenses that traverse the North and the Bengals have pined for a similar species at center. They've had smart guys (Kyle Cook) and fast guys (Trevor Robinson), but not since Rich Braham went against old Ravens like Kelly Gregg and Ma'ake Kemoeatu in '05 have they had the stoutness of a guy like Bodine line up in Baltimore.
In typical Baltimore fashion, defensive coordinator Dean Pees won't have one guy in one spot so the 6-3, 306-pound Bodine has the biggest challenge of any Bengals rookie in his debut in years. He'll either have to take on or help on the 6-4, 340-pound Ngata, coming off his fifth Pro Bowl and eighth season as the game's most athletic defensive tackle.
If new offensive coordinator Hue Jackson's mantra of running the ball is to get off the ground, it comes against one of the most dangerous anchors in the NFL. Since the Ravens traded up for Ngata one spot in the first round in 2006 (the Bengals went up 10 for Bodine but that was in the fourth), they have finished in the top five against the rush six times. Last year they finished No. 11, but were fifth in averaging 3.8 yards per attempt.
The only defensive tackles who have had more tackles than Ngata since 2011 are on the Bengals draft lists in Justin Smith and Domata Peko.
The last year the Bengals had a 100-yard rusher against the Ravens came in the last year they swept them when Cedric Benson did it in both games. The Bengals haven't had 100-yard rusher in 18 straight games, dating back to late in the 20012 season, the longest drought of the Marvin Lewis era.
But according to Bengals radio analyst Dave Lapham, who more than once played all five offensive line spots in a game, Ngata is the least of his challenges.
"The first thing he has to do is make the calls. That's a lot to worry about with the stuff Baltimore does," Lapham says. "They're not as multiple on the defensive line as they were when Rex Ryan was there, but they've got it in their package. He has to get it figured out and get it communicated quickly.
"The second thing he has to do is secure the snaps. Those are two things he has to do before he starts worrying about Ngata. That's a lot of responsibility. I'm interested to see how Ngata attacks a rookie for the first time. I don't think he's been as disruptive the last couple of years for whatever reason, but he's so athletic.
"You ever see the video of Ngata playing rugby?" Lapham asks. "It's ridiculous as big as he is how well he can run.  He's the freak's freak. His size speed ratio has to be the best of any of the big men. He's a beast. I can't think of a bigger challenge for a rookie in his first game."
Physically, people think Bodine can hold up. That's why he's here. But can he do the intangibles? Ferret out the messes the Ravens throw at you on third down? Sending his signals through the wave of sound where the Ravens' huge home-field advantage has won the last 14 September games at M&T Bank Stadium?
He's got a pretty good attitude. Asked about the crowd that has seen the Ravens lose just 18 times in the last decade, Bodine smiles and says, "You better yell a little louder."
But seriously, he says, "I've always taken the philosophy it's not who you're playing against, it's about what you do. You handle your business, you handle your technique, you'll be fine.
"(Ngata is) a big strong guy. He's kind of crafty. He's good at reacting to blocks and countering off stuff. It's all about me. I have to go out there and handle my technique and my responsibilities and my calls. If you do that, it will be what it will be and hopefully we'll come out on the right end of it."
Whitworth is surprised at how Bodine has handled new looks. He doubts North Carolina saw many 3-4 defenses when Bodine was there, but that's all he saw in the preseason.
And Lapham liked what he saw in the preseason. There were typical rookie mistakes, like sliding the wrong way once in pass protection in Arizona, going the wrong way on the goal line in a live session at training camp, blocking the wrong guy on the run a few times against the Cardinals. The high snap in Kansas City saved by backup quarterback Jason Campbell.
But Lapham thinks veteran left guard Clint Boling and veteran backup Mike Pollak on the bench will help Bodine.
"You have to minimize those mistakes against Baltimore. You can't go the wrong way and have a free runner at the running back or quarterback," Lapham says. "You have to button it up.
"Boling will help him a lot. He'll be a calming influence. You have a guy next to him that's been around a few years and help with the calls. That's going to be a key."
Whitworth is also close by.
"He'll be ready physically," Whitworth says. "The rest is  going to be trust in his technique and like any rookie, going in there and knowing what do is one thing. But trusting your technique the way you're taught is another."