*Eric Winston (73) rotated with Cedric Ogbuehi at right tackle last week.  *
*      BENGALS OFFENSIVE LINE VS. WASHINGTON PASS RUSHERS*
LONDON _ All you need to know is this stat and quote for Sunday's game against Washington (9:30 a.m-Cincinnati's FOX 19) at Wembley Stadium.
 The Bengals are next to last in the NFL in allowing sacks per pass and Washington is 10th in getting them and right tackle Eric Winston says, "We have to play well up front to beat these guys."
It's a bit of an uneasy matchup in the wake of the Bengals allowing their 22nd sack of quarterback Andy Dalton last week in just their seventh game. As every Cincy school kid knows, Dalton was sacked 20 times last year in 13 games and 21 in in 16 games in 2014.
The Bengals are hoping their rotation of first-year right tackle Cedric Ogbuehi and the veteran Winston has arrived just in time. After Ogbuehi took 51 snaps and Winston 10 last week against Cleveland following the game he was lifted in New England, everyone appeared pretty encouraged despite Ogbuehi allowing two sacks to rookie end Emmanuel Ogbah. He said he felt he progressed as the Bengals pumped up 271 rushing yards, the most in 30 years.
Offensive line coach Paul Alexander isn't tipping his hand, but it looks like he's going to continue some semblance of the rotation that featured Ogbuehi playing two series to Winston's one as the Bengals try to stem Ogbuehi's struggles in his first seven starts.
"I haven't thought that far ahead," Alexander says. "I'll know when we think we need to do something different. I'm not going to worry about that until that happens. I don't care if it goes on indefinitely. I don't care if it goes on one week. I really don't care. I just think it's the right thing for our team right now and that's why we're doing it."
They'll have to be on point. Outside linebacker Ryan Kerrigan is one of those quiet guys from the class of 2011. If the Bengals have wide receiver A.J. Green (the fourth pick) and Andy Dalton (the 35th pick), then Washington has a guy in between in Kerrigan at No. 16. He's got 53.5 career sacks, one of six players in the class of '11 with at least 45. And the thinking is with Kerrigan (six sacks) teamed with Trent Murphy (6) and Preston Smith (1.5) at the other outside backer, it's the best pass rush they've seen all year.
"Kerrigan is obviously a top guy. He's been dominating at times I would say," Winston says. "He's physical, he rushes strong. He's an effort guy."
Depending on their personnel group, Kerrigan can be over the left tackle or the right tackle, but in rush situations he's over the right side much of the time and that's the obvious move this week. But Alexander also sees progress from Ogbuehi.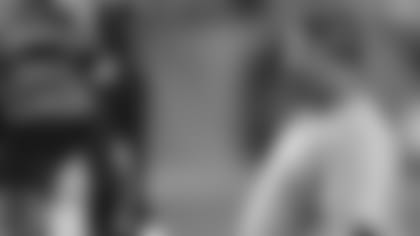 Paul Alexander says Cedric Ogbuehi improved last week.
"I see him getting better every week. It's a progression," Alexander said. "He learns one thing and then he learns another thing and then he learns another thing and then he learns another thing and he's moving along."
He's got Winston, the 11-year vet helping him. They do what they've always been doing and that's talking after each series. Now Ogbuehi is watching him for one of those series. 
"We watch every play together and we talk about it, we talk about what's going on and what he sees and it's good," Alexander said. "I think it's kind of like Marvin said, that it's hard to hold it together for 60 minutes. It's good to go out and play and then to just relax a little bit and see what's going on and then get yourself prepared and play again."
Winston admits he's adjusting coming off the bench cold.
"I'm not going to lie. It's not easy for me, this old bag of bones just doesn't warm up by itself," says Winston, who turns 33 in less than a month.  "I enjoy playing. I'll take anything I can get. (They talk about) what I'm seeing, what he's seeing. I'm trying talk to him about what I'm seeing from the sidelines and he's trying to compare to what he's seeing on the field. Heck, we were doing that before I was playing. That sort of dialogue hasn't changed."
Although the 6-4, 265-pound Kerrigan is four inches shorter and about 30 pounds lighter than Bengals defensive lineman Margus Hunt, Winston thinks the Bengals have a pretty good model.
 "He has similar movements to what Margus does in the sense of his strength," Winston says, "He's got good length. Margus is a decent comp in the sense he kind of   gives a similar look of the direction he wants to go and how he wants to get there. It's always good to say, 'I'm getting a really good look here,' and Will (Clarke) does similar things. It's a matter of going out and doing it."
The problem is Washington has three of them.
"All of them are big, tall, long, athletic suckers. Draw up an outside rushing end, they all kind of look the part, 6-5, 6-5, 250 to 280," says Pro Bowl left tackle Andrew Whitworth.
Ogbuehi says he's had trouble with bull rushers and Whitworth says they do that everything else, too. Whitworth heads into this week still the best pass-blocking tackle in football, according to profootballfocus.com, although he's allowed three sacks, he's given up just two QB hurries and no hits on the quarterback, according to PFF. Ogbuehi, the site says, has allowed four sacks and one QB hit, but 22 hurries and that has dropped his grade to 75th out of 77 tackles in pass-blocking.
 "I still think that's a distorted stat, sacks. I still think that hits, pressures, sacks, add them all up and that tells you a lot more about a team than just counting sacks," Whitworth says. "The reality is I watch on film a million times a week quarterbacks that elude the crap out of 17 guys coming and that doesn't go down as a sack, but that wasn't a positive play for the offensive line. Hits, pressure, sacks are the goal. So you want to give Andy time to get rid of the football and try to do your best to let the offense operate efficiently."
Cincinnati Bengals travel to London to take on the Washington Redskins in the NFL International Series game.